Talking Points for Launching Mobile Giving in Your Church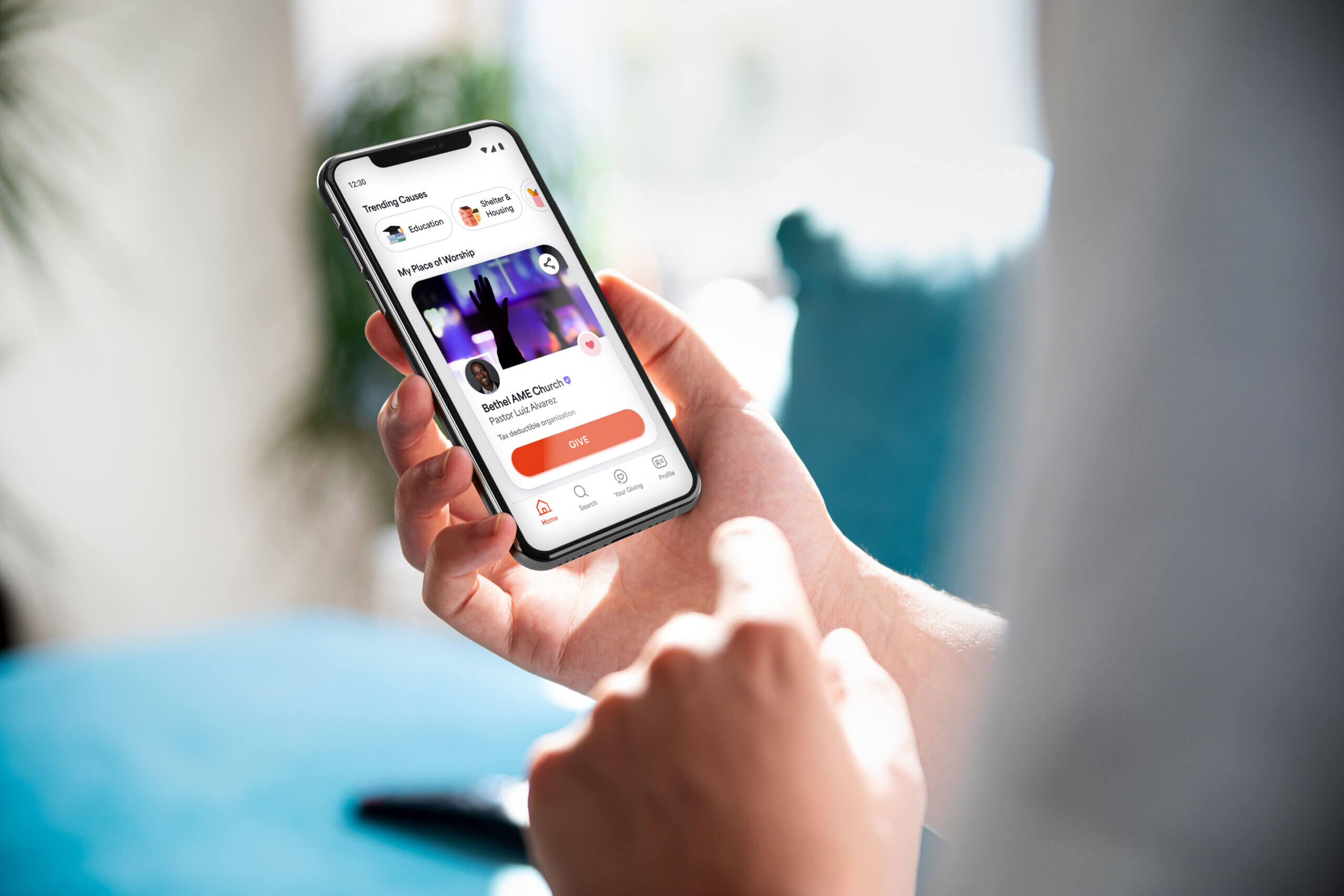 Your church or place of worship has completed its due diligence on whether to adopt mobile giving for better fundraising.
To help with the decision-making, you and other church leaders have reviewed the research. What especially stood out to the ministry team is the fact that app-based giving leads to more financial growth.
In fact, churches with mobile giving apps, such as Givelify, reported 20% more growth than those with no app.
And that is 7% more than those places of worship only with text-to-give solutions, according to mobile giving statistics from the 2019 National Study of Congregations Economic Practices.
As the pastor or a leader of your organization, it is now time to introduce – or reintroduce – mobile donations to your in-person congregation and virtual worshippers.
Whether your church is just starting out with mobile giving platforms, or if your organization has used

Givelify for a while now, there is always an opportunity to be found by new givers.
Tell them, show them, help them
Giving should be a joyful, rewarding experience. With the Givelify mobile giving app, the giving experience is specifically optimized for faith-based donors.
Our mobile fundraising app has the features your congregation needs to share their generosity with you immediately.
It's always helpful to let your congregation know as often as possible and in as many possible formats – from the pulpit, via a brief demonstration video, via an email or text, and on social media – that their everyday giving makes a difference.
Yet, what is the best way to communicate the joy of mobile giving tools to your congregation?
Here are some tips on how to have a conversation with your members and virtual worshippers about Givelify.
These three talking points will help keep your faith donors enthusiastically giving.
Talking point #1: "Maximize your giving anywhere and anytime with mobile donations"
The moment your vision moves members to give – whether at the beach, visiting family, or traveling for business – their giving will never miss a beat.
Share with your members that with Givelify's mobile app, they can give instantly and securely from anywhere, at any time. It doesn't matter where they are in the world.
Givelify empowers your givers to give naturally and freely, without distraction, in those critical seconds when your mission inspires them.
Whether it's during worship or on the go afterward, from your website or ours,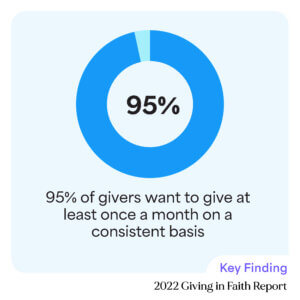 on social media, or at a live event, Givelify eliminates the barriers to consistent giving. This is the bedrock of a solid financial foundation for every church and place of worship.
Talking point #2: "Experience the ease of giving with mobile donations"
We believe giving should be incredibly easy, to the point of being fun! With Givelify, your inspired members can immediately move to action and seamlessly give to support your mission.
Your members will love the ability to simply open the Givelify mobile giving app and make their gift in a few taps.
Here's how you can walk them through – either in person or via video – how to donate to your church or place of worship:
Step #1: Download the app. The Givelify giving app can be downloaded and ready to use in minutes. The app is available on the App Store (iOS devices) and the Google Play store (Android devices). Search 'Givelify' and once found, click install.
Step #2: Find your organization. To get started, click on the search bar at the top of the app. You can search by typing in the name of the organization or the pastor's name. Or you can use the app's GPS map to search in a specific area.
Step #3: Make your donation. Givelify has streamlined the entire giving experience based on feedback from dedicated givers. Donating to your organization is easy with a beautiful, award-winning, three-tap experience: Tap. Give. Done!
Step #4: Track your giving. At any point in the year, your members can view how much of an impact they've made on your mission by viewing their current giving history to date.
The ease of giving with Givelify will also encourage your members in growing their consistent giving.
Givelify is where generous people come to do more good. Our mobile giving app provides your members the tools to exceed their annual giving goals, even during the quieter summer months.
Giving reminders and recurring giving
Givelify has a suite of congregation-friendly features your members will love. Our personalized and impactful in-app experiences include giving reminders and recurring giving.
Giving reminders allow your members to maintain recurring giving with no automatic withdrawals. Faith donors want to feel joy through their giving experience by making the active choice to give.
With giving reminders, members receive gentle, friendly in-app reminders to give at the times of their choosing. This helps to keep their giving on track and consistently support your church.
As for recurring giving, while Givelify makes it simple to give on the go, it also provides the ability to set up recurring donations via automatic bank withdrawals.
Your members can edit their recurring gifts at any time while feeling empowered to achieve their annual giving goal or pledge.

Click to see how the First Christian Church in Missoula, Montana, introduces its members to Givelify.
Talking point #3: "Mobile giving will make it more convenient to give"
With Givelify, you are providing your members the tools to make their giving experience about connecting with their faith – not about remembering text-giving codes. Here are three convenient ways mobile giving replaces your members' wallets with their phones:
Save your organization. With the "My Place of Worship" feature, your members can quickly save your organization as their home church or place of worship.
As soon as they log in to the Givelify app, your organization will be displayed on their home screen so they can quickly give when inspiration calls.
Add ways to pay. With the Givelify Wallet, your members and online viewers can simplify their giving with a safe, secure, fraud-resistant, one-stop shop to securely store their preferred payment information.
With industry-leading security and military-grade encryption, your donor's payment information is never stored on their mobile devices. When they feel moved to give, they can quickly choose their preferred payment method with a single tap.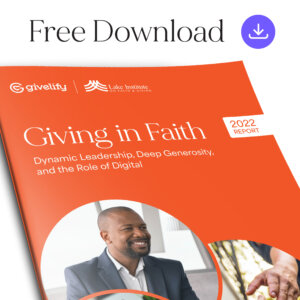 See the annual impact. With Givelify's Annual Giving Summary, your members can view an itemized list of every donation they've made this year. They also will have access to personalized analytics to provide a holistic view of their giving.
Additionally, this giving statement makes reconciling taxes a breeze for your members. At any point during the year, they can also see how they are progressing against their annual giving goals.
Mobile giving for better fundraising
We hope these talking points help you to demonstrate the beauty and benefits of any time, anywhere church giving to your in-person congregation and online worshippers.
The importance of mobile giving for better fundraising, as well as encouraging church donors to give can't be understated.
According to the recent Giving in Faith study done in partnership with Indiana University's Lake Institute on Faith & Giving, 92% of faith-based givers intend to keep donating through their mobile app or using online giving for church.
Givelify is here to assist as you continue to cultivate a passionate community of support to help fund your vision for your ministry.
Questions? Givelify Customer Support is readily available to assist you. You can contact them at (317) 663-3088 or support@givelify.com. 
Recommended for you: