Giving in Faith: Dynamic Leadership and Deep Generosity
How are faith leaders approaching the future of gathering and giving? How do they influence the adoption of new tools and technologies?
We asked more than 500 faith leaders and over 800 of their congregants about their experiences navigating through the uncertainty of the last two years and their outlook for the future.
Their answers provided the foundation for our annual Giving in Faith report, which was officially unveiled during our recent webinar.
The report makes clear that faith leaders still play a fundamental role when it comes to driving engagement, growing membership, nurturing community in a digital world, and inspiring giving.
The pivotal role of leaders in belonging and giving in faith
The webinar explored this topic even further. Rev. Dorothy Boulware, managing editor of AFRO News, led the conversation as moderator.
She welcomed special guest Bishop Walter S. Thomas, Pastor of New Psalmist Baptist Church, who shared how his Baltimore-based congregation adapted and evolved over the last two years. He highlighted his experiences and how they reflected the trends in the report.
They were joined by Melissa Spas, managing director of Education and Engagement for Indiana University's Lake Institute on Faith & Giving, and Givelify's CEO and founder Wale Mafolasire.
Together they explored the findings of the Giving in Faith report and discussed how the pandemic disrupted established structures. The report also delved into how savvy church leaders spearheaded new ways to nurture belonging, giving, and community building with the help of technologies including online and mobile apps.
The conversation centered on the pivotal role of the faith leader, especially over the last two years. Panelists also discussed how innovation has enabled churches and places of worship to reimagine what it means to gather in faith.
Here are some highlights from that discussion.
Bishop Thomas

:

T

here is a science to giving
"Even though people were visiting their online "dream" pastors [during COVID-19 virtually], they were committed to their home church and gave generously to their home church.
We found ourselves able to live out the great commission in a way we'd never lived it out before. We were getting viewers from around the world and started to be noticed by people in places we had never been noticed before.
And giving stepped up; people wanted to help and still want to give to help others.
The role of the leader is to excite people about the mission. Sometimes pastors don't like to talk about money. But they need to understand that they can't do the work without exciting the people about the vision. Then they will want to give to support that vision.
There is a science to giving. You have to understand that people are motivated to be involved and motivated to work. We need to learn to speak the language of motivation. It's our role to inspire people to give to the work."
Melissa Spas: Redefining belonging in faith communities
Panelists reflected on the past years and the changes seen in gathering, giving, and access during the pandemic. They also discussed how these experiences and learnings will continue to shape worship in the future.
"It's this navigation of uncharted water that has made for some real innovation and opportunities growing out of these past two years. This Giving in Faith report lays out some of that dynamic change.
At the intersection of the religious community and giving behavior, there is a renewed understanding of what it means for an individual to belong in their faith community.
I'm excited because continued virtual attendance will allow for an openness to engagement, a sense of belonging, and stakeholder identity among a wider constituency that is no longer contingent solely upon the physical gathering of that community."
Wale Mafolasire: Leaning into the digital experience
"Having access to virtual services meant that the pastors I see as my "fantasy pastors" became just one click away and I was able to start connecting with them.
We saw faith leaders doing their best to meet the needs of the times, and who were meeting those needs successfully.
Going into 2020 we saw that 1 in 5 people were giving to multiple places of worship. The findings of the 2022 Giving in Faith report show that this trend holds true.
One in 5 people continue to give to multiple organizations. This shows that the hard work pastors are doing to create their digital presence is being received by people. And it allows them to be inspired by and support those leaders.
However, what we also found to be true is that despite this, individuals still want a place to call their home church. The opportunity for faith leaders is to lean in and take advantage of the opportunities digital offers and understand that while this digital attendance behavior is there, you are still the main pastor."
Knowledge to lead with confidence
Learn more about the 2022 Giving in Faith report findings and trend-setting statistics that define the future of faith and goes deep into the psychology of giving.
The webinar covers:
Why dynamic

church

leadership is vital to community impact

 

Which trends and technologies do leaders intend to apply moving forward 

 

Which factors are most important to

donors

and their giving decisions  

 

Wh

at donor intelligence

can

be gleaned

from new

data and

giving

statistics

to help

you build a better donor base and stronger relationships with your current and potential givers

How to

develop a donor strategy that includes

nurtur

ing

a deep culture of generosity in this new hybrid environment
Download

your free copy of the Giving in Faith report
"As I reviewed the 2022 Giving in Faith report, I found it quite enlightening. We know that the pandemic changed a great deal for all of us, and today the soaring cost of living has many faith communities concerned. This study gives insights into the outlook of giving and worship to help now and going forward into the future."
To learn more about the report's key findings discussed in this webinar and many more valuable insights and tips, download your copy of the full 26 page report.
 With the 2022 Giving in Faith report, you will:  
Gain insight on the worship and

digital

giving trends faith leaders and their congregations are experiencing

Develop a deeper understanding of how

giving and

gathering

are being redefined

digitally

Discover what faith givers want from their leaders and what inspires them to give

Learn how you can leverage the learnings of your peers to meet the needs of today and the future.

 
Get your copy of the 2022
 report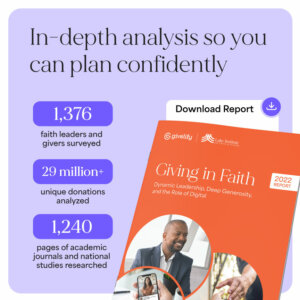 Recommended for you: