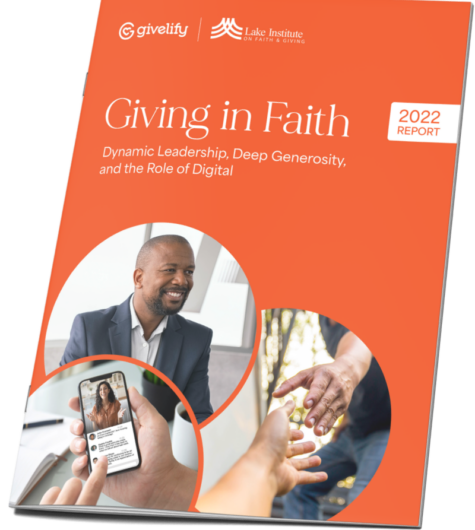 2022 Giving in Faith Report
New faith and giving insights
Lead with confidence with this in-depth annual report developed to provide valuable learnings and insights for your entire team.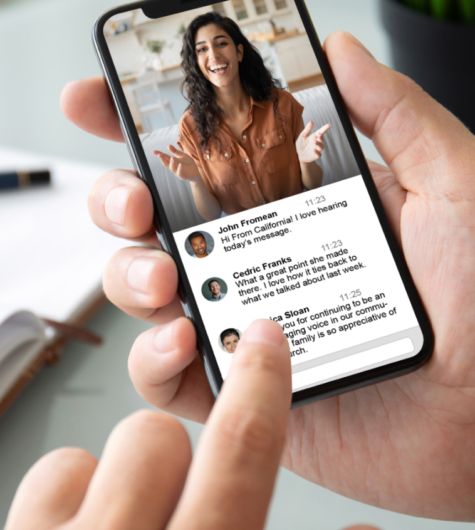 Data-backed insights to overcome today's challenges
Your report to guide you to lead a visionary congregation and impact more lives. Report findings include:
Faith leaders hold many roles in driving community engagement
73% of places of worship increased or maintained community outreach. Your vision as a faith leader drove this.
Digital is here to stay — savvy leaders cultivate digital communities
92% of givers intend to continue using online and mobile giving options to give to their places of worship.
Giving grew in the pandemic — and givers want to be more generous
84% of givers either increased or maintained their giving. All givers intend to give more in the future.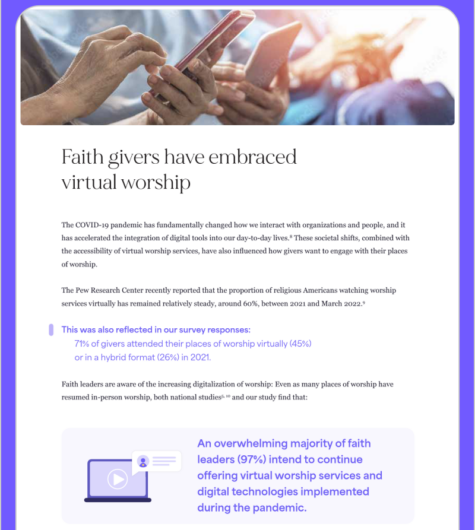 What's in the report?
Actionable insights so you can plan for the future with intelligent and practical strategies
Uncover today's worship and giving patterns
Gain insight into current and future giving trends
Lead your congregation to abundant generosity
Grow your membership and engagement
Key report takeaways and applicable tips
Produced by an award-winning team of PhDs, researchers, and leading institutions
In partnership with the Lake Institute on Faith & Giving at Indiana University, part of Indiana University Lilly Family School of Philanthropy.

In-depth analysis so you can plan confidently
The psychology of giving. The sociology of community. The redefinition of gathering.

26 easy-to-read pages. Academically sound. Actionable insights.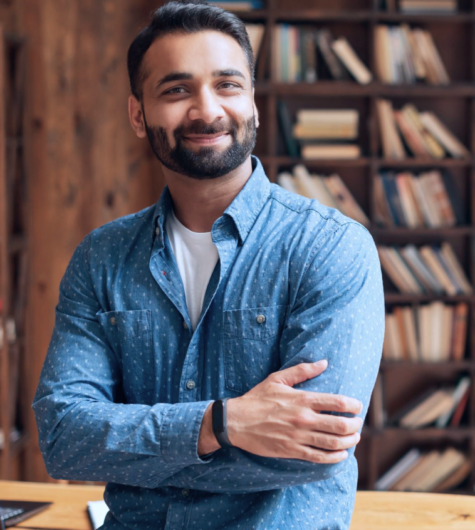 Who is the Giving in Faith report for?
Your entire congregation leadership team will benefit from this report. 
Faith leaders
Lead a visionary congregation and create impact with new and sound insights
Finance team
Advise your leadership with current and future giving trends knowledge
Media team
Gain worship insights and how members are engaging today
Administrators
Be an asset to your team with the latest church findings
Outreach ministries
Connect the dots between your work serving the community and how it inspires more generosity
Missed the conversation about the 2022 Giving in Faith report? Watch it now!
"The role of the leader is to excite people about the mission…There is a science to giving – you have to understand that people are motivated to be involved and motivated to work. We need to learn to speak the language of motivation. It's our role to inspire people to give to the work."
- Bishop Walter S. Thomas, Pastor, New Psalmist Baptist Church