Text to Give vs Mobile Giving Apps: Which is Better?
Passing the collection plate is a time-honored tradition or worship practice.  It is used in church services to help collect offerings. These offerings, in turn, go to programs and operations.
Technology is also useful for tithing. In fact, many churches implemented free text to give means to encourage giving. The idea here is that text to give is a convenient way to donate.
While this might have been true once, it no longer is. Text to give comes with many challenges. But mobile apps, provide many more advantages. The positive result of mobile donor apps is that giving becomes stress-free. This can encourage an increase in gifts.
Why Should I Consider Donations Through Technology?
In the past, common tithing forms involved the above-mentioned collection plates. Donors could also send checks to churches. Technology through mobile donation apps is changing the donation landscape for the following reasons.
Distant Congregants
Most religious organizations have a portion of their population that, whatever their reason, are unable to attend services in person. This number increased when coronavirus struck. The COVID-19 pandemic led to many shelter-in-place and stay-at-home orders. This, in turn, led to many virtual services, "attended" by members watching the live stream from home.
An important part of worship is tithing. Your members want to support your efforts. As you know, donations come through collection plates. But this isn't possible for those attending virtual services.
In lieu of your collection plates, technology-backed distance giving offers other opportunities. It allows congregants to contribute, even from elsewhere. Distance giving helps these members feel included, allowing them to participate fully in the entire church-going experience.
More Accessibility
What about those who attend worship services in person? Can't they donate during the collection process? They could. But physical tithing could be a challenge here, as well.
Physical donations are giving way to debit cards, mobile and online giving services. It means that a church-goer might not have physical offerings on hand to place in a collection plate. On the plus side, many church members have smartphones and tablets. This paves the way for accessible, convenient donation methods.
Text to give and mobile apps are two such methods. While both are technologically based, they are very different.
What is Text to Give?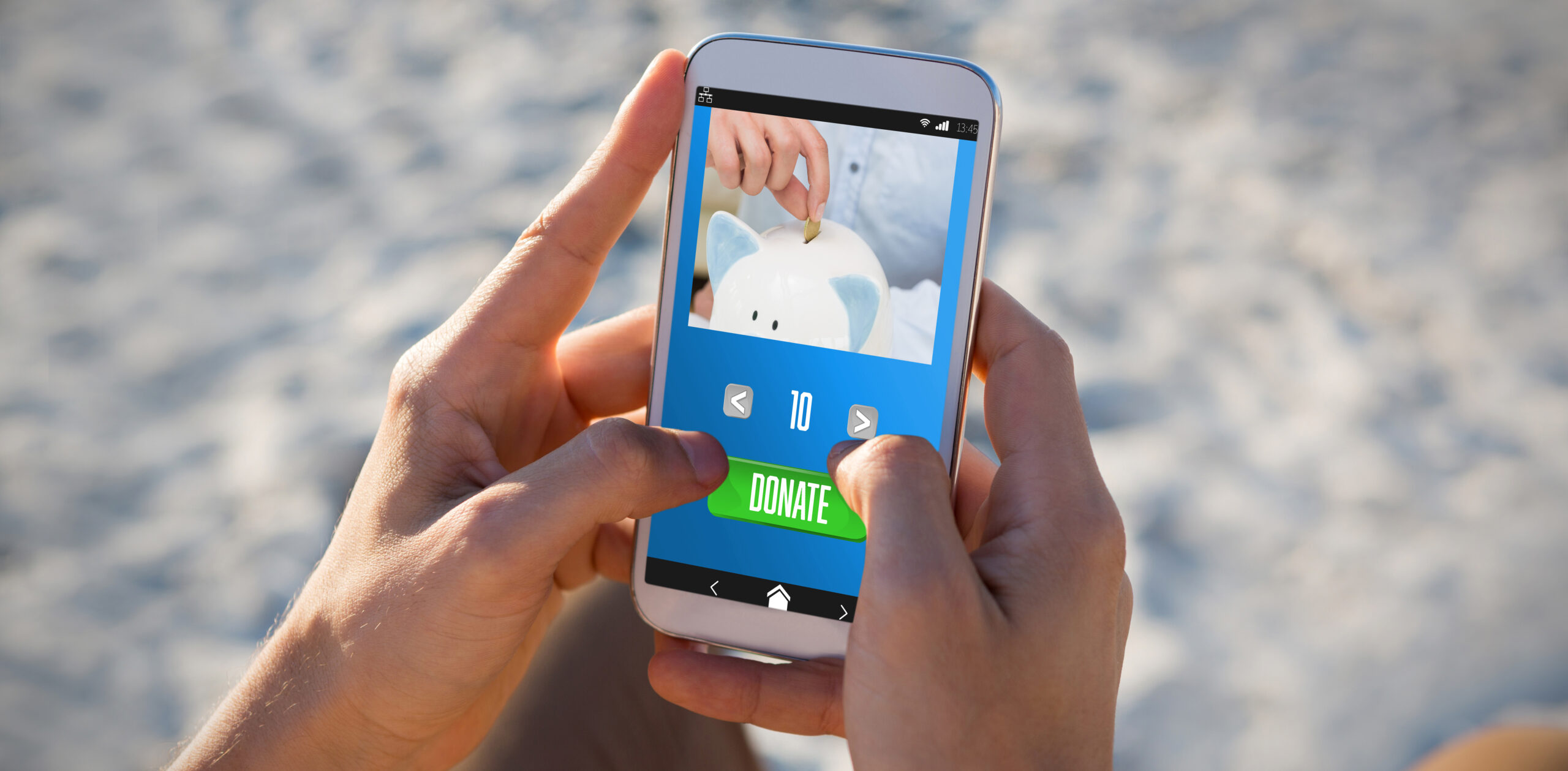 We mentioned, above, that many churches rely on free text to give methods for donations. Here's how it works.
The church partners with a mobile phone company.
The church sets up a shortcode, with a keyword.
Congregants receive the shortcode and keyword.
Congregants input a donation amount.
They text the amount, and keyword, to the shortcode.
The donation is charged to the cell phone bill.
There is also another text-to-give method. It also involves a shortcode and keyword. When the donor texts the information, he or she receives a reply. The reply has a link, which the donor clicks. The individual arrives at a donation page. The page asks for credit card information. Once the donor provides the information, his/her account is credited. You receive the donations when they are processed. This could take several days.
Even though some continue to use text to give as a digital alternative to giving, this technology has many downsides. Here are some of them.
Inconvenience
Proponents of text to give outline its convenience. In truth, this donation method is anything but.
For one thing, it requires number memorization. Donors need to recall shortcodes and keywords. They must input the information to give. The process also requires many steps, from beginning to final donation.
Basically, this giving format requires some effort. As a result, donors could give up before their transaction is completed.
Higher Costs
Text-giving providers can require monthly fees from churches. These fees could be assessed, even if no one uses the platform. Then, there are initial set-up costs. Another consideration? Extra keywords and custom shortcodes. These can also cost extra.
And that isn't all. There could be a limit on your text messages. Sending too many could mean an additional fee.
Delay of Funds
With text to give, you might not receive the donations immediately. This is true if partnering with a mobile carrier. The reason? Donations come through the supporter's monthly phone bills. Gifts could be delayed, depending on processing time. And who has time to wait?
Why Mobile Giving Apps are Better Than Text to Give
Good news! There is another alternative! Gift-giving with mobile apps, such as Givelify, offers loads more benefits than challenges! Like these:
Customization
Mobile apps allow your church to develop and send unique appeals. You can also set specific donation goals. Branding is also simpler, as you can upload your logo and cover photos.
Donation Choice
Giving amounts are capped with text-to-give methods. But mobile apps allow donors to decide how much to tithe. Even better? Your church receives the donations much faster.
Multiple Campaigns
Mobile apps are more flexible. They allow you to create many campaigns on your single profile page. You can also send out multiple appeals from the same page.
Highly Convenient
Your donors won't have to memorize codes or numbers. Instead, they simply open the app, click on it, and search for your church. Once found, your personal giving profile pops up. Individuals input tithe amounts, and press enter. Then, voilà! Their donation is accepted and transferred to your bank the next day.
Transparency
When people use text to give, they may not know where their gift is going. This is because donations may end up in a general fund, rather than a specific destination. But the donor might want their gifts to support a specific cause. For example, Givelify takes the guesswork out of donation destinations. Your church members know exactly where their donations go. They can also specify which specific causes to support.
Making Donations Easier
You can certainly continue using the collection plate. Online giving offers many advantages, too. However, the type of technology used is just as important.
The goal is to make tithing easier for your donors, while your church receives funds more quickly. To that end, encouraging your members to donate through a mobile app is key. The process is simple and quick. The result is satisfaction for both the giver and recipient.
Sign up for Givelify and get set up for mobile donations in under 5 minutes.
Recommended for you: