4 Reasons Why Givelify is the Best Giving Platform for You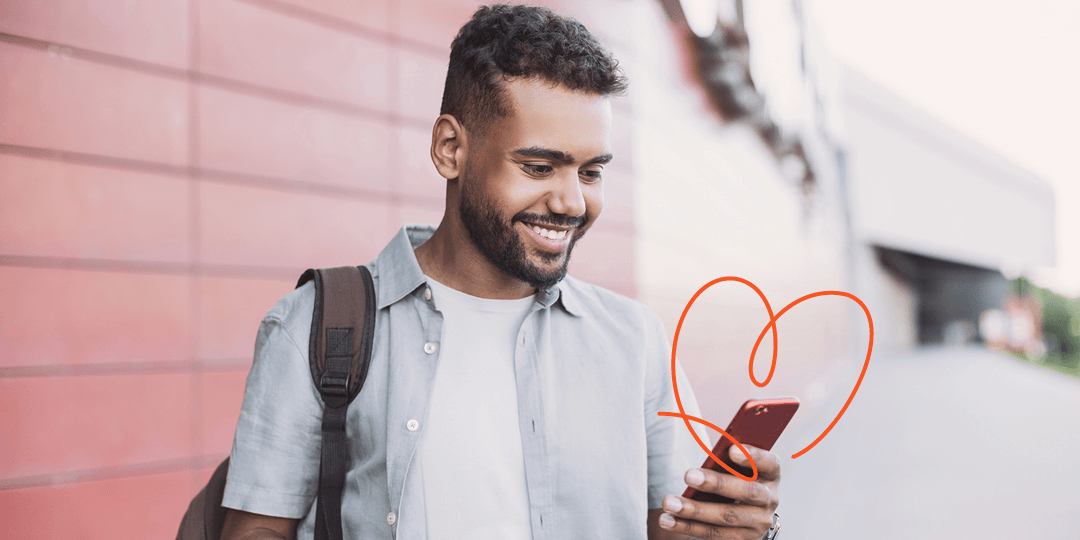 Even in challenging times, current giving patterns are incredibly optimistic. According to the 2022 Giving in Faith report, giving to churches and places of worship grew during the pandemic. And givers intend to be even more generous.   
Research also shows that the best way to tap into that generosity is through online and mobile app giving. In fact, online giving grew by 42% in the last three years. And nearly 30% of all online gifts were made from a mobile device, according to a study from the Blackbaud Institute.   
And that's where Givelify comes in. We are the experts at bringing more joy, more beauty, and more simplicity to the giving experience through online and mobile app giving.  
Here are four reasons why your church or place of worship will benefit from using Givelify as your long-term digital giving solution.  
Reason #1: Your organization will raise more money with Givelify
Why is Givelify right for your organization? Because you will raise more money with our online and mobile giving app.
In fact, the average Givelify user gives $3,960 a year to their church or place of worship, our findings show. That's nearly five times (5X) the national average of $17 a week or $884 in annual giving.   
Givelify also has generous givers. More specifically, 20% of Givelify givers donate more than $5000 a year. That compares to just 8% of Cash App givers and 7% of PayPal givers, our findings show.  
Using Givelify as your preferred giving option for your church or place of worship will unleash a new level of generosity among your givers. Givelify will help you tap into the more than $3 billion donated on our platform.  

Reason #2: Your givers can access multiple digital giving tools at the moment of inspiration 
Donors can give any amount anywhere and anytime with Givelify.  Donors can give from the comfort of their homes, while running errands, or at a coffeehouse or sports venue. They can even give while at the beach, and especially while they are attending worship services.  
Every five minutes, at least 85 generous donors give a total of $10,250 to organizations and causes that matter most to them, our findings show. This real-time generosity happens because of Givelify's digital giving tools, including social media, website, and mobile giving: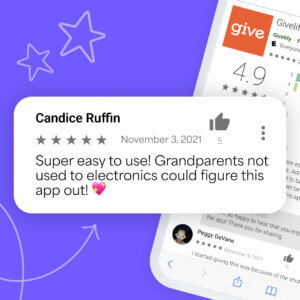 Add Givelify to your website and social media, and watch your contributions grow with real-time generosity. 
Reason #3: Your church or place of worship can access analytics and insights to drive donations
The Givelify Analytics Studio is a web portal customized for your organization. It provides data and insights for empowering deeper meaningful connections between churches and places of worship and your donors.  
Data built into the Analytics Studio will help you better understand the state of giving for your organization. It will also allow you to adjust your strategic plans accordingly.  
You can customize your app profile and take a deep dive into specialized reporting. You can also monitor your next-business day deposits so your money can make an impact quickly, safely, and securely. You'll find everything you need to take your annual fundraising strategy to the next level.   
Within the Analytics Studio, you can also access Givelify Integration. This facilitates seamless reconciliation of donation records with the most popular church management and accounting systems. The good news is Givelify will not cause any additional record-keeping work for your organization.  
Reason #4: Givelify is the #1 app for empowering giving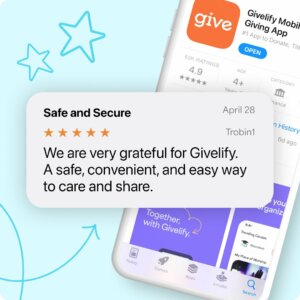 Givelify is the most downloaded, most reviewed, and highest-rated app for advancing generosity in the world. The most common phrases included in the App Store and Google Play reviews are convenient, easy, and love.  
Our mobile app is incredibly easy to use with a beautiful, award-winning, three-tap experience: Tap. Give. Done! It's so simple, that it empowers Givelify users to donate more to the organizations and causes that matter most to them.   
In fact, total giving grew 174% for Givelify users between 2019 and 2021, according to recent research. One of our generous givers said it best. "Thank you, Givelify, for making giving a joy," said Louise K. Wyche, in a recent online review of the Givelify mobile app.   
Questions? Givelify Customer support is readily available to assist you. You can contact them at (317) 663-3088 or support@givelify.com.  
Recommended for you: