Fundraising Campaigns for Nonprofits: How to Get the Word Out About Your Cause
There's a cause you want to support, so you've decided to launch a fundraising campaign. Now what? Launching the drive is only half the job. You also need to spread the word and get people to donate. This is one of the biggest challenges for nonprofit leaders around the world.
Check out these eight helpful tips to get the word out about your cause and make your fundraising campaign successful.
1. Expand Your Reach through Online Donor Networks
The results won't be too impressive if you're only promoting your campaign to existing donors. You'll get donations, but you might be unable to reach your goal. Plus, you could miss the opportunity to reach countless potential donors.
Promoting your campaign through online donor networks ensures it reaches as many people as possible. These networks connect donors with relevant causes and fundraising campaigns. That makes it much easier for nonprofits to expand their reach.
Giving platforms like Givelify will even let you put your cause in front of over one million donors. This can explode your donor base and get the donations pouring in.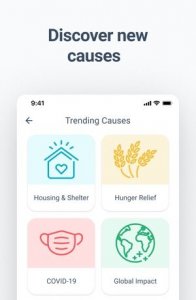 2. How Do You Promote a Donation Campaign?
Grocery-checkout charity campaigns are a great way to promote your fundraising efforts. This involves partnering with a retailer to promote your campaign to shoppers. Customers can choose if they want to donate to your cause during checkout. This means you get to put your campaign in front of even more people, further boosting your chances of driving donations.
You can partner with online retailers and local brick-and-mortar stores for this campaign. But even if you're partnering with local stores, don't forget to promote online giving options.
For example, you can add instructions to your donation jar on donating via your website or through a platform like Givelify. That way, it's easier for donors to give at their own pace and convenience.
3. Be Where Your Donors Are
Instead of letting your donors come to you, why not go to them? You can promote your cause through email newsletters and social media posts. You can even run ads through online publications that are popular with your target audience.
Then, make it easy for them to donate no matter where they are. Perhaps they're casually checking their emails, reading an article on their favorite blog, or browsing their Facebook feed. If they come across your campaign, they should have the option to donate instantly in just a few clicks.
Givelify allows you to easily do this with online giving links that you can add to your website, email newsletters, and even social media pages. Also, through the app, people can quickly donate to fundraising campaigns for nonprofits with just a few taps. The simpler it is to give, the more likely people will donate.
4. Extend Your Outreach to a Multi-Lingual Audience
Sometimes, fundraising campaigns for nonprofits fall short of their goals because they only use one language. What about the thousands of other potential donors who speak a different language? You could impact many more people by planning your outreach around a multi-lingual audience.
Givelify is available in English and Spanish, making it easier for nonprofits to reach bilingual audiences. You can launch your fundraising campaign in two languages and connect with an even bigger audience.
5. How Can I Make Fundraising Fun?
Donating to a worthy cause is already exciting enough. Ramp up the excitement with a Givelithon – the real-time donation display feature from Givelify.
It allows you to display your fundraising goals and real-time changes in your numbers. This is a great way to get your donors excited about giving as they see how their contribution affects your total.
Plus, you can use a Givelithon to recognize your donors by displaying their picture and name as the donations roll in. So you're publicly thanking your donors in real time. This type of recognition and appreciation may encourage more people to give.
When Memorial Baptist Church raised funds for Texas storm relief, this feature was central to their success. In no time, they reached their $5,000 goal and made a difference for people impacted by the storm.
6. Tell Your Story through Video
Video is a great way to tell stories. Combining audio and visual elements, it's perfect for appealing to people's emotions and attracting more donors. So, support your fundraising campaign with an appealing video telling your cause's story.
Show the faces of the people you plan to help, talk about the current situation, and tell viewers how their donations can help. You can then share this video on your campaign and social media pages.
7. Amplify Your Impact with Influential Ambassadors
An influential name backing up your cause could work wonders for your campaign. Their popularity could get your campaign in front of a massive audience. And their influence could compel many people to donate.
So consider having an influential ambassador for your campaign. Take the time to find someone who's genuinely dedicated to your cause. When a celebrity leads by example, others could follow suit.
Famous football players like JJ Watt and Patrick Mahomes, as many other athletes, community leaders, and celebrities, donate money or fundraise for nonprofit work regularly.
8. Start a Social Media Challenge (and Make It Go Viral)
Remember when the #nomakeupselfie challenge took social media by storm and lent a voice to cancer awareness? Your campaign could have a similar impact with the help of social media hashtags.
Decide on a challenge that's relevant to your cause and come up with a catchy hashtag. Then, make the challenge go viral by getting your followers to participate. You could amplify the impact by getting your ambassadors to challenge their followers.
You could attract thousands of prospective donors by raising more awareness through your challenge. Then, give them the option to donate through your website or social media, giving links from Givelify.
Ready to Get Donors?
You can get your campaign in front of the right audience with the right promotion tactics. That means you'll attract more people to donate to your cause. Make the most of the above ideas to get those donations pouring in.
Want to give your nonprofit fundraising campaign a much-needed boost? Sign up for Givelify for free and get set up for mobile donations in under 5 minutes.
Recommended for you: