Celebrating Four of the Most Generous Football Players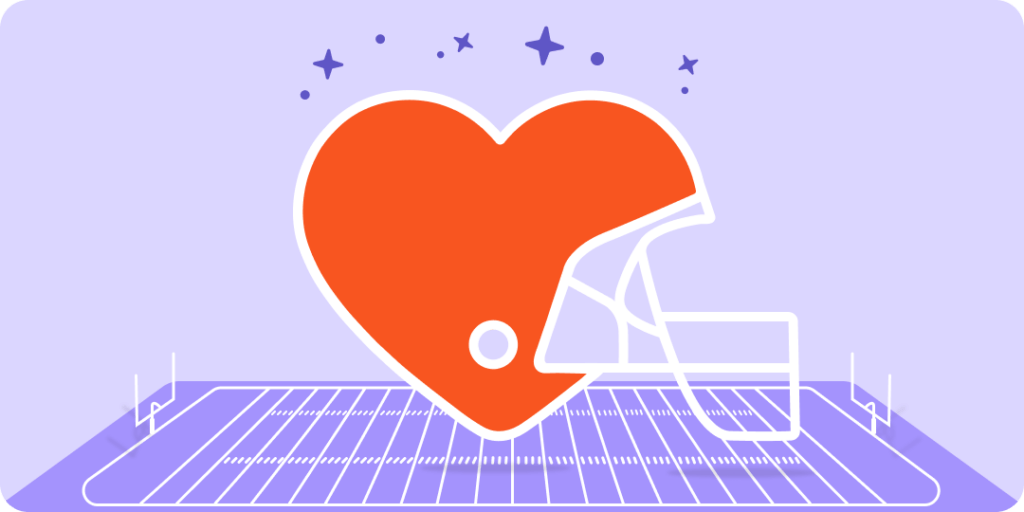 The biggest sporting event of the year is an opportunity to come together as a nation for one of our favorite pastimes. The Kansas City Chiefs will take on the Philadelphia Eagles at this year's big game at the Phoenix Convention Center. It's also an opportunity to evaluate each team for some of their most generous football players.
Super Bowl LVII will be momentous for many reasons. First, this will be a history-making matchup of two African American quarterbacks, Patrick Mahomes and Jalen Hurts.
The game will also be the first time in NFL history that two brothers, Travis and Jason Kelce, play against each other on opposing teams.
And Rihanna, who's set to give her first live public performance in some five years, is the featured performer for the halftime show.
There's the spectacle and spirited competition on the field that we enjoy about Super Bowl. But we also celebrate a bigger purpose at play — one of philanthropy and giving back.
Top 4 Most Generous Football Players
Each year, Givelify highlights the noteworthy generosity and philanthropic efforts showcased by current and former members of each team. This year is no exception.
Each player's athletic performance is quite impressive on the field. Yet, their commitment to serving their communities and making a difference is equally outstanding. That's why we are excited to share our top 5 MGPs — Most Generous Players — of 2023. The players are listed in no particular order.
1. Patrick Mahomes, Kansas City Chiefs
Patrick Mahomes is one of the most exciting young quarterbacks in the NFL. Before he joined the NFL, he had a record-breaking college career at Texas Tech University. There he was named Big 12 Offensive Player of the Year twice.
The Chiefs drafted him In 2017. Two years later, he led the team to a Super Bowl victory and was named Super Bowl MVP.
Mahomes' focuses his philanthropic efforts on making a difference in the lives of children in need. In 2019, he started The 15 and the Mahomies Foundation, which supports organizations that work with underprivileged children, including Children's Mercy Hospital and Big Brothers Big Sisters of America.
In two short years, the 15 and the Mahomies Foundation has provided more than 136,000 meals. It has also given over $2.5 million in charitable grants to 101 organizations.
The organization targets initiatives ranging from health programs and hunger support to literacy and early childhood education. Through its work, the foundation has impacted the lives of thousands of children and families in need.
"I feel fortunate to have the opportunity to give back to a community that has given so much to me…," Patrick stated ahead of his most recent gala event.
2. Jalen Hurts, Philadelphia Eagles
Jalen Hurts is an accomplished quarterback for the Philadelphia Eagles, known for his leadership on and off the field. Hurts had an impressive college career at the University of Alabama. While there, he won two national championships and was named SEC Offensive Player of the Year.
The Eagles drafted Jalen in the second round of the 2020 NFL draft. He has since become one of the top young quarterbacks in the league.
Hurts' commitment to giving back and making a difference in his community is evident through his philanthropic efforts. He has actively supported various causes and organizations, such as Alex's Lemonade Stand, working to make a positive impact in people's lives.
He also frequently participates in community service events, lending his time and resources to help those in need. He's been a strong advocate for education.
In addition to championing education and community service-related initiatives, Jalen is also a strong advocate for autism awareness. He actively works with organizations that provide resources and services for those affected by the autism.
Jalen's dedication to this cause is personal. He has worked closely with those living with autism since his college days. Through his advocacy and support, he's helping to break down barriers and create a more inclusive world for those living with the condition.
"I've always had a passion for helping autistic kids and autistic people," Jalen said. "I know they experience their differences and have their battles, but ultimately having their back and having their support. Showing them that support is the least that I can do…"
His generosity and compassion serve as an inspiration to his teammates. More than anything, this qualifies him as one of the NFL's most generous football players.
3. Zach Ertz, Philadelphia Eagles
Zach Ertz is a talented former tight end for the Philadelphia Eagles. He's also one of the top players at his position in the NFL. Ertz had a successful college career at Stanford University. While there, he was named two-time Pac-12 All-Academic Honorable Mention selection. In 2013, the Eagles drafted him and he became a vital part of the team's success.
His philanthropic efforts center around supporting underserved families and children. In 2018, he and his wife, Julie, founded the Ertz Family Foundation, which provides food, clothing, and educational resources to those in need. Julie Ertz is a member of the U.S. Women's National Soccer Team.
The foundation also provides mentorship and leadership opportunities to young people, helping them to become the best versions of themselves.
Since its inception, The Ertz Family Foundation has impacted the lives of thousands of young people. The foundation has donated more than $500,000 to support various charities and causes.
The Children's Hospital of Philadelphia and the Boys and Girls Club of America have received funding from the foundation. He is definitely one of the NFL's most generous football players.
"As athletes, we have the platform to help people we're involved with, whether that's in the United States or around the world," Zach explained on his foundation's website.
"We want to maximize that platform to do the most good and help the most people we can. And ultimately, we want to show people the love we have for God and for them, too," he said of him and his wife.
4. Travis Kelce, Kansas City Chiefs
Travis Kelce is a tight end for the Kansas City Chiefs. He's also one of the top players at his position in the NFL. Kelce had a successful college career at the University of Cincinnati. While there, he was named First-Team All-Big East and became one of the top tight ends in the country.
The Chiefs drafted him n 2013. He's since become a vital part of the team's success, known for his athleticism and versatility.
Travis focuses on promoting education and helping young people to achieve their best and highest. In 2018, he established 87 & Running to provide scholarships to underprivileged students to help them plan for their future. 
In addition to scholarships, the foundation provides funding for school supplies, after-school programs, and extracurricular activities.
The foundation offers both financial assistance and mentorship. It also makes a direct impact in these children's lives, equipping them with valuable life skills. 87 & Running has had a positive impact on the lives of hundreds of young individuals and families.
Giving toward the goal line
The Givelify mobile app is the most downloaded, most reviewed, and highest rated app for maximizing giving in the world. We celebrate giving in all its forms. And this year we've seen an outpouring of generosity from athletes. All of whom, in some way, qualifies as one of the most generous football players.
So, why not make Super Bowl Sunday the day you set your personal giving goal? You don't have to be a professional athlete with a multimillion-dollar endorsement deal to put more good into the world.
Consider committing to regularly giving this year to a nonprofit that aligns with your favorite cause. You too can make a positive impact in the world, one simple and joyful gift at a time.
Download the Givelify mobile donation app and start your journey of giving today. You can search for nonprofits by cause, trending causes, or organization name.
As we celebrate Black History Month, we also want to highlight several nonprofits that you can support through Givelify. Join us in putting more good in the world!