Celebrating Five of the Most Generous Football Players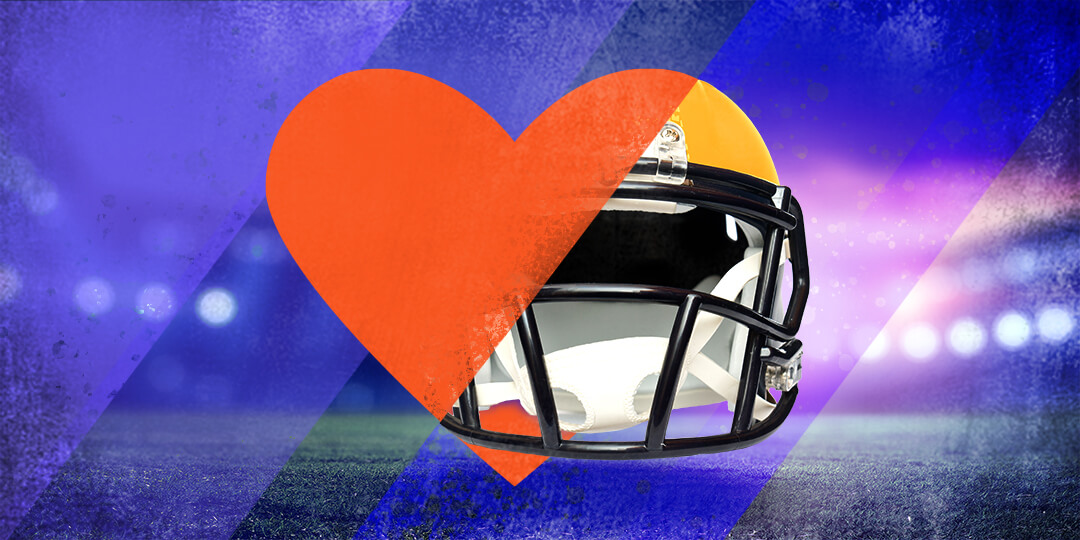 Updated for Super Bowl LVI.
With the Super Bowl LVI fast approaching, we eagerly anticipate watching the Los Angeles Rams compete on the field against the Cincinnati Bengals. However, the biggest impact many of the football players make is actually off the field. We have watched these pro athletes all year choose to be generous givers. And because we love to celebrate giving and generosity wherever we see it, we've chosen five NFL players as Givelify's MGPs — Most Generous Players.
Top 5 Most Generous NFL Football Players
At Givelify, we measure generosity a little differently. Our vision is a most-perfect world where everyone leads with heart. We believe everyone can make a difference because the innate desire to do more good exists in all. So, although we champion charitable giving through the world's favorite mobile giving platform, our larger aim is to help people become the kindest, most generous versions of themselves.
We celebrate all generosity – those who give their time, treasure, and talent – as it all comes from the heart. Here are the five standout football philanthropists (in no particular order) we think are worth celebrating.
1. Von Miller, Los Angeles Rams
Reflected in the language on the Ram's community page is the heart of the organization. Civic development and equity are driving forces that power this team.  "Social justice," the website touts, "is at the heart of the Los Angeles Rams' community outreach efforts. To us, it's about fighting for equality, driving equity, and providing access. Too many in our Black and Brown community lack access – access to mentors, who can teach youth to dream beyond their current realities; access to basic needs like food and housing; and access to jobs and upward mobility."
The Rams' community work addresses issues tied to poverty and inequity, and many of their individual players' charitable efforts mirror those efforts. Miller has taken that heart and channeled it into his own foundation, Von's Vision.  His mission?  To provide low-income students with eye care and fashionable corrective eyewear to help them be their best in the classroom and in life.
In November 2021, Miller launched a Dallas chapter of the Von's Vision Foundation.  "Last Saturday," Miller shared, "74 percent of the 125 Von's Vision kids we met needed glasses.  Welcome to the Von's Vision Foundation, Dallas, I'm so proud to be able to help."
Givelify is proud of you, Von Miller.
2. Joe Burrow, Cincinnati Bengals
Joe Burrow's 2019 speech accepting the Heisman Trophy is not likely to be forgotten. In an emotional and genuine address, Burrow spoke about his hometown of Athens, Ohio. Using his platform for good, Burrow drew the nation's attention to the rampant poverty and food crisis in Ohio's Appalachian region. He said, "Coming from southeast Ohio, it's a very impoverished area and the poverty rate is almost two times the national average. There [are] so many people there that don't have a lot and I'm up here for all those kids in Athens and Athens County that go home to not a lot of food on the table, hungry after school. You guys can be up here, too."
Now, in 2022, he has turned his good words (and good salary) into generous action through his foundation  Joe Burrow Hunger Relief Fund.
"The Joe Burrow Hunger Relief Fund didn't get to $1.3 million because a few donors gave staggering amounts," said Cara Dingus Brook, President and CEO of The Foundation for Appalachian Ohio. "We got here thanks to thousands of caring individuals giving what they can. The impact the Cincinnati Bengals community has made on hunger in Southeast Ohio humbles us. We're grateful and inspired by the Who Dey Nation's continued support. They are changing lives."
Joe Burrow, we salute your work.
3. Andrew Whitworth, LA Rams
"Big Whit" captivates football fans and the NFL community with his quiet, yet ferocious guardianship of his teammates. Protective by nature, Whitworth extends his advocacy off the field and into his community.  With his unique ability to galvanize his teammates and others to support causes important to him, he works behind the scenes on issues that plague underserved communities in Los Angeles and beyond.
Most recently, at the beginning of the 2021 season, Andrew launched his "Big Whit for LA Families" program and committed to donating $20,000 after each home game to repair houses in his home state of Louisiana, as well as move Los Angeles residents facing housing insecurity into affordable homes. While on the job in Los Angeles, Andrew works with nonprofits to help individuals pay rent and groceries, support down payments for homes, as well as furnish homes.
Givelify celebrates the work of Big Whit 77 on and off the field!
4. Jalen Ramsey, LA Rams
Jalen Ramsey says he lives by the message of Matthew 25, a Bible passage that reminds its readers that their eternal inheritance is connected to how they treat the hungry, thirsty, stranger, or prisoner. Because whatever you do for one of those, you do for God. Which may explain why Ramsey feels like he is playing for more than his team and his fans.
In October 2021, in celebration of his 27th birthday, Ramsey launched a hunger relief campaign in partnership with The Athlete's Corner called Feeding Families with Jalen Ramsey. For every interception, sack, and forced fumble by the Ram's defensive line, 5,000 meals were provided to help feed families in Los Angeles. For each recorded play by Ramsey himself, the number goes up to 10,000 meals.
Ramsey recorded four interceptions and one forced fumble during the 2021 regular season. That's a lot of meals. In fact, his initiative has provided a spectacular 305,000 meals as of January 2022.
In addition to hunger relief, Ramsey supports education, cancer-related causes, and character development, among others. About his $1 million dollar donation to a Nashville charter school, Ramsey said, "I chose to support Purpose Prep because it is important for every child to have the opportunity to receive a great education, and the Purpose Prep programs are designed for underprivileged children in my hometown to have access to those services."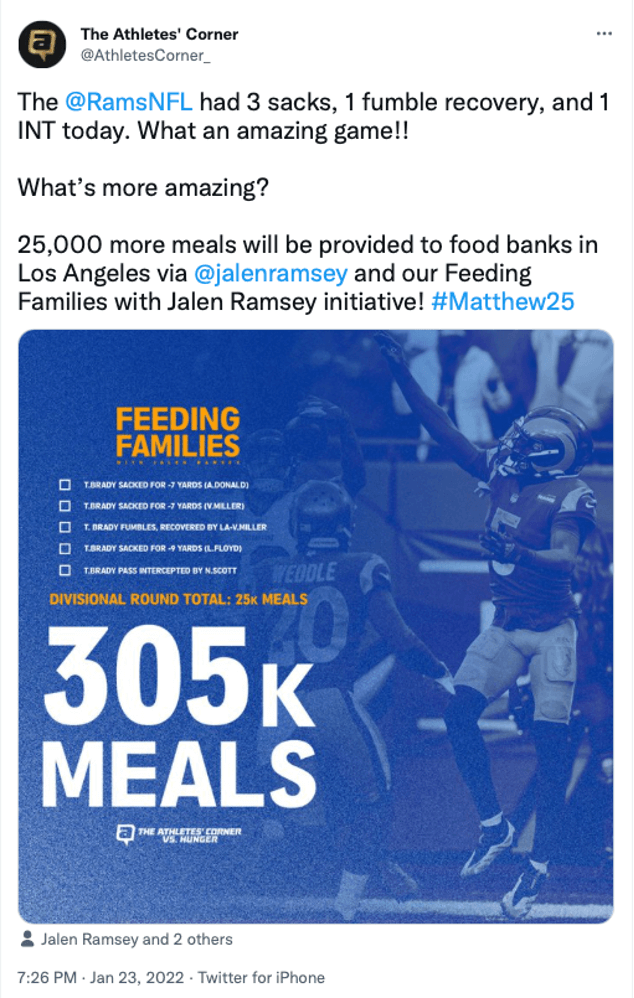 Jalen Ramsey, we choose to support you! Your generosity is inspiring.
5. Sam Hubbard, Cincinnati Bengals
Sam Hubbard was a nominee for the 2021 Walter Payton NFL Man of the Year Award, a prestigious recognition for excellence in football both on and off the field. It is presented annually to players who go above and beyond in their performance and in volunteer and charity work.
In addition to the public honor and a jersey patch for their uniform worn through the completion of their NFL career, award winners receive $250,000 donated to the charity of their choice. The other 31 players won't walk away empty-handed, however, receiving up to $40,000 to be donated to their charity of choice.
Southwest Schools (@SouthwestLocal) tweeted:
"You did it… and then some! We've nearly tripled our goal of $9,400. Let's not stop there! Thanks for your support of the @sh94foundation, and get ready to celebrate the @Bengals with a day off school on Mon. Feb. 14! @Sam_Hubbard_ #rulethejungle #rulethesuperbowl🐅"
The Sam Hubbard Foundation helps the people of Ohio combat hunger by providing vulnerable children and families with educational, medical, and athletic resources. When Hubbard hosted his first foundation event, all proceeds went towards community impact in the hunger space. This year, Hubbard also hosted his annual youth football camp. And, in November, Hubbard hosted a Thanksgiving Food Drive. In December, Hubbard hosted a group of kids for a "Shop with the Pros" night.
Hubbard also launched in December his "Ohio Fed" campaign with Homage to benefit the Freestore Foodbank. Between football practice, traveling and games, one wonders how he has the time or energy to give back. How easy it would be to not give it forward! Hubbard clearly chooses a life that is not about ease but about purpose.
Mr. Hubbard, Givelify celebrates your life of generosity.

With great power comes great responsibility, and these five most generous football players are galvanizing their firepower, finances, and fame to make the world a better place.
Super Goal of Giving
Givelify celebrates inspired giving anywhere we see it, and we've seen a lot of giving from athletes this year. In an unsure world, one sure thing is that we all need a little help from our friends. Make Super Bowl Sunday the day you set your yearly Super Goal of Giving. You don't have to be a pro athlete with multi-million dollar endorsement deals to be generous. In fact, the lion's share of donations given through the Givelify app is from small, single donations. Can you commit to regularly giving this year to a nonprofit that works for your favorite cause? You, too, can change the world one simple, joyful gift at a time!
Download the Givelify mobile donation app and search by cause to share your generosity with organizations that are changing the world. You can also search trending causes or by organization name, and track your 2022 Super Goal of Giving!
In honor of Black History Month, we are sharing a few of our black-benefitting nonprofits you can support now on Givelify.