Wale Mafolasire Receives 2022 Black Leadership Award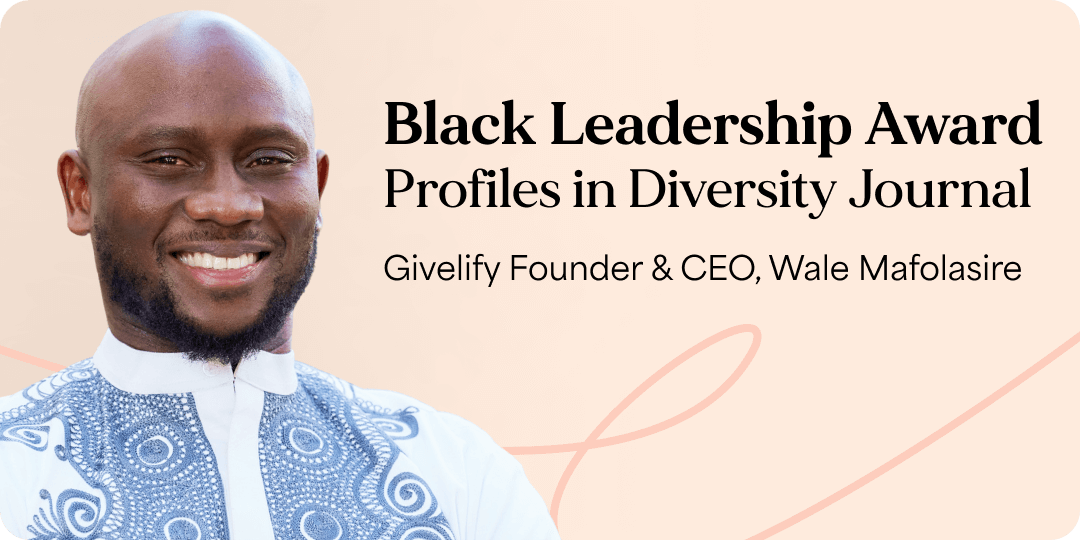 Profiles in Diversity Journal (PDJ) announced that Givelify's Founder and CEO Wale Mafolasire has received the 2022 Black Leadership Award.
This award acknowledges individuals who display a commitment to excellence and a passion for mentoring the next generation. The award also recognizes winners for their ongoing involvement with their community.
Mafolasire is one of 53 national recipients to be selected for this award.
PDJ promotes and advances diversity, inclusion, and equity. The publication studies visionary leadership and innovative programs across the corporate, government, nonprofit, higher education, and STEM (science, technology, engineering, and math) sectors.
"The leaders we feature in PDJ's 2022 fourth-quarter issue are indeed an impressive group," says Profiles in Diversity Journal publisher James Rector. "We are proud to honor these outstanding leaders and recognize the organizations that support their success."
Since 1999, Profiles in Diversity Journal has showcased and honored individuals who have blazed new trails and mentored others. It also acknowledges leaders who have advanced diversity and inclusion and excelled in their chosen fields. 
Black leadership in tech
"It is an honor to receive the Black Leadership Award from Profiles in Diversity Journal," said Wale Mafolasire, founder and CEO of Givelify.
"As a Black founder in tech of a proud minority-owned company that believes its strength is in embracing each team member's perspectives and differences, this award couldn't be more affirming of the good work that happens at Givelify," he said.
Mafolasire, a Nigerian native, started Givelify as a bootstrapped company, funded by several friends after being turned down by traditional venture capitalists and angel investors.
According to the Kapor Center's State of Tech Diversity: The Black Tech Ecosystem report, a mere 1% of venture capital is allocated to Black founders. 
"When door after door is closed in your face, telling you that your vision of a more perfect world is not worth investing in, you have two choices: give up or build your own door," added Mafolasire.
Diversity is our strength 
Today, Givelify is a community of engineers, data scientists, customer service representatives, marketers, designers, and more — all diverse innovators from across the globe who pool their talents to design award-winning products and experiences.
Our generous giving community of more than 1 million donors and 55,000 organizations has made Givelify the most trusted and loved online and mobile giving platform. Its award-winning mobile giving app is rated 4.9 out of 5 stars in 90,000+ reviews.
Along with its powerful donation management system, it's the fastest–growing technology for advancing generosity in the world.
Mafolasire and the other Black Leadership Award recipients will appear in the Profiles in Diversity Journal.
They will share their personal and professional experiences that have shaped their success and the insights they have gained along the way. Their stories will be available in late December at www.diversityjournal.com.
More about Wale Mafolasire and Givelify: