Churches Send Cross-Country Aid To Texas After Winter Storm
As Texans faced unprecedented freezing temperatures in mid-February, many area churches jumped into action, providing help to those in need. Places of worship across the state opened their doors to serve food, provide heat, electricity, and hot showers for their communities. Meanwhile, churches from other states also responded quickly, developing donation drives with Givelify's online giving platform to collect and send resources to their neighbors after this major winter storm. 
The winter storm, unofficially named Uri, caused the National Weather Service to issue winter weather alerts for 170 million Americans. However, the storm's severe impact on the Texas energy system, captured the nation's attention and headlines. More than 4.5 million Texas homes and businesses had no power and nearly the half the state, nearly 14 million people, had limited or no access to clean, running water. The storm itself would last four days, but the impact of the storm will linger for months to come. 
With Online Giving, Churches Quickly Respond After Winter Storm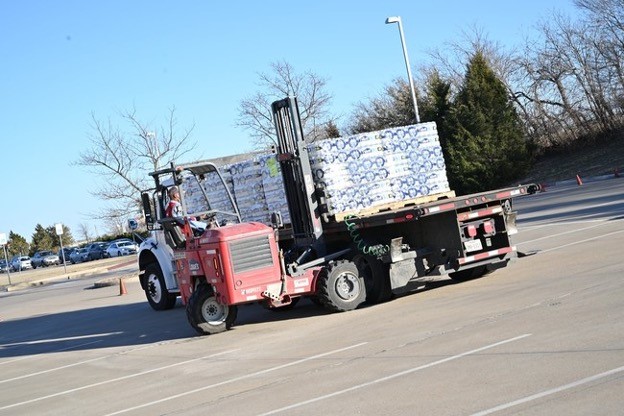 Following Winter Storm Uri's arrival, Reverend Dr. Adrian Brooks called on his congregation to support Texas relief efforts. He made the plea from his pulpit at Memorial Baptist Church in Evansville, IN, about 800 miles away from Dallas.
"Watching some of the things unfold there, particularly in the Dallas area, we knew that vulnerable populations would be adversely affected by the storm," Rev. Dr. Brooks said. "We wanted them to know, we were not just praying for them, but also willing to give some resources to play a part in the recovery."
Memorial Baptist Church used Givelify's Givelithon feature to raise funds for Texas storm relief. (The Givelithon feature can display a live feed of incoming donations, which allows an organization to publicly recognize and thank donors for their gifts in real time).
Memorial Baptist members generously gave and quickly reached the church's $5000 goal. Within a week, Rev. Dr. Brooks arranged to send the funds to Dallas' Friendship-West Baptist Church.
"Friendship-West is already engaged in the poorest parts of Dallas, south of downtown," Brooks told his members, as he encouraged them to give. "They are providing meals, water, vouchers for people to stay in hotels in other places, so they can have shelter. They are doing the things we would do if we were there."
Called To Action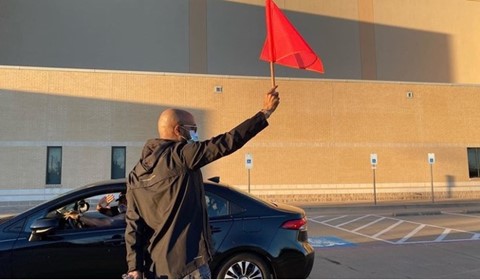 Memorial Baptist is one of several organizations to send funds to Friendship-West Baptist Church, as the church immediately began providing emergency assistance on the ground. Led by social justice activist and senior pastor, Dr. Frederick D. Haynes III, the church mobilized partnerships not only with fellow churches, but also with multiple companies and foundations. Help came from HelloFresh, Grand Husky Logistics, and the Will and Jada Smith Family Foundation and many others. In about a week, Friendship-West provided 10,000 meals and 3,000 cases of water, according to a press release.
In addition to Memorial Baptist Church, additional churches sent funds to Friendship-West to help with winter storm relief, including: Saint Paul's Baptist Church, Richmond, VA, St. Paul Community Baptist Church, Brooklyn, NY, Eastern Star Church, Indianapolis, IN, Messiah Community Church, Reisterstown, MD, Enon Tabernacle Baptist Church, Philadelphia, PA, First Baptist Church Highland Park, Landover, MD, Elm Grove Baptist Church, Baton Rouge, LA and Greater New Jerusalem Missionary Baptist Church, Los Angeles, CA. More churches will likely join this list, as response efforts continue.
"We are clear that the impact of this winter storm will have lingering effects. We anticipate Texans will face higher than usual utility bills due to deregulation. Prices will fluctuate with the increased demand. Marginalized communities will be hit the hardest," said Paster Haynes in a statement. "There will be a need to replace food that spoiled, essential household items, clothing, hygiene products, and other necessities."
Also, the church is providing extended wrap-around services. In addition, those who need to repair damage to their homes can apply for winter storm relief grants.
"There is much work to do! We will continue to stand firm and support our membership and community as we all go through the recovery process together," Haynes said.
Stronger Together
"What we did for our brothers and sisters in Dallas was a natural outflow of our holistic ministry here. We are very involved in community activities. It's part of our DNA here," he said. "When you bless other folks, God will bless you."
Join Memorial Baptist, Friendship-West and more than 60,000 places of worship and nonprofits who use Givelify's online giving platform to do more good in their communities.