Champions of Good: Track Your Giving Impact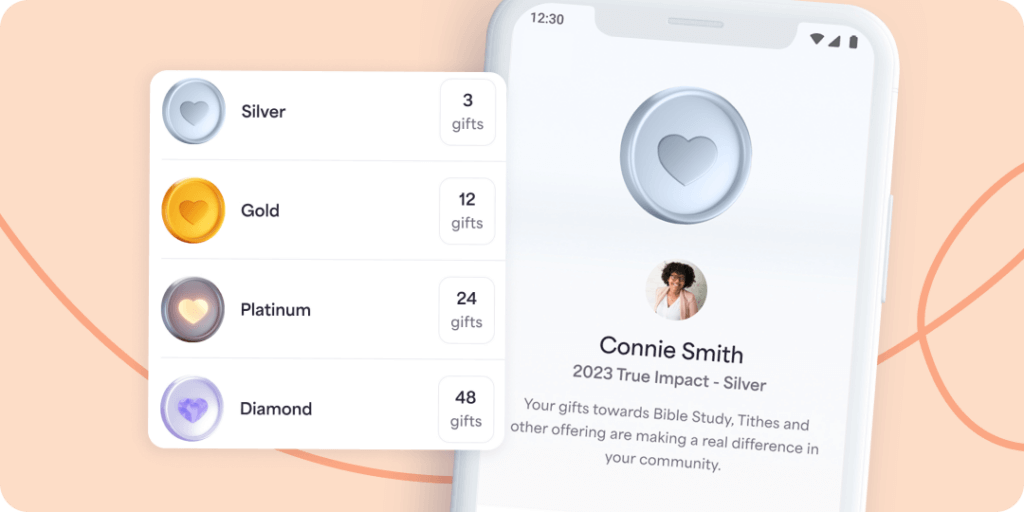 As a donor, your giving makes a difference — no matter the size of your donation. We see your faithful giving to support your church or place of worship as it serves its congregation and the local community.  
We see the donations you give as you feel inspired by nonprofits and charitable organizations that work to empower underserved youth, transform the lives of those in need in Haiti with housing, medical care, education, food, and clean drinking water, or support hurricane victims — and more.
Big or small, weekly or monthly, we want to celebrate you for all the good you do. That's why we created Givelify's all-new Champions of Good program.
What is the Champions of Good program?
Year after year, we see faith-driven givers and nonprofit donors rally around organizations to help them fund visionary projects.
In 2022, the Givelify giving community donated $1 billion to support organizations and causes close to their heart. You've spread your impact to churches and places of worship, local nonprofits, as well as global organizations.
Available to the 1.3 million donors on Givelify, the Champions of Good program celebrates all the good you do. We want you to feel appreciated, to truly understand your impact, and to be inspired to give again.
The program encourages you to become more like the consistent givers that they intrinsically aspire to be. According to the Giving in Faith report, 95% of givers want to give at least once a month on a consistent basis.
How does it work?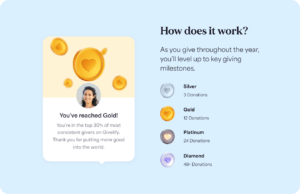 As you give to the organizations you care about, you'll reach new giving milestones, or True Impact Levels.
There are four True Impact Levels based on the number of gifts made to any organization via our giving app in a calendar year:
Silver: 3-11 donations
Gold: 12-23 donations
Platinum: 24-47 donations
Diamond: 48 or more donations
As you continue to show support for the organizations and causes you believe in by giving through your Givelify donation app, you'll ascend through the True Impact Levels.
As you reach new levels, you'll also receive an in-app notification letting you know and celebrating you for your achievement.
With each new level, you'll join an exclusive group of givers who are as committed as you. As you give via the Givelify mobile giving app, you can easily track the number of gifts and the amount you've gifted throughout the year.
If you're striving to become a more consistent giver, the Champions of Good program can help you reflect on your progress toward becoming the steadfast giver you aspire to be.
True Impact Levels show you where you are in your journey to becoming a consistent giver and how you can reach the next milestone in your giving journey.
The impact of your giving
You need to look no further than our Bravo! Stories of Good to see that impact in action. From a family equestrian center offering restorative care through horse companionship to a church supporting their community through educational scholarships, your generosity helps organizations like these make a lasting impact.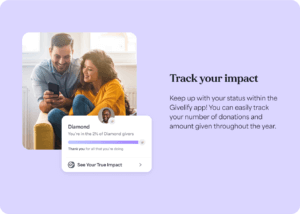 And this is only possible through the generosity of Champions of Good like you. With the launch of this program, you now can reflect on your personal giving journey as we help you celebrate your generosity.
Let's do more good together
Becoming a Champion of Good isn't about how much you give. It's about doing what you've been doing all along — giving as you can and growing into the consistent giver you wish to become.
It's easy to get started on your journey of becoming a Champion of Good. Simply update your Givelify mobile donation app and donate to an organization of your choice.
You're already part of the 77% that believe everyone can make a difference by supporting causes. Now you can become a true Champion of Good by giving regularly.
Here at Givelify, we believe that we can do more good together. As a Champion of Good, you'll see your impact – in your congregation, in your community, and across the globe.
Champions of Good frequently asked questions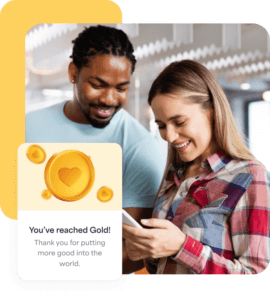 Q: How soon will my level be updated after a donation? 
A: Levels will be updated immediately after a successful transaction as part of the post-donation flow. Givers should be recognized in real-time to amplify the positive emotions associated with giving. 
Q: Is the recognition program based on dollar amounts? 
A: No. This recognition program is based on the total number of gifts given to reach each milestone. 
Q: What about my donations outside of Givelify? Do those count towards this program?
A: Any gift made directly through the Givelify app counts! Currently, we can only track what you give through Givelify. In the future, we want to add the ability to track your entire giving wallet in one place.
Q: I do not give to be recognized; I give because it's the right thing to do. So why do I need this? 
A: Unless you feel compelled to share publicly, your giving level is only seen by you. Regardless of your motivation for giving, we want to celebrate the good you do! 
Q: I have feedback to provide on this program. Where do I send it to? 
A: You can send it directly to Givelify: support@givelify.com.
Recommended for you: