Ways to Help Support Hurricane Victims Today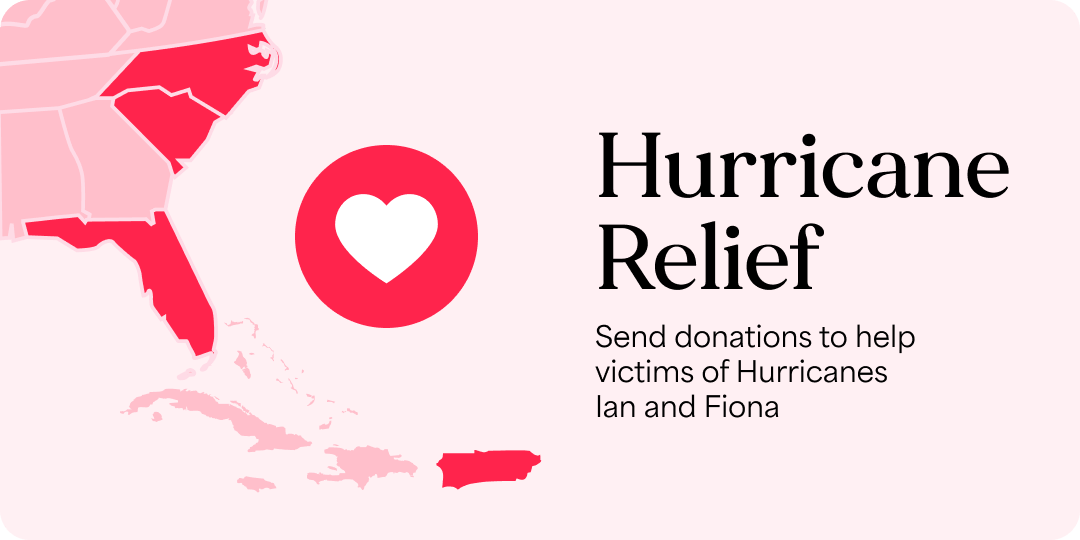 As the 2022 hurricane season continues, many residents of the southeastern U.S. have found themselves in the crosshairs of powerful and devastating storms.
On Sept. 18, Hurricane Fiona brought torrential rains and high winds causing significant damage in Puerto Rico. The Category 1 hurricane dumped more than 30 inches of rain on some parts of the island.
This forceful storm led to complete blackouts for most of the island and hundreds of thousands of residents to be without water.
Just 10 days later, on Sept. 28, Hurricane Ian made landfall in southwestern Florida as a monstrous Category 4 hurricane with windspeeds topping 150 mph.
Many residents lost everything, more than 1,600 individuals had to be rescued, and unfortunately, the death toll continues to climb. The hurricane also went on to cause significant destruction in other parts of the southeast including the Carolinas.
The total cost of the destruction is still unclear. Puerto Rico's economic loss is compounded as it was still recovering from Hurricane Maria in 2017.
The widespread devastation in Florida is estimated to cost more than $47 billion in damages. Some experts even forecast that the storm's total economic cost will top $100 billion.
The total impact of these storms is not yet certain. Yet, one thing is clear: Hurricane relief donations and assistance are needed. In these times of crisis, generous support from donors near and far can make all the difference in hurricane relief efforts and recovery. 
Share your g
enerosity
with Givelify Trending Causes
In response to the recent hurricanes, Givelify has updated its Trending Causes feature on our mobile donation app. Donors are now able to select "Hurricane Relief" from the list of causes that are important to them.
Supporting communities impacted by hurricanes and natural disasters like Ian and Fiona is part of Givelify's mission. We make giving to these critical initiatives as simple, quick, and easy as possible. The Trending Causes feature does just that.
This update will give donors even faster access to organizations that are actively supporting the important causes they are enthusiastic about.

What is the Givelify Trending Causes feature?
Trending Causes is a tool within our donation app that highlights giving initiatives by theme. When a donor selects a theme, they will instantly be able to select from a list of nearby organizations working to make a difference in that area.
Currently, Trending Causes includes major themes such as:
Women's Causes

 

Ukraine Support

 

Hunger Relief

 

Global Impact

 

COVID-19
The addition of "Hurricane Relief" will help promote timely support of hurricane relief donations and recovery efforts. We will continue to update these causes to empower donors and nonprofit organizations to continue to do more good in the world.
Using Trending Causes is simple
To give to one of the organizations supporting hurricane relief efforts using Trending Causes, simply follow these steps:
From the Givelify app's home screen, scroll down to Trending Causes
Click on the trending cause "Hurricane Relief"
Select an organization
Tap the Give button
Select an amount, then click the envelope with "Hurricane Relief" in the description.
Through these quick and easy steps, your generosity can help provide critical relief to those in need.
How to help hurricane victims
If you are wondering, "How can I help?" of course, monetary donations are always welcomed. After a hurricane, this can be one of the fastest ways to help those in need.
Financial gifts can be quickly deployed to purchase much-needed items such as food, clothing, and toiletries. Every little bit helps, and Givelify makes it easy to give to organizations you would like to support.   
Sending supplies. When thinking of ways to show your support, don't forget the basics. Those affected by disasters are almost always in need of basic supplies like food, water, and medicine.
You can help by donating these items to relief efforts. A great place to start is by checking in with your local big-box retailer. They often have collection bins and locations to help with disaster relief.  
Donating blood. The need for blood donations always increases after natural disasters like hurricanes. Giving blood is an act of generosity that can save lives.
In fact, one donation can help more than one individual. To find a location and schedule a donation appointment near you, visit the American Red Cross.  
 Volunteering. Volunteering with local organizations is another great way to help with relief efforts. Whether you can travel to the affected area or provide remote support, your skills can be helpful to those in need.
Volunteer opportunities are just a few clicks away with services like VolunteerMatch allowing you to get started right away.  
Verified organizations where you can send hurricane relief donations
Are you inspired to act and help those in need? Here are 16 organizations in need of hurricane relief donations that could use your generous support:
American Red Cross (Washington, D.C.)

Fifth Ward Baptist Church

(Clarksville, Tennessee)

First African Baptist Church

(Savannah, Georgia)

First Christian Church

(Peoria, Illinois)

Living Hope Ministries

(Phoenix, Maryland)

Living Springs Lutheran Church

(Columbia, South Carolina) (Columbia, South Carolina)

Mt. Prospect Baptist Church

(Villa Rica, Georgia)

New Community Baptist Church

(Atlantic Beach, Florida)

Orange Park Church of The Nazarene

(Orange Park, Florida)

Parroquia San Augustin – Redemptorist Ministries

 (San Juan, Puerto Rico)

 

The Brook United Methodist Church

(Myrtle Beach, South Carolina)

The Giving Tree Foundation

(Fort Lauderdale, Florida)

The Outside Church

(Port Saint Lucie, Florida)

Trinity CME Church

(Tampa, Florida)

We Rise 4 Wellness, Inc.

(Arcadia, Florida)

Wellspring United Church of Christ

(Centreville, Virginia)

W

e Rise 4 Wellness, Inc.

(Arcadia, Florida)

Zion Hill Missionary Baptist Church

(Port Arthur, Texas)