Horses4Heroes: Nonprofit Helps Family Through Equine Therapy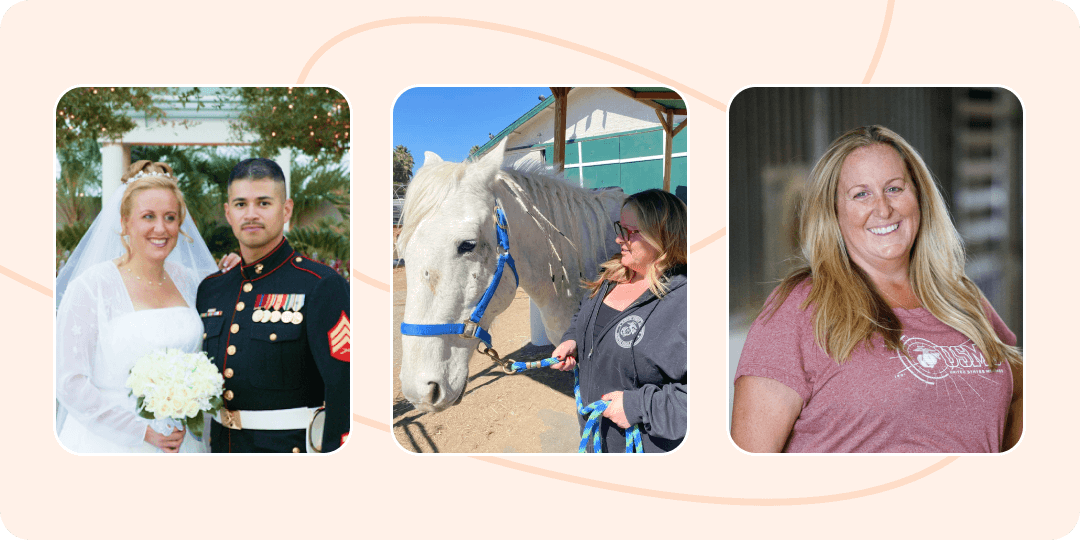 Have you ever stood next to a horse in a field or pasture? Seen her tail flick and mane shake? Heard her give a friendly whinny? Felt her nuzzle your hand or hair? Combining strength and gentleness, horses are amazing creatures — with the power to help, heal, and give hope.  
Joanne Estrada knows all about horses now. But her story starts far from horses, barns, and wonder-working equine therapy.  
The Estrada Family
Joanne Estrada lights up when she tells the story of her whirlwind romance with her husband, Carlos Estrada. A marine since 1993, Carlos entered the reserves in 1999 — about the time the two started dating. They were engaged in 2001.   
9/11 put a temporary halt to their wedding plans when Carlos was called to active duty in 2002. On Jan. 11, 2003, while on a few days leave, Carlos and Joanne got married. It was a beautiful wedding, but Carlos had to return to duty immediately.   
During Operation Iraqi Freedom, he was on the front lines, including multiple firefights and combat operations to secure the Ministry of Defense and United Nations building as part of the complete overtaking of Bagdad city. Joanne cared for his daughter back at home and shared guardianship with her grandmother.  
Back in Bagdad, Carlos sustained a serious back injury in combat. After 10 years of active duty, he was put on 100% disability. His homecoming was mixed because of the physical pain and lingering trauma. There was joy in being together and in their growing family, but Carlos was suffering from severe PTSD and often immobilized with pain.   
At first, Joanne traveled for work, and he was home full-time with the three children. Family life was prioritized, Carlos and Joanne were both working hard.
Carlos and Joanne spent the next few years fighting for each other instead of with each other and their marriage was stronger than ever. Joanne's whole life was helping Carlos. She was the doer and the overthinker while he was the calm one, grounding her.   
Then, COVID hit. Carlos was home and Joanne's work went remote. The kids were homeschooled. All at home together, for the first time in their lives, they were under one roof and found this precious time to be a huge blessing. They enjoyed healing, bonding, family game nights, family dinners, and movie nights. Through it all, they never gave up on each other. 
Then the unthinkable happened
Carlos finally had his back surgery in the summer of 2020 and felt better immediately. Could the trauma be over?  
In October of that year, however, he woke up saying he couldn't breathe. After several months of appointments with doctors and specialists, Joanne and Carlos drove from Las Vegas to San Francisco for a specialized surgery at a U.S. Department of Veterans Affairs hospital. Reluctantly, they had to leave the kids with their family back in Las Vegas.  
Inconceivably, Carlos died during the surgery from an undetected pulmonary embolism.  
More than 200 people attended his funeral. Until that moment, Joanne had never realized the impact he'd made on his community. So many people who had worked for him came to pay their respects.  
They all said he was the best manager and shared ways Carlos had helped them. They told Joanne he was strict and firm, but always fair. Marines flew in from all over the country.    
Members from his motorcycle club showed up in droves. It was an outpouring of support.   
But, by March 2021, the mourners had gone on with life, and Joanne was left alone with her three children. The kids shut down. And Joanne had lost her strength to parent them well.   
She remembers thinking, "How do you say 'no' to your children while they are grieving? How do you have boundaries and expectations while they are in crisis?"  
She didn't know how to move forward and thought: "I can't do this."   
Healing through equine therapy
She made calls to therapists. It took forever to get an appointment. To make matters more challenging, the kids said they were not going to speak to her if she forced them to go.   
Finally, she called the school counselor who suggested Horses4Heroes, a nonprofit in North Las Vegas that offers restorative care through horse companionship to active-duty service members, veterans, law enforcement officers, firefighters/EMTs, school teachers, health care professionals, and their families through its Family Equestrian Center.  
The kids agreed to go. At the first session, Libby, the Director of Health and Wellness, took them around the ranch. Next, she gave them an assignment. She told them to work together, use everything they found in the ring, and make an outline of their house.   
It was horrible. Joanne, a project manager, was controlling during the activity. Everyone had ideas, but no one listened to each other. Then, they all started doing something different on their own. Her oldest drew a circle to represent her bedroom and stayed "in her room" until she got annoyed and went to sit in the car.
They saw the family patterns through this one small activity that didn't even include a horse!  Joanne wondered, "How do we fix this?"   
Rebuilding their relationships
The family stuck with Horses4Heroes and the equine therapy program. It was intense as they learned how to control the big animals. You can't negotiate. You must lead.   
The horses feel the emotions of their handler and mirror their reactions. Over time, each member of the family was drawn to a different horse. Miraculously, they started building a relationship with horses, just like they were rebuilding their relationships with each other.   
The first time Joanne did lunging — a training exercise where you lead the horse around an imaginary circle — it was incredibly empowering. She found grooming the horses calming. And, at the ranch, she can talk out her week with Libby or in a group setting.   
The things she learned with the horses, she applied at home and work: Ask for what you need, be firm, and don't put up with steamrolling. She also learned how to communicate with her children, both separately and together.  She began to see that there were things to say, and things better left unsaid. Listening was key.  
Through her time with Horses4Heroes, Joanne learned how to give herself grace and to accept where she is so that she can move forward. She met other people in the program, like Travis, a Marine veteran.   
It felt like everyone was in the same boat with a different story. The group developed into an amazing support network.  
Riderless Horse
Equine therapy for the Estrada family culminated in a ceremony called The Riderless Horse, which is one of the oldest and most moving military traditions. The horse is led wearing an empty saddle with the rider's boots reversed in the stirrups, indicating the warrior will never ride again.   
Although they'd held a funeral for her husband, the family was in too much shock to grieve. Horses4Heroes made it possible for them to grieve together and honor a man that will forever be in their hearts.   
Before H4H, the kids were shut down. Now they talk. Being on the ranch gave them a place for conversations and to work through things in a different environment. She still misses the partnership she had with Carlos.   
Thankfully, the family continues to progress with Joanne as their "herd leader." Her oldest now has a baby. He looks just like his Grandpa Carlos.  All this is thanks to healing horses, the people who serve, and those who support the work at the ranch.  
Horses4Heroes: Serving veterans, first responders, and their families 
H4H focuses on equine-assisted learning and equine therapy programs that use the horse-human relationship as a tool for healing and building connection, confidence, and community. "It takes over $25,000 a month to just keep the ranch open," says owner Sydney Knott.    
Givelify celebrates H4H and other organizations like them that use therapeutic horses or offer mental health services for first responders, military, and their families.  And you can support them by using the Horses4Heroes giving link. When you donate to H4H, people can get the help they need to live rich, full lives. 
Do More—Together
Organizations like Horses4Heroes are the heroes of our story because of their acts of generosity. Givelify is committed to doing all that we can to make the world a better place. One way is by advocating for our giving community. Here are other organizations doing similar work to H4H:
 Wondering how you can do more? Check out our Bravo! Stories of Good video series to witness the world-changing work of some of our organizations. We are better together. You can join the good work of Givelify's giving community by making a donation today.    
Recommended for you: