First Baptist Church of James Island: Deep Roots, Big Impact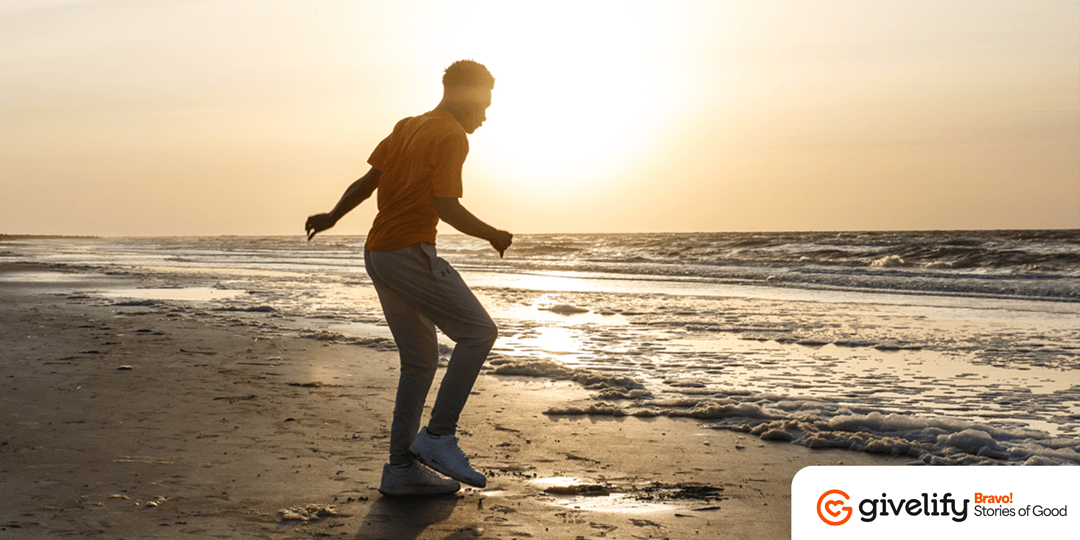 On James Island, off the coast of Charleston, everything is in motion. The waves roll against the sand, the wind blows through the live oak trees, and the city bustles with daily life.   
James Island is the home to nearly 1,000 Gullah people. In 1869, some of the first emancipated people founded the First Baptist Church of James Island.  
Like James Island, this amazing faith community, led by Reverend Charles Murray, is in motion, too — from their spirit-filled singing during Sunday's service to their tireless efforts to support the children of James Island to countless examples of members doing good in their community.   
On location in Charleston, South Carolina
I visited First Baptist of James Island with the Givelify production team. We were working on the Bravo! story Shine. This short film, based on the life of Kedrick Pasley and the First Baptist Church of James Island, captures Kedrick's journey from his childhood on James Island to his dream job at Disney.  
Warm-hearted and welcoming, the congregation members (many over the age of 60) are pictures of doing good with kindness and acts of generosity.   
Even now, they are amid a fundraising campaign to finish building their Family Life Center, which is open to all community residents. Their momentum continues strong after 150 years, the pandemic, and the natural ebb and flow of church life.  
I had the privilege to meet people like 107-year-old Mother Chillis Urcell, the late Deacon Josiah Watson, William Brisbane, Regina Stevenson, the late Ms. Richardson, and Deacon Stuart Blake Walters Sr.  
These have all faithfully served the church's community for decades. I heard many beautiful stories about how the community has been positively impacted by the work of Rev. Murray and so many from FBCJI.   
Church outreach includes the Bread of Life Ministry, which feeds approximately 75 families monthly. The church also supports the Evangelical Ministry and Missionary Clothes Ministry, which provides clothing, coats, blankets, shoes, and spiritual guidance.   
We know that acts of generosity create lasting impact. First Baptist Church of James Island's culture of generosity has created a movement within its congregation.  
I'd like to share a few stories with you of individuals who have started nonprofits and other community initiatives as part of this giving movement. You will learn about the good news coming out of First Baptist Church of James Island and how to nurture a culture of generosity in your organization.  
Joseph and Helen Fields: Sharing food and knowledge 
FBCJI members Joseph and Helen Fields are third-generation farmers on James Island. Gregarious Helen has attended FBCJI since she was in the junior choir.   
The Fields' land was passed down from Gullah ancestors, emancipated after the Civil War. The first owner was a freed wet nurse who saved all the money she made caring for the baby of the plantation master.  After saving for a few years, she could purchase part of the land she'd been raised on and start her farm.   
Now, the Fields run an organic farm, and after their weekly farmers market, they distribute food to those in need. The Fields also teach agricultural education to pass down their inherited farming knowledge.  
Denise Cromwell: Turning hardship into hope
Denise Cromwell, an inspiring woman, is a picture of dedication, sacrifice, and acts of generosity. A member of the First Baptist Church of James Island for 20 years and a military wife, she leads Project Street Outreach, a nonprofit that serves veterans.  
Her uncle and father figure, Sam "Duke" Caulder, served in Vietnam, earning a Purple Heart and a Bronze Star. Before the war, he dropped out of high school and went into the military to support his extended family. Cromwell remembers being a child and watching her grandmother pray for him to be protected in Vietnam.  
Cromwell was eventually posted near Fort Bragg, where he was. As a result, they spent a lot of time together. But, once he retired from the army, he had trouble transitioning from military to civilian life. He had PTSD and, sadly, ended up committing suicide.   
He had been an anchor for the family for most of Cromwell's life. She always wanted to make him proud. So, while grieving, she started a nonprofit called Project Street Outreach.   
Helping veterans on James Island
Cromwell started giving free haircuts to veterans in 1999. Two years later, she began collecting donations for a shop for veterans on the other side of her barber shop.   
This was followed by an annual Thanksgiving event where she raised money for a food pantry. Collaborating with major retailers, she provided food for homeless vets. She still runs blood drives in her uncle's honor.   
After about 15 years in banking, she left to serve vets full-time. She often visits a homeless encampment on James Island, where veterans live in tents. Her goal is to help transition them into civilian life.   
There was a family with an infant who needed help and called Cromwell. They knew that her support wasn't a handout. She got the family into transitional housing and was able to purchase items for the infant.   
When the family finally got back on their feet, they donated Christmas stockings for other vets and donated all the baby items back to the vet store for others. "God always makes a way out of no way," she says.   
Her next step? Purchasing a building that can be used as a permanent home for the veteran's store and nonprofit office. You can donate to her nonprofit through the church's giving link.   
Myra Chambers: Reaching children through dance
The kids call Myra Chambers  "Mama Myra." The dance team director featured in the Shine documentary, Chambers has been dancing since she was a little girl. She begged her mom to let her take dance lessons at her church for $1 a month.   
Later, a friend convinced Chambers to audition for a dance program at a high school for the arts. She was accepted and graduated from there. Later, she took every class she could afford and auditioned for every available dancing role.  
She eventually became the cultural arts director for the city. Realizing there were no affordable dance schools for the children of James Island, she launched the dance program at the community YMCA. She continues to teach at the YMCA to this day.   
The young man, Jonathan Jones, who plays teen Kedrick Pasley in the Givelify documentary, personally experienced the motherly love of Chambers.   
Jones' mom shared with Chambers that he had just lost his grandmother, to whom he was close. Chambers looked at young Jones and told him, "I'll be your grandmother now."   
She told him to call her Miss. Myra gave him her phone number. This was such a moving moment—everyone there teared up!  She is a woman changing her community and another powerful story of good coming from the First Baptist Church on James Island.  
You can support FBCJI and its community work through the church's Givelify giving link. When you donate to FBCJI, you are making young lights, like Kedrick Pasley and the thousands of children who have benefitted from the youth programs at FBCJI, shine bright!  
More acts of generosity, more impact
Organizations like First Baptist Church of James Island are the heroes of our story with their acts of generosity! Givelify is committed to doing all we can to make the world better. One way is by advocating for our giving community.   
Wondering how you can do more? Check out our Bravo! Stories of Good video series to witness the world-changing work of some of our organizations. We are better together. You can join the good work of Givelify's giving community by making a donation today.  
Recommended for you: