Women Changing Communities Through Giving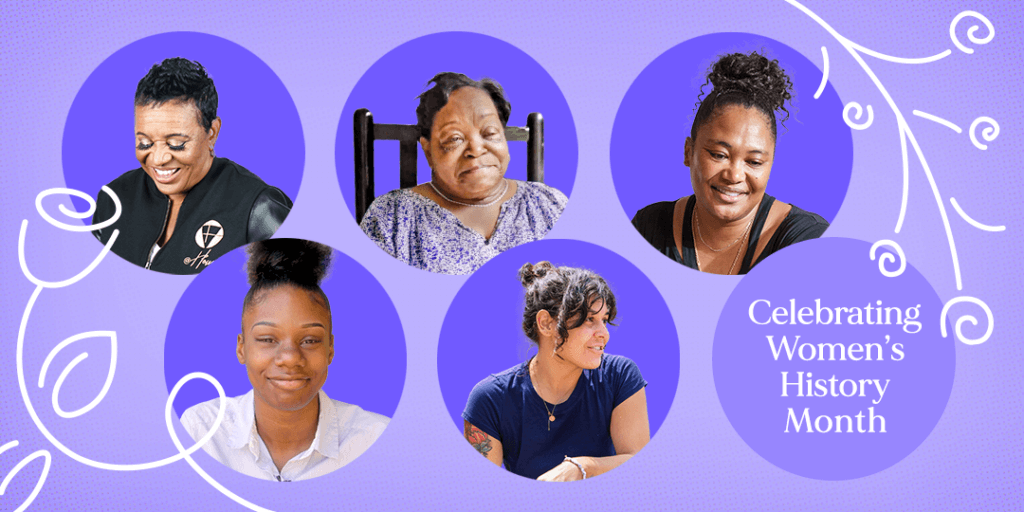 "Imagine a gender equal world. A world free of bias, stereotypes, and discrimination. A world that's diverse, equitable, and inclusive. A world where difference is valued and celebrated. Together we can forge women's equality."
Givelify echoes the above 2022 vision for International Women's Day, which was created by the United Nations to celebrate women's success, raise awareness against bias, and take action for equality through the support of women's causes. 
For Women's History Month, we honor this year's IWD theme of #BreakTheBias. This month we're  highlighting empowered women making positive change in their communities through giving.
We reflect on women's often under-recognized accomplishments, challenges, and contributions. We also celebrate women who spread generosity in both small and large ways every day.  
Empowered women are making positive change in their communities through giving
In a recent study, IUPUI Women's Philanthropy Institute and Givelify discovered a ground-breaking trend emerging in philanthropy: Women change communities through their generosity one simple, joyful gift at a time.
The long-lasting impacts of the COVID-19 pandemic have led to fewer jobs, slower economic recovery, and higher rates of burnout for women. According to a recent report from the National Women's Law Center Since February 2020, the U.S. economy has lost 2.9 million jobs, with jobs held by women accounting for over 63% of losses.
Additionally, of the 467,000 jobs gained in January 2022, just 40% were gained by women. Meanwhile, men have recouped all their losses since February 2020. Women have yet to regain over 1 million jobs. 
Yet, there still has been growth in charitable giving by women over the course of the pandemic. Empowered women continue to make positive change in their communities through incredible acts of kindness and generosity.
Sometimes these efforts lead to long-term solutions such as food pantries and childcare centers. 
Bravo! Stories of Good
Givelify's Bravo! Stories of Good is a series of mini-documentaries that highlight how our giving community is making a lasting impact in their communities. Many of these stories feature generous women who are creating lasting, positive change through their work and kindness.  
Learn more about their journeys and how these empowered women are making positive change in their communities through their giving.   
Victory Grace Center and Dr. Jazz uplift seniors
 
Dr. Jasmin "Jazz" Sculark, as the Lead Pastor of Victory Grace Center in Maryland, greets each day as a victorious day to be lived with purpose. "No matter what kind of day you may think you're going to have, it's still a Victory Day," she says.   
She says her purpose is to spread love, particularly to the senior members of the community. They are often overlooked and have been particularly vulnerable, secluded, and disconnected during the pandemic.  
Seeing a need and an opportunity to bring extra joy and connection into the lives of its members and supporters during the pandemic, the church coordinated the distribution of laptops. The church also organized vibrant "dance by" events to celebrate birthdays and let people know they are loved.   
For Dr. Jazz, joy is the reward that comes from helping others and making their lives even better. "She pours out unconditional love on anyone she comes into contact with," says a member of the congregation. 
Now Dr. Jazz and Victory Grace Center are working on their next big project. The Victory Village will provide the congregation and suburban Maryland with a community center and living spaces for seniors. See Dr. Jazz in action.  
A grassroots movement now provides food security for thousands

Flossie Varner is a prime example of how even the smallest acts of generosity and kindness can touch the lives of thousands.
As the matriarch of her family, it was incredibly important for Flossie that her family and grandchildren had access to healthy and nutritious food.   
"I feel really good in cooking and just thank God that I'm able to do it. It's a place of comfort, a place of peace where you can slow down at the end of the day and enjoy each other's company" she reflects.  
Seeing a need in the community, Flossie worked with her pastor, Dr. Jamal Bryant, to open the King's Table food pantry at the New Birth Missionary Baptist Church in Atlanta. When her household was impacted by the pandemic, she unexpectedly found herself in need of the program, as well.    
Flossie began bringing home a weekly food pantry box for her family, then started to share the resource with others in her neighborhood. Soon she was distributing boxes to members of her home church and their greater communities.  
Flossie's small, local initiative first served 300 families per month, then grew to 300 families each week, then to 500, then to thousands.
The food pantry now provides healthy, nutritious boxes to 5,000 families each week from around Atlanta and as far away as Tennessee and South Carolina. Learn more about Flossie and King's Table  
Young mothers find nurturing support at Viola's House

As an expectant mother who had recently become homeless, Jayla Ned was welcomed by Viola's House and supported with food, shelter, and clinical services throughout her pregnancy. The program had a lasting impact on her life, both during her pregnancy and as a parent.   
Now the mother to two beautiful girls, Jayla is independent and thriving. Reflecting on her time at Viola's House, Jayla says, "It helps you more forward and grow as a person, as a woman."  
Viola's House provides a safe and supportive space for at-risk and young mothers when they need it most. With the support of its partners, Viola's House offers expecting mothers housing, training, guidance, and access to essential supplies.   
In Texas, the rate of teen births is the fourth highest among the states and the need at Viola's House is growing.
Each day, many expectant mothers contact the program for help and the waiting list often has over a dozen awaiting assistance.
The nonprofit is growing quickly with the help of its partners including St. John Church Unleashed and Cornerstone Baptist Church and is looking forward to making an even greater impact within the community.  Learn more about Jayla and Viola's House.
Street artists spark candid conversations about breast cancer

Keep A Breast Foundation is on a mission to reduce the risk and impact of breast cancer globally. To do so, it works closely with artists to draw attention to the importance of awareness, prevention, and early detection.
The foundation recently partnered with street artists for the launch of its Spanish-language app, implementing a campaign of posters and street art to draw attention to the importance of regular breast exams and early detection. 
Why art? "Art can trigger conversations about things that were previously unacceptable to discuss" says Shaney Jo Darden, founder of Keep a Breast and a champion of self-care, self-love, breast health, and community advocacy.  
This is the driving force behind the work of Cristina Maya, a muralist and activist who uses art to highlight topics often seen as culturally taboo or shameful, including breast self-exams. Christina works with a collective of artists who are internationally known for their thought-provoking street art. This "artivism" draws attention to topics that can be incredibly painful or uncomfortable to talk about.  
New York-based street artist Claudia Rivera, aka KLO, joined them for the campaign. KLO's powerful images are inspired by her family's history of breast cancer and her choice to get a prophylactic mastectomy.
"What is so great about street art is that it gave me the voice to talk about something so…difficult," she said.  See the artists in action.  
Fostering lifelong empowerment through education

Education is integral to empowering and elevating underserved individuals and communities, so they can in turn uplift others. The Bethel Church Executive Pastor Kim McKissick says this past year the church raised $115,000 and award 82 scholarships during the church's annual Scholarthon fundraiser.   
As a scholarship recipient, Shmara Francesca Mitchell is deeply grateful for the support of the church. Beyond the financial assistance, she also felt encouraged and energized by the leadership and congregation to achieve her goals.  
Shmara was able to complete her degree, which has changed her life, the trajectory of her son's life, and has allowed her to positively impact the lives of special needs children every day.   
As a teacher for children with learning differences, Shmara loves what she does and sees the unlimited potential in each of her students. She knows that can help them improve and succeed, regardless of their background or situation.
"My passion is teaching special needs and I just love to prove people wrong. You can give me your worst, and I will make them your best," she said.  Watch Shmara's story. 
Take action
Are you looking for ways to celebrate and support women? Do you want to join with other women changing communities through giving? Check out the Women's Causes featured on the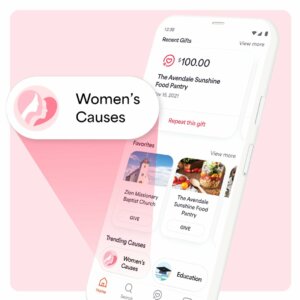 Givelify App that focus on empowering and improving the lives of women through better health, education, and other programs.
From the home screen, scroll down to Trending Causes to find programs and organizations dedicated to improving the lives of women and girls.  
Join the conversation on social media by using the hashtags #BreaktheBias, #IWD2022, #InternationalWomensDay, #SeeHer #CelebrateWomen, #WomensHistoryMonth, #MoreGoodTogether, and #GivingBack and be sure to tag Givelify on Twitter, Facebook, or Instagram. 
Looking for more inspiration and information about women changing communities through giving? Visit the International Women's Day website to learn more about this year's #BreakTheBias theme. Visit UN Women to learn about their work with women around the world.  
More Women's History Month content from Givelify: