3 Giving Tuesday Myth Busters for Your Nonprofit or Place of Worship
Giving Tuesday 2023 is coming up on November 28. Known as the biggest giving day of the year, GivingTuesday is an opportunity for places of worship and nonprofits to join the global generosity movement.
GivingTuesday was created in 2012 with a simple yet profound idea: Set aside a day to encourage people to do good.
On GivingTuesday last year, donations in the U.S. alone totaled $3.1 billion. More than 35 million people participated, demonstrating an ongoing trend of increased generosity on this day.
And we've seen the powerful impact of GivingTuesday through our giving community. At Givelify, 10,000 places of worship and nonprofits raised $4.3 million on GivingTuesday last year.
Organizations like yours can leverage the global generosity of GivingTuesday to help you meet your financial goals for the year. As your partner in giving, Givelify is with you every step of the way as you plan and prepare for November 28.

To ensure you're ready, we're busting some common myths and sharing expert tips to make Giving Tuesday 2023 the best giving day ever!
Myth #1: Registering for GivingTuesday is expensive and difficult
GivingTuesday is dedicated to helping people and organizations create positive change in their communities. Your place of worship or nonprofit can participate for free. All organizations, 501c3 or otherwise, are welcome and encouraged to participate.
Participating in GivingTuesday on Givelify is simple and painless. You can promote your community cause by setting up a fundraising campaign or envelope to receive digital donations through Givelify.
Your cause will be featured in the Trending Causes section of the Givelify app from November 24-29. Located on the app's home page, this section is designed to help donors discover causes in need of widespread support.
By participating in GivingTuesday, your organization can reach more than 1.3 million generous donors on Givelify. Additionally, you can download the GivingTuesday Toolkit developed in partnership with GivingTuesday.
You can also encourage your supporters to donate to your organization using the Givelify app on November 28. Another option would be directing them to your website and including your giving link on your social media channels.
Myth #2: There are already too many year-end fundraising campaigns and plans
The good news is that November 28 is one of the few days of the year when people are actively looking for ways to support causes and give generously.
You can connect with your supporters by reminding them of all the good you do together, like supporting food pantries, back-to-school programs, scholarships, and more.
Meet your organization's end-of-year financial goals and get 2024 started on the right foot by participating in Giving Tuesday 2023.

Myth #3: We need a large staff and volunteer network to get the word out and make GivingTuesday successful

Since GivingTuesday is a global giving day, millions of people around the world are familiar with its mission. In other words, donors are already primed to give on this day — all they need is a little encouragement and engagement from your organization.
In the weeks leading up to GivingTuesday, use all your usual methods of communication to let your supporters know that you are participating in this global giving day.
Emails, texts, social media posts, newsletter articles, and bulletin announcements are great ways to spread the word.
The Givelify app ensures your organization can receive online and mobile donations for this digital giving event. It's easy to spread the word and accept donations.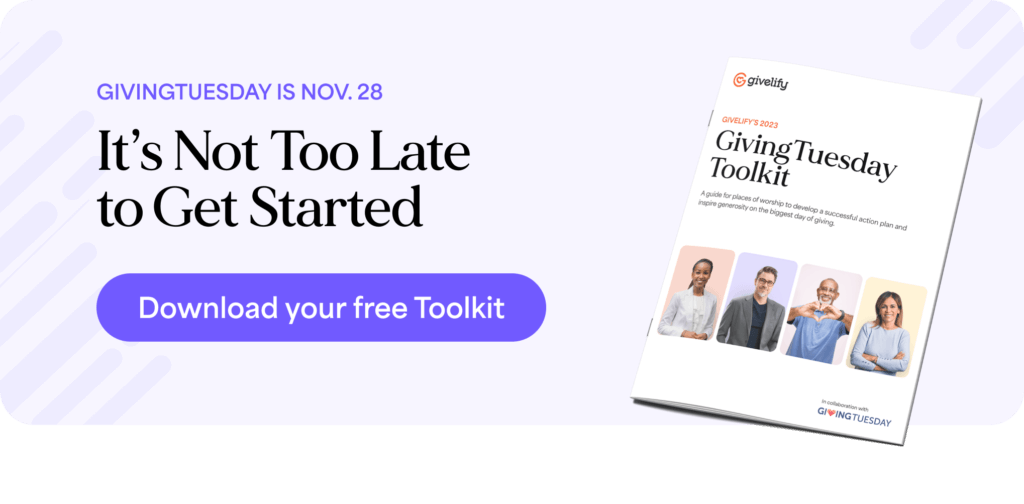 Givelify has made it easy to participate in GivingTuesday. This free step-by-step guide allows you to build out a successful campaign from start to finish with the help of templates and checklists.We've done the work so you can focus your time and attention on where it's needed most.
Your GivingTuesday Toolkit includes the following:
Copy-and-paste social media and email templates to motivate your donors

Images to accompany your social media campaign

A ready-to-use campaign plan to prepare from start to finish

A how-to guide to tell your story, make the ask and get the word out

Tips to make the most of your Givelify features

Givelify, GivingTuesday, and YOU
We want to help you champion even more good and end 2023 strong by leveraging these expert tips and participating in the $3 billion generosity movement.
Embrace GivingTuesday to further your year-end fundraising goals, engage your donors, and expand your giving network.
Givelify is dedicated to supporting your organization and making this GivingTuesday the most successful one yet!

Recommended for you: