How Your Church Can Leverage GivingTuesday to Boost Giving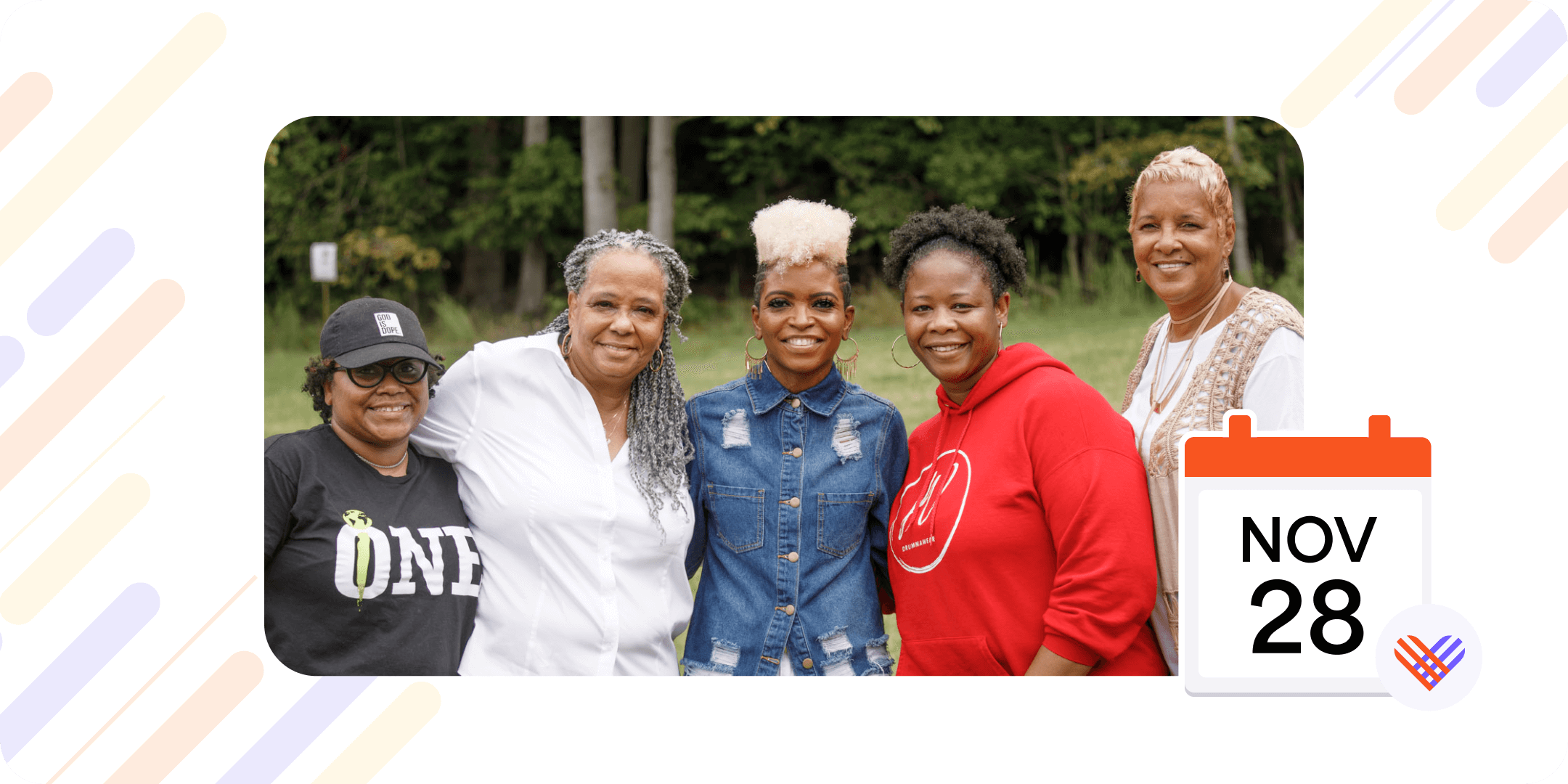 Have you heard? GivingTuesday, the biggest giving day of the year, is a fantastic fundraising opportunity for churches and places of worship.
We're excited to share expert tips to help pastors and faith leaders meet or exceed their annual financial goals during this National Day of Giving on November 28, 2023.
With Givelify's church giving app and 2023 GivingTuesday Toolkit, churches and places of worship can effortlessly participate in this global generosity movement.
What is GivingTuesday?
Since 2012, GivingTuesday has encouraged generosity on the Tuesday after Thanksgiving. Because GivingTuesday is globally recognized, on this day, generosity is top of mind for many.
People are already thinking of how to support their favorite causes and make a difference. As a place of worship, you can harness this generosity and inspire people to give to your organization.
Last year for GivingTuesday 2022:
More than 37 million adults participated with giving totaling $3.1 billion in the U.S. alone

10,000 churches, places of worship, and nonprofits participated using Givelify

Over 1 million donors on Givelify were presented with an opportunity to donate on the Givelify app
Churches are reaching more people than ever on this National Day of Giving.
What is philanthropy?
Maybe you've heard of GivingTuesday as an opportunity designed only for non-religious charities, philanthropies, and nonprofit organizations. The truth is GivingTuesday is for everyone.
The focus of any philanthropy is to help people, solve problems, and champion a worthy cause through generous donations. Of course, this is exactly what YOU do as a church or place of worship.
From hunger or disaster relief, education, shelter and housing, women's programs, and much more – your organization champions causes that matter.
Plus, Givelify's 2022 Giving in Faith report found that 97% of faith givers expect their congregations to serve and uplift their communities. Together, you are making a difference.
GivingTuesday is for all organizations with a heart for philanthropy, including churches and places of worship like yours.

Join GivingTuesday to grow your church donations
We encourage you to join people all over the country on November 28 for GivingTuesday 2023. Participation is free, and the benefits are plentiful.
By championing a particular cause or program on this National Day of Giving, you can grow giving and achieve your year-end financial goals. You can also reconnect with former members, attract new givers, and involve your entire community.
GivingTuesday is the perfect time for you to jump-start end-of-year giving and finish 2023 strong. Using a digital giving platform like Givelify ensures that geography doesn't matter. People can give any amount, anytime, and from anywhere. You can connect with everyone — even former members who may have moved away.
Similarly, you can attract new faith donors and tap into a network of generous people looking to make a difference by supporting places of worship like yours.
You can also involve your community. Let them know that you are an organization with programs and causes that support essential community needs outside the walls of your church.
It's an exciting time to inspire others, and you don't want to miss out on the generosity of this day!
How your church can make the most of GivingTuesday this year
Here are eight expert tips to ensure the success of your GivingTuesday campaign:
Set goals
Take some time to dream about what you want to achieve on GivingTuesday. How many people do you want to reach? How much do you want to raise?
Plan your outreach
Use the free resources and templates in Givelfy's GivingTuesday Toolkit to create a timeline and step-by-step plan for volunteers, communications, and day-of activities.

Get the word out
Leading up to and on GivingTuesday, let people everywhere know you're participating in this special day of giving.
Use Facebook, other social media platforms, your website, email, text messages, church bulletin or email newsletter, and announcements from the pulpit to get the word out. Our toolkit has ready-to-use templates to make spreading the word effortless.
Involve your congregation
Leverage staff, church and family members, board members, and your supporters to spread the word about your participation in GivingTuesday. Encourage them to get the message out through posts on their favorite social media platforms, personal emails, or text messages.
Inspire generosity
Tell your story and show people exactly what they'll be supporting when they give to your church or place of worship on GivingTuesday. Use pictures, testimonials, and personal videos to highlight the causes, programs, and people that your organization helps throughout the year.
Make giving easy
As you let people know about your participation in GivingTuesday, provide a link for easy online and mobile giving. Givelify makes it simple for people to give and for you to receive their generous donations.
Provide live updates
As you begin to receive donations, give updates on your website and social media. It shows your appreciation and serves as a reminder to others that they can make a difference too.
Say thank you
Remember to show gratitude to your volunteers, people who've shared your message, and especially those who've donated to your GivingTuesday campaign. It can be a letter, an email, or a public thank you on your website or social media pages.
Givelify makes participating in GivingTuesday easy for your church
Givelify is a proud GivingTuesday platform partner and is always looking for ways to put more good into the world. Donors on Givelify have raised millions to benefit the beautiful causes that organizations like yours champion.
To support your church or place of worship in building a successful GivingTuesday plan, Givelify has created a step-by-step toolkit with you in mind.
People are ready to be generous and give on GivingTuesday. Help them find you with a well-designed plan made easy.

The toolkit includes the following:
Copy-and-paste email and social media templates with images that you can personalize to inspire generosity

Tips to make the most of Givelify's mobile giving app and suite of congregation-friendly features, including how to use giving envelopes

Resources to create your GivingTuesday plan, tell your story, and get the word out
This toolkit, created in partnership with the GivingTuesday organization, has worked for thousands of churches and nonprofits. And, to date, they've raised $11.5 million using the tips and resources included in the toolkit.
So, add GivingTuesday to your end-of-year fundraising calendar and request your free Givelify GivingTuesday Toolkit today! Harness the billion-dollar generosity of this day with a practical plan that's proven to grow your giving.
Get ready to make November 28, 2023, a momentous day and the most successful GivingTuesday yet!
Recommended for you: