8 Years of Generosity: Celebrating Givelify's Mobile Giving Community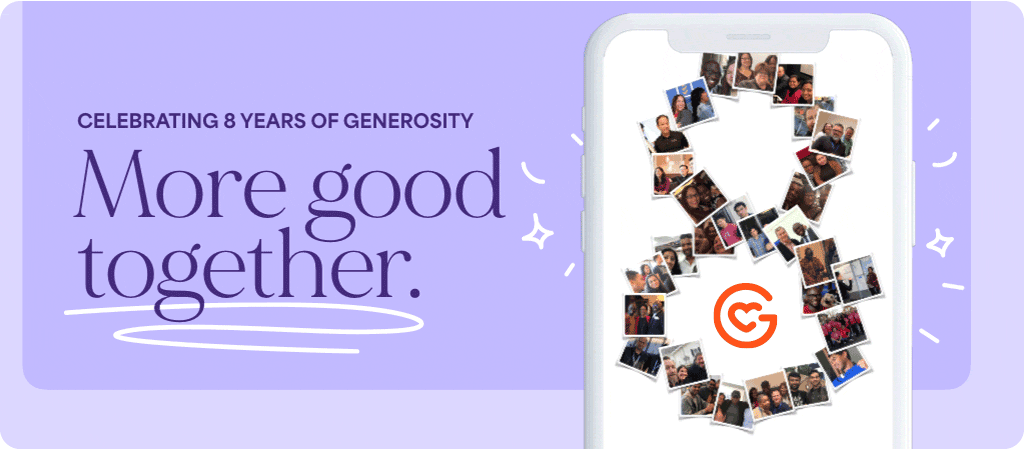 I still remember the joy and humility I felt that day I presented the concept to my Pastor of using a mobile device to collect tithes and offerings instead of passing the collection plate.
From that one church and that first giver, Givelify has grown eight years later to a giving community of more than 55,000 churches, places of worship, and nonprofits and 1.1 million donors who have given $3 billion.
As we celebrate our anniversary, I still feel the same joy, humility, and so much inspiration from the community of people that give and the good that organizations put into the world.
A proverb says, "If you want to go fast, go alone. If you want to go far, go together." I am proud to say that our giving community has accomplished more good together.
How it started
I love telling the story of how Givelify began. I shared it last year and many times since! Yet this anniversary, I've been more reflective about the previous six years as we set about growing a fintech startup to harness the power of technology to connect people to the organizations and causes that matter most to them.
We thought that people have an innate desire to do more good. Our research – and especially our experiences through the pandemic for the last two years – has proven our hypothesis to be true.
When Givelify started, we surveyed nearly 50,000 people on why they give, what they get out of it, and what inspires them. We spoke with Christians, Muslims, and Jews who gave to their church and place of worship. We also spoke with individuals who gave specifically to nonprofits. Across the board, we found that they all wanted to do good. And regardless of their level of giving, there was still a part of people that felt they could still do more.
Warren Buffett, one of the wealthiest men in the world, has donated $41 billion of his wealth so far, and he still pledges to do more. That mentality of doing more good isn't only for billionaire philanthropists like Buffet, Oprah Winfrey, Bill Gates, and others. It's true for everyday people. It's true for our giving community.
At the start of the pandemic, churches, places of worship, and nonprofits were called to put even more good in the world. But without in-person worship services and events, they risked being starved of the donations needed to impact the communities they serve. Conversely, some donors were willing to step in and help.
We're honored that many organizations and donors chose Givelify as their preferred online and mobile giving platform. The pandemic provided all of us at Givelify with the clarity of focus we needed to help people become the most generous version of themselves, which drives everything we do.
How it's going
Givelify aims to advocate for our giving community and help them turn their good intentions into acts of generosity.
How? Removing obstacles – like not carrying cash, leaving your checkbook at home, or remembering text-to-give codes – to make mobile giving easy, convenient, and joyful.
"During this time of social distancing, it is such a blessing to send my tithes and offerings from my home. It's so easy and convenient…Thank you," said one donor in her app review of our mobile giving platform.
Added Demitri in another review: "Awesome app. Thanks! Life in the pandemic was made simple and easy."
We re-introduced ourselves to you with our new brand
One exciting output from our journey during the last two years is Givelify's new brand identity. We have a new logo that leads with a simple and powerful heart symbol.
Our new color palette was chosen to reflect the spirit of our passionate and sincere giving community. We also incorporated other design changes that properly represent the generosity movement.
Our tagline is "more good together," and the "more" in that statement is critical! We set out to capture how our giving community changes the world with their kindness and generosity with a new video series we launched called Bravo! Stories of Good.
Click the links below to watch the videos highlighting the churches and nonprofits' work as they serve senior citizens, at-risk youth, students, teen mothers, and other communities in need. Donate to their causes or help us celebrate all the good they are putting in the world:
As allies of the faith-based organizations and nonprofits that use the Givelify platform, we want to tell their stories of impact on their behalf the best way we know how.
At Givelify, we often refer to pastors and faith leaders as "faith responders" to recognize their massive role in shepherding their communities through the pandemic. Like the doctors, nurses, and other healthcare professionals who are the medical first responders during COVID-19, these faith responders should also be celebrated as champions of their communities.
But our Bravo! Stories of Good can highlight only a fraction of our giving community's good work, stretching across all 50 U.S. states and beyond. The furthest donation on our mobile giving app traveled 11,409 miles from Perth, Australia, to an organization in Augusta, Georgia.
You gave big in 2021: $1 Billion

Undoubtedly, our giving community's generosity is unwavering and vast. In just eight years, givers have supported 86,000 causes on the Givelify app, including help for hunger relief, shelter and housing, tornado relief, education, women's causes, and others.
About a third, or 8.3 million donations totaling $1 billion, of all donations given during the last eight-year lifespan of Givelify was given in the previous year alone – even while a pandemic continued to rage. That means that every single minute, nearly 16 donations were flowing through our mobile giving app every minute, and more good was happening throughout communities worldwide.
Even as you read this, someone is likely donating to their favorite organization or cause on Givelify, even though there are probably no church services or nonprofit fundraising events taking place. Our research shows that while Sundays account for nearly half of Givelify donations, the other half comes from the other weekdays combined. The joy of giving is for people to be able to give when they feel the inspiration at that moment.
Looking ahead to 2022
In 2022, Givelify plans to double down on making giving instant and joyful to help unlock the generosity in all of us.
According to research, people give an average of $890 a year. That number skyrockets to more than $3,000 if they use Givelify.
Our mobile giving app makes people 4.5 times more generous than they would typically be because we make it easy and simple. At least, that's what they share with us. Look at our more than 90,000 reviews, which make Givelify the most loved and trusted giving app.
One donor shared: "Thank you for the great user-friendly mode of navigation with your app. It truly makes my experience of giving easy." Added Debra M.: "Such an easy, secure app to use!"
I'm excited about what's ahead for our giving community in 2022. For the organizations that call us home, we will unveil more products and features to help grow their giving in the coming months.
One of our core strengths at Givelify is delving into and understanding giving behavior. This year, we will provide organizations with more data, analytics, and insights needed to expand their pool of consistent givers further so they can fuel their vision.
I encourage organizations to explore some of the beautiful products and features that are currently available, including a social media giving link unique to each organization and Givelithons® for upcoming fundraising or capital campaigns.
This year, we will have a broader rollout of Snap-to-Give®, a fast and safe way to introduce first-time donors to online giving. Contact your Giving Success Coach or Customer Support for assistance.
We're also releasing the 2nd annual Giving in Faith report that will deliver research about the impact of COVID on today's worship experience and what it means for hybrid, digital, and physical environments. This new report will give organizations the knowledge and insights needed to supercharge generosity to their mission.
For our givers, we all know giving feels good. We're honored to connect donors to the organizations and causes that matter most to them. We believe in celebrating the meaningful, generous contributions they make every day.
And we have some exciting developments happening on that front too. Stay tuned!
Additionally, in the next couple of months, we will more broadly unveil new features to help donors match and exceed their generosity, including Giving Reminders and a new goal-setting option, as well as the ability to consolidate within the Givelify app a snapshot of their total giving across various platforms.
I want to thank our giving community for eight beautiful years of generosity. And as we look forward to a new year filled with limitless possibilities, let's make 2022 an even bigger year for giving!
*Givelithon® is a registered trademark of Givelify.
Givelify through the years: