St. Paul Baptist Church and generational generosity
Support the work of St. Paul Baptist Church
Grandfather and father pass down legacy of giving
Becoming a Man peers into the life and mind of a twenty-year-old who is wrestling with the lure of extended adolescence and conscious adulthood. Kyle's inherited a legacy that has been passed down for generations and to carry the legacy, he must first decide what he values most.
In the fall of 2021, a young man named Kyle Delaney from Gonzales, Louisiana posted a screenshot of his Givelify gift history on Facebook.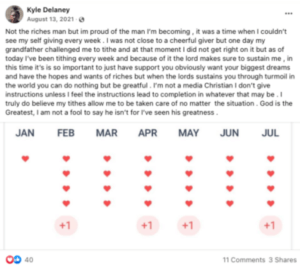 Needless to say, we tracked him down to find out why he connected his giving with the man he was becoming. We also wanted to meet his grandfather and father to learn more about the men who had a hand in influencing Kyle to be the type of man of which he could be proud.
When we finally met him, his father, and his grandfather — Lauthaught Delaney, Jr. and Sr. — we quickly realized how special these men are and how unique their idea of manhood is. After spending several days with them, we learned how authentically they walk their talk.
The Delaney family taught that maturity was equal to generosity. How they measured a man was by his willingness to give to others. While Lauthaught Delaney Sr. and Jr. were more accustomed to living a life of generosity and service, Kyle was still in those in-between years and was undergoing growing pains.
If you are tight-fisted, Delaney wisdom says, nothing goes out, and nothing can come in. But if you open your hands, you can freely give and freely receive. This way of defining manhood leads to a life of rich community, family, and purpose.
Kyle's father, Reverend Lauthaught Delaney, Jr., also guides his congregation in the wisdom of his elders. He leads his church, St. Paul Baptist Church in Gonzales, LA to serve the local community and surrounding areas like Donaldsonville.
By donating to St. Paul Baptist Church, you are joining the most generous community of givers in the world who find joy in partnering with community servants who believe in paying it forward. They are inspiring today's generation to build their own legacy while supporting causes such as food and clothing drives, COVID and disaster relief, and more.
Back in the day, my dad did not have a whole lot, but he believed in sharing. So that was passed on to me. And by it being passed on to me, I passed it on to my son, and my son also passed it on to Kyle."
- Lauthaught Delaney, Sr. / Kyle's Grandfather 
St. John Church Unleashed
"This is not a local issue, but it is a national one. It is not just consumption, it is community."
Watch the Video
New Birth Missionary Baptist
"This is not a local issue, but it is a national one. It is not just consumption, it is community."
Watch the Video