5 Tips for a Memorable Mother's Day Service
One Sunday in May every year, we celebrate the amazing love families have for their mothers. Dates and celebrations vary around the world. But Mother's Day in the U.S. traditionally involves presenting moms with flowers, cards, poems, and other gifts – including attending worship service.  
Mother's Day is one of the highest worship attendance events annually. This makes this holiday a powerful opportunity to celebrate the mothers in your community and connect with a substantial number of guests.   
 Higher than normal Sunday attendance on Mother's Day, both in-person and virtually, also has the potential to draw many more donations.
Churches and places of worship looking to fund projects to help uplift the community should look to maximize giving on Mother's Day from their generous members, supporters, and guests.   
Last year, the big hearts on Givelify gave more than $6.5 million to their churches and places of worship on Mother's Day. These are donations that help organizations move closer to their fundraising goals.    
The recommendations in this guide will help your organization seize this unique moment to spark Mother's Day generosity. The guide may also help you achieve an even greater financial impact this year.   
Add Givelify as a giving option in time for Mother's Day
You have probably produced many ideas to make your  Mother's Day service special for your members, guests, and moms.   
Keep in mind the increase in generosity that the extra holiday attendance can bring in — and how online giving can help your organization harness that potential. 
For those churches and places of worship that don't want to miss out on Mother's Day generosity, providing an easy giving experience for your attendees is crucial.
More organizations are going beyond in-person gatherings to also provide virtual and hybrid services. Churches and places of worship can now connect with an even larger audience. In fact, a recent study shows that 1-in-5 donors give to multiple organizations using Givelify.   
Additionally, organizations don't have to worry about additional record-keeping. The Givelify platform allows for the seamless reconciliation of donation records with the most popular church management and accounting systems.    
How to have a memorable Mother's Day service
Here are a few simple ways to help Mother's Day be as financially impactful as possible for your organization.
Tip #1: As Easter festivities end, immediately transition your congregation's attention to Mother's Day.
Mother's Day will be here before we know it! Take advantage of the momentum from your Easter service to invite your members and guests to the next annual high-attendance event.
After Easter, mention your Mother's Day service in every service until the day arrives. Mother's Day is an opportunity to bring friends and the whole family together. So, ask your members to spread the word about the upcoming service.   
Tip #2: Acknowledge the visitors who attend your worship service – in-person and virtually. 
 For many families, it's a Mother's Day tradition for the entire household – as well as adult children and grandchildren – to attend worship together as an act of generosity towards the matriarch in the family.
Publicly acknowledge all your first-time, or first-time-in-a-while visitors during service – especially those families that attend your worship service to honor their mothers.   
Tip #3: Convert your social media viewership into donations  
with Givelify's social giving links. 
Are you having Mother's Day service both in-person and virtually? Let your audiences everywhere know that your organization uses Givelify to collect donations. Increase your donors' giving potential through social media promotion. Use your Givelify social giving links on your social media channels.   
Research shows digital giving is proven to grow your donations financially. In fact, online giving increases overall donations to churches and places of worship by 32% per Nonprofit Source. Learn how to add your custom giving links.   
Here's a message to get you started!   

 [Your organization name] is excited to be on @Givelify! Make your gift online here: [your social giving link].     
Tip #4: Do an offering appeal during your Mother's Day service.
 Educate your in-person and virtual guests about your giving options, including Givelify. During the giving appeal portion of the worship service, provide reasons and/or examples of why attendees should give generously to your organization. This is your opportunity to make an inspiring ask!   
 You could also consider creating a giving envelope specifically for Mother's Day. This would give people the opportunity to make an offering in honor of their mothers, as well as celebrate the women in their lives through giving.   
Tip #5:
Encourage men to give during your Mother's Day service.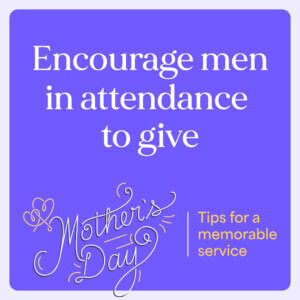 Here's one fact that applies to your bottom line: Women give more gifts than men and contribute a greater proportion of dollars than men, according to a recent study conducted by the IUPUI Women's Philanthropy Institute.
On a holiday that focuses explicitly on women, one way to boost contributions is to encourage the men in attendance to give.   
 This invitation to do more good together provides men another opportunity to show their thanks and support. According to the study, while women give more gifts than men, men give slightly larger gifts on average compared to women.   
We hope these quick tips provide inspiration for Mother's Day and beyond to help your organization connect with donors to help you meet or exceed your annual fundraising goals.  Also, check out "How to Plan for Your Mother's Day Service."
 To learn more about activating and growing giving, read "5 Tips for Churches to Increase Consistent Givers" and watch the video. You can also view the "Nurture a Culture of Generosity" webinar here and read the blog recap.
Questions? Contact Customer Support online or email support@givelify.com. Learn more about Givelify.  
Recommended for you: