Is Giving Increasing? You'll Never Know Without Tracking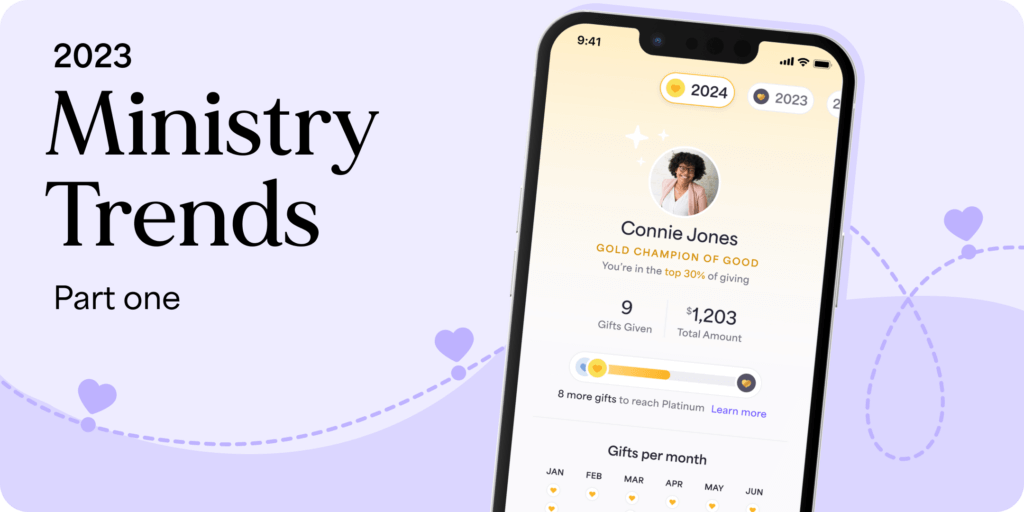 The key to financial success for churches and places of worship is understanding trends. A trend tracks how a situation, people, or organizations develop and/or behave. Within ministry, it's important to track and understand trends to help pastors and faith leaders anticipate next steps.  
If we don't monitor trends, how will we know what's happening? How do we either influence it for the better or make changes to make the best of the trend?  
In this two-part series, I will discuss ministry trends. This article will focus on tracking giving. Part 2 will focus on first-time guests and engagement.  
Why keep track of giving? 
I recently had an enlightening conversation with Rev. Loxley O'Connor, the Chief Financial Officer of Kingdom Fellowship AME, about how pastors and faith leaders can gain more insight from tracking church donations.   
Rev. Loxley has more than 30 years of experience in finance and in ministry. He's my go-to person when I want to understand financial matters better.  
During our conversation, he explained that tracking giving and studying financial trends are a part of achieving financial success. We must count the cost and analyze the trends.  
If not, then we would leave valuable information on the table. Tracking trends help us gain a clearer picture of where organizations stand financially.  
Behind the numbers 
Giving to religion is defined as giving to congregations, denominations, missionary societies, and religious media, according to Nonprofits Source. Religious giving has consistently remained America's single largest recipient of charitable giving,
Historically, religious groups have received the largest share of charitable donations.  Many of these contributions can be attributed to people giving to their church or place of worship.  
In 2021, most charitable dollars went to religion (27%), according to the National Philanthropic Trust. About 14% went to education. What does this mean for your church or place of worship?  
Three areas donation tracking monitors 
There are three important areas your church or place of worship should monitor consistently when it comes to giving:  
Where are your members and supporters donating?  
How often does your congregation give?  
How many give for the first time?   
These data points will help you better track the giving trends in your organization. Let's discuss each area.  
Where are your members and supporters giving?  
Tracking the trend of where people give is important. For example, the Givelify mobile giving app has custom envelopes. They allow your congregation to choose where their money goes within your church or place of worship.  
At any given time, organizations may be engaged in a variety of efforts to increase giving revenue. You might have a building fund, clergy appreciation, an upcoming visiting speaker, and community projects.  
Envelopes are a unique feature of the Givelify mobile donation app. It helps your organization raise revenue for specific projects within your church or place of worship. Users of Givelify's church-giving app can select the project they want to support. And then designate their funds to that specific effort or as many projects as they desire. 
Organizations can create envelopes in the Givelify Analytics Studio for specific giving areas so they'll appear in the Givelify mobile app. Your members and supporters can then direct their giving as they are so moved, or when you make specific appeals during giving time.  
How envelopes can help
Envelopes also help your organization engage donors more broadly. 'With envelopes you can emphasize different projects or causes that are most important or that need attention. Through donation tracking, the Analytics Studio also provides quick visibility into giving for each envelope and how that may change over time.  
How does it help you as the pastor or faith leader? Whether your members are giving to the areas you're emphasizing during giving time is an indicator of whether your giving appeal is resonating.  
For example, if your organization created an envelope to support a community project, you can track the giving to that envelope. 
If giving drops, you can then focus on sharing with your members and supporters about the purpose and impact of that community project. 
If there is an envelope or giving area that isn't receiving the desired contributions, there are actionable steps to take. You can talk with your staff and other key leaders about ways to encourage generosity and giving in that area.  
How often does your congregation give? 
Givelify celebrates your members and supporters with its Champions of Good program. This is a community of the biggest hearts on Givelify who are delivering the most impact. Champions of Good helps donors track their consistent giving as a testament to their personal and spiritual growth.  
Givelify's 2022 Giving in Faith report shows that most people give as part of their desire to grow spiritually. They feel that part of belonging to a place of worship is to financially support its mission.
Donation tracking will tell you how often your members and supporters give. This also will help you see whether they are growing along the consistent giving journey. 
However, we also know that life happens and that priorities can shift. There are several reasons why someone might have slipped in their church giving. Your organization's first response should be to check-in with them. They may be experiencing something in an area where you can help them. 
What if they lost their job? Or their job cut back on hours? What if a loved one is sick or dealing with a challenge? Any of these situations will naturally have an impact on their giving.  
Tracking those who give consistently provides an opportunity for you to see when there is a gap in giving. This then provides an opportunity for you to reach out to them to see if there is a life change where you can help them.  
How many give for the first time?      
Donation tracking will also tell you who are new to the church or have given for the first time. In the Analytics Studio, you can quickly see who donated last week. With giving styles, you can also check if they are a first-time donor.
That first gift to your organization should be the beginning of a long-term relationship with that person.  
You can then educate your first-time givers on why giving is important at your church. More importantly, you can share the biblical importance of consistent giving when it comes to their personal spiritual growth.  
To watch my interview with Rev. Loxley on the importance of monitoring trends and donation tracking, visit Ministry Pivot. 
Stay tuned for part 2 of 2023 Ministry Trends. I'll discuss how to engage your guests to your church or place of worship.
Recommended for you: