Givelify App Adds to Trending Causes Feature
Givelify is honored to connect more than a million donors with causes that are close to their hearts. We're dedicated to continuing our mission of connecting our community to those in need. Givelify is pleased to announce the expansion of our "Trending Causes" feature.
How Donors Can Use The Trending Causes Feature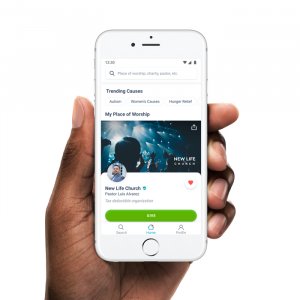 When Givelify donors select one of these major themes, they instantly see a list of initiatives from nearby organizations working to make a difference in that area. 
Current Trending Causes Include: 
Women's Causes: Empower and improve the lives of women through better health, education, and other programs. 
Autism: Support families and individuals living with autism with tools, resources, advocacy, and more.  Examples include relief and awareness programs.
 Community Impact: Support causes that make the world a better place for our neighbors.  Examples include family assistance, community outreach, and other similar programs. 
Hunger Relief: Provide emergency food assistance for individuals and families in need.  Examples include food pantries, child hunger and other similar programs. 
Global Impact: Give to support global missions and disaster relief around the world.  Examples include hurricane and tornado recovery, as well as global outreach programs and ministries.   
COVID-19: Communities locally and around the world have been ravaged by COVID-19 and need your support. 
These pre-sorted options help donors easily connect with local causes doing important work.
How Organizations Appear in Trending Causes  
The Trending Causes feature also provides an opportunity for organizations to more broadly spread awareness about the causes they champion. As donors become more cause-driven, it's important for organizations to share the story behind their missions to further connect and inspire them. 
By creating a cause-specific giving envelope that corresponds with a Trending Causes topic, an organization can show up as an option for nearby donors who are searching the Trending Causes section.  Organizations should name their envelopes something that easily identifies the mission you are raising funds for, such as "Food Pantry," "Health Fair," or "Covid-19 Relief." 
More than half of donors identified "belief in the mission" as the primary motivation for their donations in the 2016 U.S. Trust Study of High Net Worth Philanthropy. 


Our 2020  nationwide study found that nearly one in three donors felt a stronger reason to give because of the COVID-19 pandemic. We also discovered that organizations who are intentional about championing causes are better at connecting with their generous givers. 
---
Stay Tuned for More Trending Causes Updates 
Givelify launched the Trending Causes feature in conjunction with GivingTuesday 2020. On that day, nearly 20,000 generous donors donated more than $3 million on Givelify to nearly 8,000 organizations.  
The Givelify team continues to develop features and products that will empower donors and organizations to do more good in the world. We hope the Trending Causes feature, with these new additions, will continue to connect donors with organizations who are making a positive difference in our communities and across the globe. 
---
What do you think of our expansion to our Trending Causes Feature? Join the conversation and let us know!