Your Easter Celebration Was a Success. What's Next?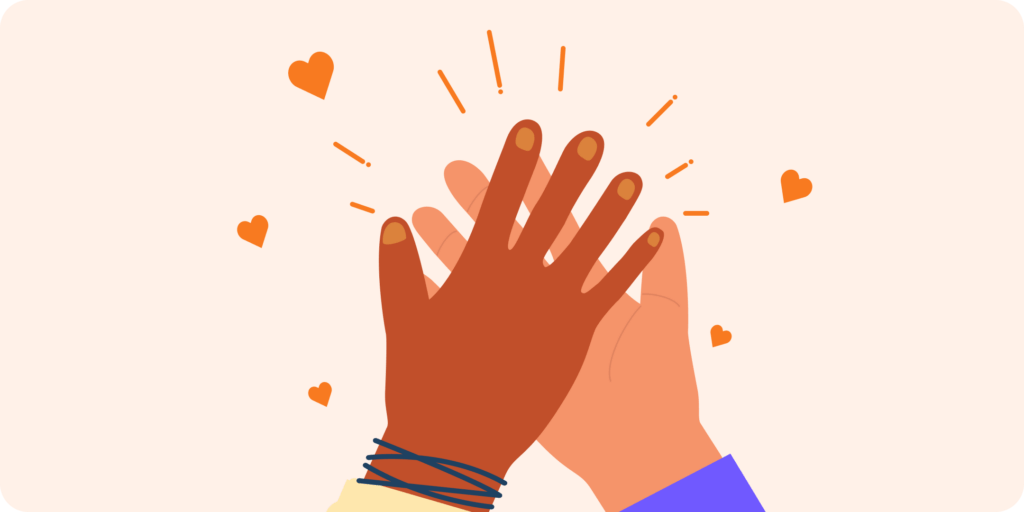 Congratulations on a job well done during your church's Easter Sunday service. Members of our giving community shared some of the details that goes into making annual services successful like:
Gathering volunteers to hide 1,000 eggs on church grounds for the kids
Ensuring every in-person guest receives a gift of church swag
Managing coordination of a BIG worship experience in person and online
Setting up overflow spaces for the additional in-person attendees
Thanking leaders, staff, and volunteers who put in extra hours over a period of weeks making sure everything was ready
Reaching out to those worshippers who joined your church and getting them connected to your new members' process.
Wow! We know it wasn't easy. But the dedication of churches like yours makes your congregation and community feel cared for and spiritually fed. You inspire us!
We hope your Easter celebration was both amazing and satisfying. We also know Mother's Day, another high-attendance day, is happening on May 14. Then comes summer. And then a remarkably busy end of year, as usual.
There are plenty more opportunities for generous donors to come together to support the work of churches like yours as you create positive, meaningful change in your communities. 
What comes next
Although the most-attended worship day of the year has passed, giving doesn't stop. Here's what you can do next to continue the momentum and maximize your giving all year long.  
1. Start by saying thank you
This Easter, your members showed up in a big way to support and uplift your church and community. Saying thank you is the first step you can take to further your connection with those who gave.
Even though giving is a spiritual obligation for most, it's also human nature to crave appreciation.
According to research, people feel generous when they feel appreciated. In other words, saying "thank you" to your members won't just make them feel good. It will encourage them to continue giving in the future.
A recent study by the American Psychological Association also found that gratitude promotes relationship formation and maintenance. Put more simply, saying "thank you" helps those who are interested in knowing more about your church feel valued. It also provides them with a sense of belonging.
With the Givelify Analytics Studio, you can make saying thank you even easier. You may have received many gifts this Easter, and creating custom responses may not be possible.
With our quick reply feature, you can choose from options like "Thank you!" or "We appreciate your generous gift!" to quickly thank those who financially supported your church this Easter.
2. Show the impact of your members' consistent giving
While expressing your thanks will help your supporters feel appreciated, showing the impact of that generosity is just as important. Your congregants want to see how their gifts support the church's work in helping the congregation and community.
According to our 2022 Giving in Faith report, 97% of faith givers surveyed expect their congregations to serve and uplift their communities. Your members want to hear more about the good you're doing.
Research shows that most people will make their first gift without asking much about where the money goes. But organizations that show people the impact of their gifts have a greater chance of growing consistent giving among their members.
We encourage you to share the impact even when attendance is lighter. Instead of only showing the impact on the first Sunday or special days like Easter, try services or ministry events (like Bible studies) that may not be as well-attended.
Our research shows that many churches experience a dip in attendance on the second and fourth Sundays of the month. These days are a good opportunity for you to nudge members to give and boost giving even when fewer people are in attendance.
Whatever cadence you choose, we encourage you to regularly share your church's impact with your members.
Your church is already doing amazing work in the community — spearheading vaccine drives, providing a haven for those struggling with homelessness, or alleviating food insecurity. Share these stories with your congregation.
Even outside of your Sunday service, you can use existing channels like your newsletter, website, social media, and emails to remind congregants and supporters of all the good your church is doing and the impact it has on the lives of others.
3. Prepare your church for anytime and anywhere giving with Givelify
Expressing your gratitude and showing the impact of your members' generosity are key steps in growing consistent giving among your congregation. When you make the time to do both, you are helping to nurture a culture of generosity.
With a mobile giving solution like Givelify, you can empower in-person and online members to give securely to your church anytime, anywhere. The Givelify mobile giving app also allows your members to track their giving in one place, making it easy to access their giving records at any time.
Features like giving reminders and recurring giving also help your members and supporters remember to give more consistently.
For churches, the Givelify Analytics Studio allows you to track incoming donations in real time and empowers you to better understand your congregations' giving patterns. See the amount raised, how many gifts you've received, and how consistent your congregation's giving is.
With this data, you can keep track of your congregation's giving behavior over time and encourage those new to your church to give more consistently.
The key to maximizing consistent giving
In case you missed it, watch the replay of our recent webinar, Maximizing Easter Generosity: Turn One-Time Givers into Year-Long Supporters.
In the webinar, we explore the consistent giver journey and what churches can do to help their members become more consistent in their giving. We also cover the six key steps faith leaders can take to maximize their giving — not just on Easter but every day.
Read more about the six keys to the consistent giver journey.
Resources for consistent giving
As you look beyond Easter, you may wonder how you can encourage giving on high-attendance worship days like Mother's Day and other significant giving days throughout the year.
Mother's Day and other giving days offer powerful opportunities to connect with new worshippers and drive an increase in giving. With Mother's Day only a few weeks away, you can use the momentum of Easter to plan a memorable Mother's Day service and continue to inspire giving among your congregation.
Whether it be Easter, Mother's Day, or any Sunday, here are some helpful resources you can use to maximize generosity all year long.
Empower your media team with this handy checklist. Share this resource list with your media team so they can prepare to support giving time on Easter Sunday and every Sunday.
See how to build relationships with new supporters of your church. Watch this video for actionable steps to attract new supporters by sharing your church projects and community initiatives.
Let your online audience know you're on Givelify: Add the Givelify button  to your website
Launch the Givelify app in your congregation: Watch this video for actionable steps on how to set up your members and online audience for success with Givelify.
As you plan for the rest of the year, we're honored to be your partner in the incredible work you do. For now, relax, breathe, and reflect on the many lives you touched on Easter and every day.
Recommended for you: