Celebrating Generational Generosity for Father's Day

Just in time for Father's Day, here is a heartwarming and paradigm-shifting story of three generations of men. It's the story of how a grandfather and father –Lauthaught Delaney Sr. and Rev. Lauthaught Delaney Jr. – are passing down the legacy of generational generosity to their progeny Kyle Delaney, a student at Southern University in Louisiana.
According to Delaney family wisdom: If you are tight-fisted, nothing goes out and nothing can come in. But if you open your hands, you can freely give and freely receive.
In fact, the Delaney men, who are accustomed to living a life of generosity and service, say they measure a man by his willingness to give to others. They say this way of defining manhood leads to a life of rich community, family, and purpose.
"People have a lot of identities as far as what manhood is all about. But we as Delaney men believe it all starts with being generous," says Lauthaught Delaney Sr., Kyle's grandfather.
Generational generosity
According to Barna research, 45% of millennials very satisfied with their personal generosity. Yet only 13% of millennials and even fewer Gen Z (6%) give money on a frequent basis. Reflected in the data is the importance of taking into account multiple expressions of generosity – monetary and more.
"Though we often think of generosity in terms of financial gifts, its simplest definition is giving to others, whether of money, time, attention or other resources," according to the research.
'Proud to be his dad'
Compassion always drive true generosity – and the Delaney men have plenty of both.
Kyle's father, Rev. Delaney Jr., also leads his church, St. Paul Baptist Church in Gonzales, Louisiana, to serve the local community and surrounding areas like Donaldsonville.
"We've been involved in food drives, clothing drives, natural disasters, COVID relief," Rev. Delaney says.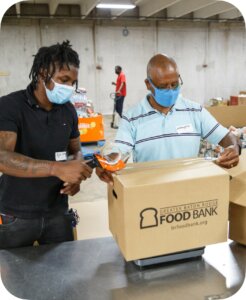 "Paying it forward is part of generational generosity.
"Kyle has some big shoes to fill. It's a lot of pressure that may be on him to pay it forward because he's watched us help, give, and go that extra mile," Rev. Delaney says.
"But I've watched how he gives and cares about others. You can see the selflessness in him. And to see him mature into who is right now really makes me proud to be his dad," he says.
Teach to give
Added Kyle: "My dad and my grandfather are my heroes. If those two are doing it, then maybe I should be doing it too. Being a man is … taking care of the people you love."
Recommended for you: