Dr. Heber Brown: His Journey From Pastor to Nonprofit Leader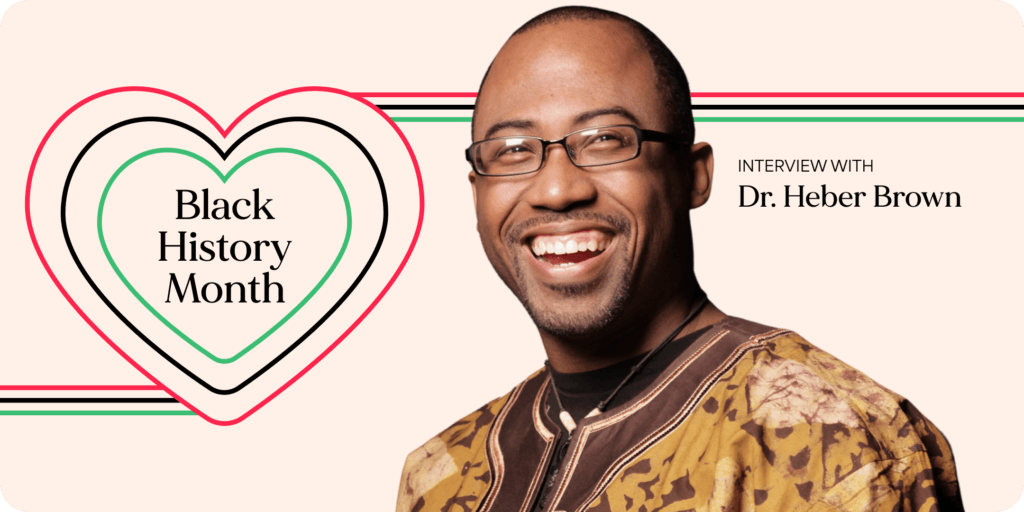 Rev. Dr. Heber Brown III may have stepped down as pastor of Pleasant Hope Baptist Church in Baltimore, but he's still preaching. As he continues his nearly year-long journey from pastor to full-time nonprofit leadership, he's preaching more through actions than words.
Dr. Brown left his church but not his calling. As the executive director of the Black Church Food Security Network, he's taken with him both his passion for helping people and the skills he's honed running a church.
The change, he says, has been both revelatory and a blessing as he continues to walk in the ministry of particularly helping the Black community understand the connection between nutrition, spirituality, and social justice.
The Network connects Black churches to Black farmers to create their own supply chains from the soil to the sanctuary. The goal is for the Black church to advance economic justice for Black farmers even as they advance health equity for congregations.
Dr. Brown founded the Network in 2015 during the uprising in Baltimore after the death of Freddie Gray. He realized those communities nearest the epicenter of the demonstrations already had food insecurity challenges, and they got even worse during the uprising.
In this special interview for Black History Month, Dr. Brown speaks with Givelify about the ties that bind Black churches and farmers. He says both nourish the community in ways he believes are very much needed during these troubled times.
Describe how the transition from pastoring a church to working in full-time nonprofit leadership has been for you.
Many parts of it have been extremely exciting. To think about how my call from God is dynamic and evolves. I believe that sometimes pastors, ministers, and people, in general, can get stuck in a line of thinking that says, whatever the thing is that I do well, I'm supposed to do that thing the same way forever.
But what this past year has taught me is that my walk with God is just as dynamic as my calling. And God has plans, ideas, insights, and a will for my life that can find a different expression, even if in the same trajectory.
I'm still doing pastoral work. My ministry still is flourishing and thriving. It just doesn't show up in the traditional ways.
The other part is that I underestimated what the loss of the pastoral rhythm would do for me. When you're constantly leading 6:30 am prayer calls, then yes, you are operating in the posture of a pastor for others.
But those 6:30 am prayer calls were doing something to keep me in a rhythm. Similarly, with Bible study, I'm preparing to teach a class, yes. But having my face in this book daily and getting these lessons together also impacted me.
Has it been a challenge?
It has been a challenge. After the first couple weeks of not having to prepare sermons and spending my entire weekend preparing for Sunday service, I felt some exhilaration and joy!
I realized I could play basketball on Sunday morning. I can hang out with my children at the park. I can do what other people who don't go to church on Sunday (laughing).
But after a few weeks, that all wore off. Sundays are for worship.
I've been trained up in a particular way that benefits me. And it was a challenge for me when I had to get back in the driver's seat of manually putting together a spiritual rhythm that nourishes my soul and supports my family.
How has pastoring prepared you for your current role in nonprofit leadership?
The Black Church Food Security Network keeps me in the bosom of the Black church. I've gone from pastoring one church to now being in a supportive pastoral role to 215 churches and counting.
All of those kinds of sensitivities that I had to employ as a pastor, I still have to do it.
Dealing with so many churches, I still need to know the nuances of congregational leadership and the ebbs and flows of a church calendar.
I still need to know the leadership structure in the church, such as whom to go to for what or the difference between who may hold the titles in the church versus the people who do the work.
What's the biggest lesson you've learned in the past year?
One of the biggest lessons was that the church was affording me and this organization, the Black Church Food Security Network, so much that I didn't have to think about it. [Now that we are entirely independent] I've had to hire a staff. I've had to find office space. We've had to figure out storage space.
So much was a given when operating as part of Pleasant Hope Baptist Church. Do you need the church bus? Fine. I got the key. We need to get into the sanctuary. Fine, I can do that. I had a deacon board, pastor's aides, and a trustee board. For all of the qualms people have about churches, they have a structure. You're not starting from scratch.
And this past year in nonprofit leadership showed me how much we benefited as an organization from germinating in the bosom of a church and having that be our initial nest.
Last time we talked, you said: "If we are ever to free ourselves, we must learn how to feed ourselves. We will never get a handle on our health until we have power over our plates." In your opinion, how is the Black community receiving that message right now?
I never have to work hard to convince Black people of the truth of those words. We live it. We embody it. If I walk into any church and say, "Raise your hands if you or people in your family struggle with diabetes, high blood pressure, or cholesterol." All the hands go up.
Often I feel like I'm repeating what people already believe. But I'm trying to take it a step further by offering a way to go from recognizing a problem to realizing a solution.
I want Black people to believe in God and themselves as much as we shout and sing about on Sunday. We can see miracles again when it comes to our health and in other areas if we believe.
Do you think people understand the connection between social justice and food?
We think about food and our challenges around food and health in a very individualistic way. And I think that's on purpose. Those forces and factors that keep us in this oppressive condition benefit from us thinking individually.
Individual responsibility does play a role. But even if I wanted to do right, my neighborhood is filled with corner stores that sell [cigarettes] and junk food. Even with the correct nutritional information, I can't actualize it because what's available in my community aligns differently with what I need for optimal health for my family and me.
How are you celebrating Black History Month this year?
I'm Black 24/7/365! But one of the ways that I am purposing to celebrate Black History Month this year is by writing. I'm working on my first book. It'll be out in spring next year and will explore the history of the relationship between Black farmers and Black churches.
Now that you are in nonprofit leadership, how is fundraising different than growing giving income for the church as a pastor?
Of course, in the church, you have the strength of the spiritual wisdom around tithing to support church fundraising. I can then say, "I'm not saying this. Turn in the scriptures and see for yourself." Giving is linked to the expression of our faith.
Nonprofit fundraising can be a bit different. Even though I'm trying to create some bridges there, it's different because donating to a nonprofit is seen as optional for many. You know, 'I will if I can.'
And, of course, that's the same with tithing too. But tithing has more teeth in our community than donations to a nonprofit organization. And so we have to do a lot of work to show the urgency and necessity of this nonprofit work.
As a nonprofit, I plan to use Givelify as churches use it for tithing.
What are some of your most significant accomplishments in the past year?
Growing a staff, hiring people, and onboarding them involve a lot of work. I've had to tap into resources to help me think about how to do that, and they've been helpful. So, I'm very proud of that.
I'm very proud that the Black Church Food Security Network, which was an idea from God eight years ago, now supports 10 people and their families. People left their jobs to work for me full-time. I don't take that lightly. And I'm very grateful.
It's a huge accomplishment that what started in my head now helps pay people's bills, puts their children through school, and gives them health insurance, and resources to grow and flourish.
It helps me to see that working for the Lord doesn't mean you've got to be broken down, busted, and disgusted. You can do well while doing good, and I'm glad to know that.
*The interview was edited for length.
Recommended for you: