How to Integrate a Virtual Offering in Church Services
Often, people want to give to their church. They really do. But many things can emerge as roadblocks to giving: neglecting to bring cash or a check to worship, missing the opportunity to give because of sickness or travel, or just getting busy and forgetting.
One of the most important steps churches can take is to provide a way for members and visitors to give anytime and from anywhere, without having to be present at worship. Once you set up online giving, take the next essential step and teach your members how to use this amazing tool.
Here are some strategies to help you set up online giving and educate your members.
Choose a Donation Tool to Allow Online Giving
As the first step, select a donation tool like Givelify for your churchgoers. Compare options based on more than just cost. Then, make sure that your app allows you to manage the entire process from one platform. Finally, look for features like recurring donations, donor tracking, and business intelligence features.
Once you've made your choice, it's important to learn how to use it yourself. Spend some time navigating the options. Set up missions or special campaigns. Then, be sure to add photos to customize your profile.
How to Teach Your Church About Virtual Giving
Once you have your app in place, you can start teaching others about it. Share the Givelify guide for beginners with everyone as a starting point.
Then, choose from these ideas in order to teach your members about online giving:
Hold an Intro Meeting
Invite your members to a meeting about the virtual offering option. Put together a simple presentation about what it is, how it works, and why it is important. For example, be sure to communicate your goals for using this option. That may include helping people to give on the go and connecting more people to giving to your church.
Send a Letter to Each Home
Educate everyone about the options available for giving through a simple letter sent to their home. For churches with members who mail in their offerings, the news about online giving and virtual offerings may come as a welcome relief. Insert a simple flyer into your envelopes to inform people of this new option.
Ask People to Give
During the services, make it a point to simply ask people to support your mission and campaigns by using the app on their smartphone. Many people in the service may be intrigued and download the app right then. This is the ideal time to ask them to start using online giving because you have their full attention and they may already be prepared to contribute.
Provide a Link During Virtual Services
For those who are at home watching your services, provide a link they can click on to make a virtual donation during the services. For example, if you broadcast the services on your Facebook feed, provide a link in the comments that lets people give right from their seat at home. They can follow the link to set up their account and start giving immediately.
Invite Members to Teach Other Members
Once you have a few core members who understand how to use the donation platform, you can encourage them to talk to others about using it. They may be able to tell their neighbors, friends, or small group members.
Take Extra Time for Older Members
For some of your members, hands-on, one-on-one support maybe key to enable them get started. Help them download the app and set it up. It's also a good idea to hold a short demonstration in person or host a video call they can watch. If they have a computer, tablet, or smartphone, provide an email with instructions on exactly what to do. That way, they can reference the instructions as often as they need too. 
Teaching people about your virtual offering is an important step in integrating it into your organization's fundraising. Expect people to have questions and be ready to answer them!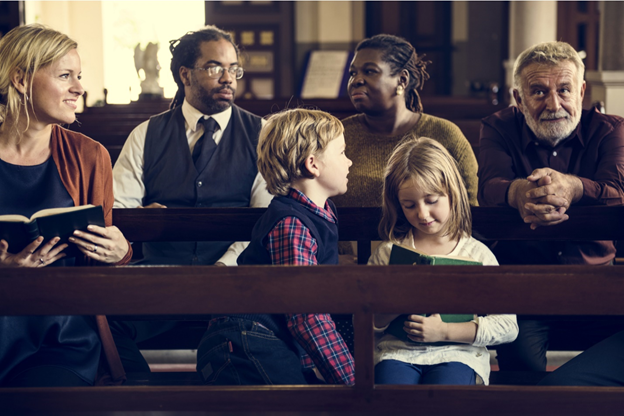 Overcome the Challenges by Showing Them the Benefits
As you teach about online giving, one thing will often come up: "Why are we making this change?" People often don't like change until you tell and show them why. Here are some simple benefits they can expect:
It may help organizations encourage more people to donate. That's especially true of those who don't come in for services.
It's another option. Some people need more options.
More people use debit and credit cards to make purchases than ever before. An online option makes giving easy for them.
Minimizing expenses for the church is also a benefit. The tool does most of the work and frees up the staff to focus on the other aspects of ministry.
You can connect with people who may not be local anymore. That includes parishioners that may have moved across the country. They can still support important causes from wherever they are.
Letting people know the benefits makes a big difference. It may encourage them to start using the app. Even those who don't like change may be able to tell friends about this new tool. Getting people excited and clearly showing them why it benefits the organization will encourage participation and support.
How Can I Raise Online Contributions to My Church?
Contributions to religious organizations remain vitally important. By offering mobile giving options, you can encourage more people to give on a consistent basis. Over time, that means more support for your campaigns and needs. To raise contributions for your church, put a mobile app in place that encourages people to give anywhere, at any time, and as often as they'd like. Once you have it in place, make sure your do the necessary training to get everyone onboard with the new system.
Make Today the Day You Offer an Option
When it comes to teaching about giving online, the first step is to have a simple online tool in place. You can set up Givelify in about 5 minutes. Once in place, your parishioners can start using it and supporting your organization's needs via online giving.