The Meaning of Black Philanthropy: Closing the Racial Wealth Gap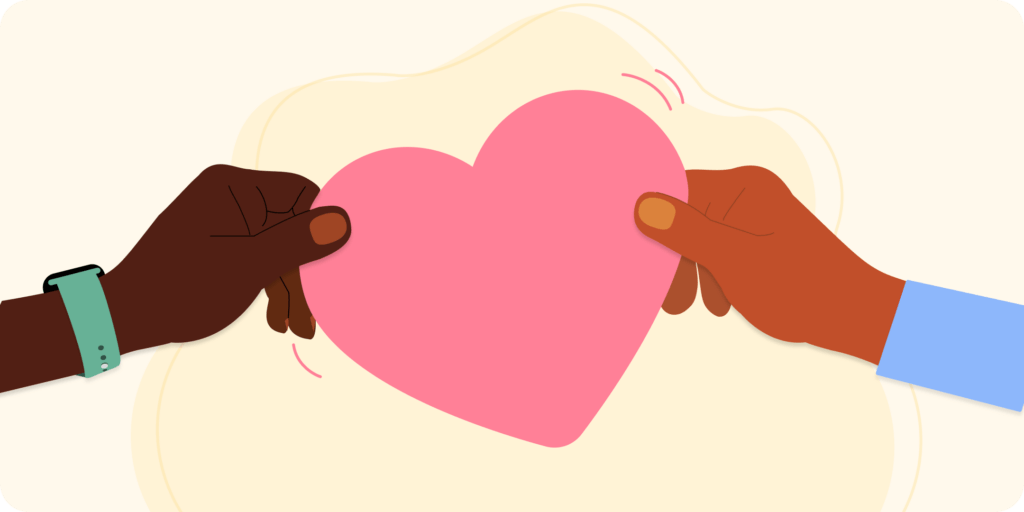 What gives Black philanthropy meaning is its rich history of community empowerment.
Its roots stretch to pre-colonial West Africa, where people pooled resources for support and survival. This culture of collective giving has become the backbone of Black philanthropy today.
Every year in August, we observe Black Philanthropy Month to honor the historic legacy of giving back.
What is Black Philanthropy Month?
Black Philanthropy Month (BPM) is a global initiative highlighting the importance of giving in the Black community. Dr. Jacqueline Bouvier Copeland founded BPM in 2011.
This year's theme highlights philanthropy's meaning — "love for humanity" — and the role people of color play in it.
Givelify celebrates philanthropy today and every day by connecting good people to heartfelt causes that impact their communities.
The true meaning of philanthropy
Philanthropy's meaning is much deeper than donating money. Rather, it's about advancing the social and economic well-being for all people.
"If philanthropy is based on love, it must include the Black community," said Kim Covington, vice president of community initiatives for the Arizona Community Foundation (ACF).
"The Black community practices love and philanthropy every day," she continued.
Black philanthropy and the racial wealth gap
Black Americans give 25% more of their income than other racial groups, according to research. In fact, a 2018 study found that Black families have contributed the largest portion of their wealth to charity since 2010.  
However, research also reveals how racial bias has contributed to a lack of resources in the Black community.
According to the Black Nonprofit Fundraising Guide, Black communities are underfunded by $2 billion due to racial bias.
The guide also reports that Black-led organizations have 45% less revenue and 91% less unrestricted net assets than non-Black-led organizations.
This data sheds light on the disparity between Black giving and funding. As a result, individuals and organizations are becoming more strategic in their philanthropic efforts.
Closing the racial wealth gap through grantmaking
Grantmaking is how organizations give funding and resources to initiatives addressing social and economic disparities.
These grants can support a wide range of community causes, from education and healthcare to social justice and environmental issues.
ACF's Black Philanthropy Initiative (BPI) is helping close the racial wealth gap by advancing equity, leadership, and social justice for Black Americans.
"The fastest way to close the racial wealth gap in the Black community is ownership," said Covington.
"We develop and nurture Black-owned businesses by supporting programs that help them access capital," she continued.
One of which is the SEE ME Program, which provides mentorship, financial education, business development, and capital investment to black-owned businesses.
Each year, the program selects 20 Black-owned businesses for an 18-month course on developing a business plan and growing capital. BPI also provides program participants with a $16,500 stipend to help keep their business running.
"The first cohort accessed about $2 million in capital, so we believe that was a success," said Covington. "The second cohort just started."
Additionally, the program is adding a youth curriculum to teach 16- to 21-year-olds about financial literacy and entrepreneurship.
"The wonderful thing about the Black Philanthropy Initiative is that we all live in the communities we serve," said Covington.
BPI's donor committee includes over 20 members who are leaders and activists in their communities. The committee also includes three community-led giving circles for women, men, and youth.
The growing impact of Black giving circles
Giving circles are organized groups that pool their finances and knowledge to support causes that impact their communities. Collective giving in the Black community stems from a long history of racial injustice.
"We had to form our own mutual aid funds and insurance companies because we weren't allowed insurance with [non-Black] organizations," said Ebonie Johnson Cooper, executive director of the Young, Black, and Giving Back Institute (YBGB).

"So, many of the [giving] practices we see now are driven by a need to take care of our own," she continued.
Today, approximately 2,000 giving circles exist across the U.S., with many supporting underfunded, Black-led organizations and programs.
Johnson Cooper was part of one of the earliest Black giving circles of today's generation, Black Benefactors, which was founded in 2007.
"For $250 a year, we would put our monies together and decide what organizations in the D.C. and Prince George's County, Maryland, areas would receive the funds," Johnson Cooper said.
"It means a lot to be able to take your dollars and decide how they're going to be used, versus giving to a more institutional space where the decisions are made by someone you may or may not know," she continued.
Currently, YBGB is planning to start a giving circle in 2024.
"We are still deciding how much we're going to give and what everything looks like," said Johnson Cooper. "But we recognize the impact and are really excited to be part of the giving circle community."
More Black philanthropic initiatives
Individuals and organizations around the world are creating impactful ways to support Black-led causes and initiatives.
BPI hosted the Love in Action Summit earlier in August. The event focused on advancing funding and racial equity in Black communities.
"We invite people to be more strategic in collaborating to solve these problems," said Covington.
"We need everyone to galvanize and work together," she continued. "When we work together, our power is limitless."
To close out the month, YGBG promoted its annual Give 8/28 initiative. It's a giving day dedicated to Black grassroots nonprofits.
"This is day made for Black-led and Black-benefitting organizations, where we educate and create resources around donor engagement and retention," said Johnson Cooper.
The Black philanthropy movement is a testament to the collective power of everyday people creating extraordinary change.
Givelify provides an online and mobile giving platform for you to amplify your impact and create positive change through giving.
Experience the power of giving anytime, anywhere by donating with Givelify today. Together, we can do more good.