3 Ways Churches Can Maximize Their End-of-Year Fundraising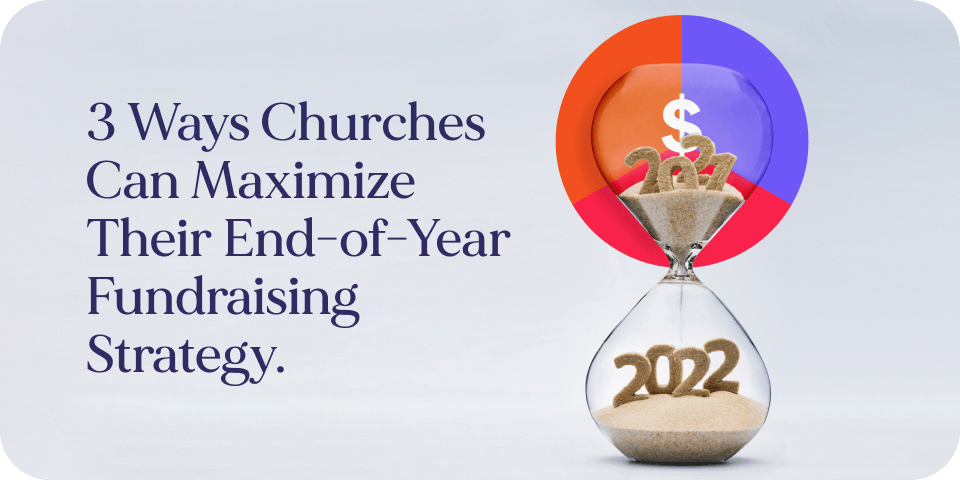 This weekend will be far from average for many churches and places of worship. As faith communities prepare for New Year's Eve services, December 31 is known in fundraising circles as the most critical giving day of the year – for reasons including the annual deadline for tax-deductible contributions and end-of-year fundraising.
For pastors and faith leaders, this action-packed weekend will provide another opportunity to reach your organization's year-end giving targets to assist you in furthering your mission. At the same time, you'll help members and others reach any personal giving goals they may have for 2021.
And then there's the additional opportunity to help position your organization for a solid financial start to the New Year, given that the first Sunday of the month – of all of 2022 – falls on January 2. And we all know how important the first worship day of the month can be for the bottom line.
With all these factors working in your favor, here are three actionable ways you can maximize your end-of-year fundraising strategy:
Tip #1: Make the end-of-year fundraising ask.
It may sound simple, but with 2021 being more challenging than expected, some pastors and faith leaders may find themselves too uncomfortable – or too preoccupied this holiday season – to ask for another donation. But growing your online giving and setting the stage for good to happen in your community should always be priorities.
You also don't have to wait for your New Year's Eve service. Send an email or text to thank your members for their generosity thus far, and let them know there is still time to do more good. You can also update your donation page with a specific call-to-action for a year-end online donation.
Just ask. And let the generosity of your members, guests, and online worshippers surprise you.
Tip #2: Show the impact of online and mobile giving.
Nothing makes a giving experience more joyful than finding out the impact of one's generosity. As pastors and faith leaders, you should share the positive, meaningful change your organization has created in your communities and beyond due to your financial donors.
As an example, Givelify recently launched its Bravo! Stories of Good highlights the great work our app giving community is doing. Whether it's a video showing how your church or place of worship has affected lives or simply highlighting a few testimonials from the community, this will help donors see why their gifts to your organization are essential.
Tip #3: Identify Givelify and any other giving options during your service.
Your church or place of worship will likely have visitors and even first-time guests during your New Year's Eve service – whether, in person, online, or a hybrid – and many may already use Givelify. A recent study shows that 1-in-5 donors give to multiple organizations using Givelify.
Still, you should not assume that all attendees know how to support your church or place of worship financially. To reach first-time donors, posting your Givelify Snap-to-Give® QR code on the screens in the sanctuary or on signage easily viewed as guests enter or exit the building is a fast and safe way to introduce them to online giving.
Contact your Givelify Success Coach or Customer Support if you do not already have a Snap-to-Give® code and want to implement it in 2022. 

For your live broadcast or online streaming audience, post your unique online giving link in the chat and on your social media channels to send givers directly to your donation page. A recent study shows that when donors give online, nearly 20% of them give more than they would in person.
As the most trusted online and mobile giving platform, Givelify instantly connects churches and places of worship with an inherently generous community of people looking to do more good.
We hope these quick tips provide some end-of-year inspiration to help you meet or exceed your annual fundraising goals so you can continue to champion your communities. We wish you happy holidays and a joyful, safe new year!
Recommendations for you: