Women's History Month: Celebrating Women in the Church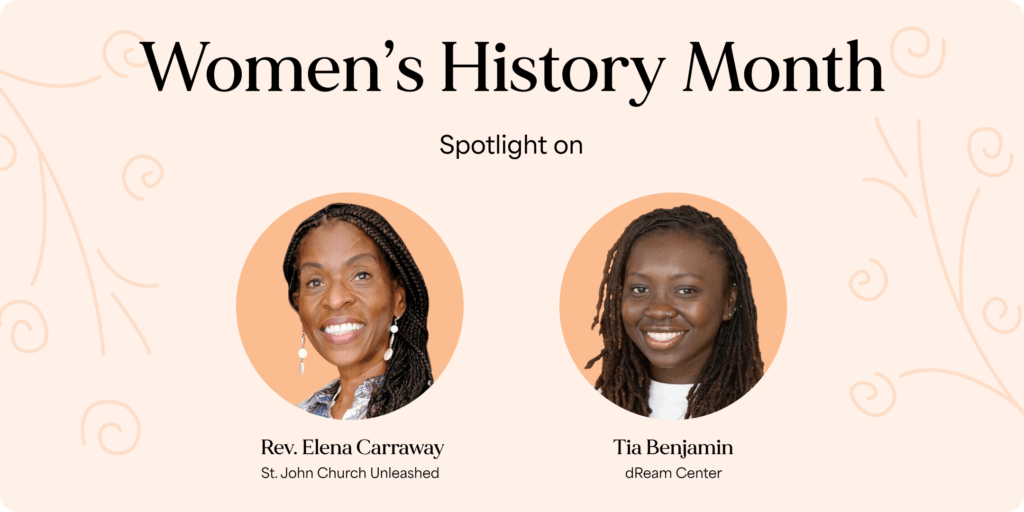 In celebration of March as Women's History Month, I had the honor of interviewing two women in the church from two generations who are in different stages of serving in ministry.
In this special interview, Rev. Elena Carraway and Tia Benjamin discuss the challenges faced by women faith leaders, as well as the progress they continue to make.
Rev. Elena is the director of Global Missions & Outreach at St. John Church Unleashed in Grand Prairie, Texas. Tia Benjamin, a theology student at Emory University, is also an executive assistant at the dReam Center in Atlanta.
What does Women's History Month mean to you?
Rev. Elena: Women's History Month is a time to pause, to reflect, and to acknowledge. Pause in the sense of why we need to acknowledge women, including women in leadership, who have made an impact.
Impact is like a pebble thrown into a river. When the pebble lands, a reverberation occurs. We should pause just to think about that. There are many women making those kinds of rippling impacts in their homes, communities, churches, and businesses around the world.
And then reflect on why it's significant to pause. Women aren't always viewed as contributors. And even now, in 2023, there's still a struggle, right? Women "do" because it's almost instinctive. We "do." We just "do."
And we live between doing, expectation, and passion. And all of those things collectively come together when we begin to reflect on the contribution that women make in ministry.
The "Church" is still very much a man's world if I can borrow from James Brown. But in his song "This is a Man's World," he goes on to sing that thos world would be "nothing without a woman."
So, I think that the contribution that women make in leadership and ministry in the church is significant. Yet it is still minimized, and the recognition is still late in coming.

I celebrate those women who are making a mark now and are currently on the national playing field. I salute those women because I understand that they didn't just arrive. Nor did they just get there by accident.
They had to struggle. There's a story. But we only see, as we say in the church, the "glory," but may not know the story of their struggle of how they got there.
There's still a tendency to read Scripture and the role of women, especially in leadership, based on some other age [in time]. Yet there are more people acknowledging that Jesus included women prominently in his ministry.
I'm spending a lot of time looking at church history, and particularly Black church history. And what I'm discovering is the number of women who chose to lead in the church, lead in missions and ministry, yet they still remain unnamed.
And so, I have a mission to help people know who those women are and celebrate the contributions they've made.
Tia Benjamin: Women's History Month means that we have an intentional time to celebrate, to honor, to really elevate, and push to the forefront the legacy and the history of a demographic of people that has often been overlooked.
There's nothing that can be birthed into the earth without a woman carrying it first. Yet we are so often pushed to the margins. This is an intentional time to celebrate the beauty of women simply for who we are.
To me, that's the beauty of Women's History Month. It allows us to celebrate women in all our forms, shapes, ethnicities, and sizes. And to celebrate them simply for who they are, and not because of what we can produce.
What comes to mind when hearing the phrase "women in the church?"
Rev. Elena: Wearing white and hats. Being minimized. The fifth Sunday. I can't say that this is true of all churches, but particularly in parts of the Black church, we say that the fifth Sunday is the time of the month when the women of the church would be in charge of the worship service.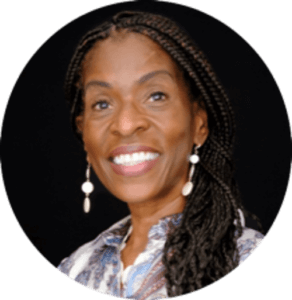 They would wear white. They would there would be a parade of women. There would be there would be a speaker. You don't call her a preacher. In some churches you might call her an evangelist, but you dare not call her a preacher or pastor. The women would speak from the floor, not from the pulpit.
I know that scenario still exists today. As a woman and an associate pastor called into both global and local ministry, my ministry is not just a program on a fifth Sunday, but a ministry to all people.

Tia Benjamin: When I think of woman in the church, I think of the heart of the church. Christ looked at the church as his bride. I think of gatekeeper. I think of a minority.
What was happening in the world when you began your career in ministry? How many years ago was that?
Rev. Elena: I grew up in the church. My great-grandfather would not have supported a female preacher. But I think the moment he opened his eyes on the other side of glory with Jesus, he had a new understanding.
I was taught to speak, do, and serve. I was active in not just the local church but the state and national conventions as a child and a teen.
And so, I grew up expecting that. But I went into another career, totally different career. But I feel like I had that Moses experience. I had these different periods in life when I was doing different things, and God used them all. They collided, and here I am.
I grew up being a member of several Black churches. But I partnered with many other churches. My first international mission trip was with a friend who attended a Southern Baptist Church. I felt like, "Oh, this is what I'm supposed to do!"
Because I was already doing missions, even though it may not have always been international, I always found myself serving in that capacity.
Tia Benjamin: Officially, I came on staff at dReam Center Atlanta full-time three years ago. It was right before COVID happened and a lot of things were going on with the Black Lives Matter and what many people would call a mass exodus of millennials in the church.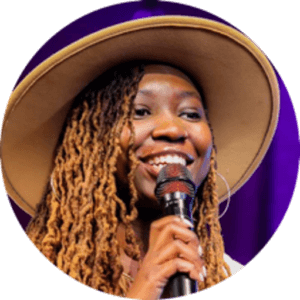 There was this kind of dialogue between religion versus spirituality. We say that millennials aren't leaving the church; millennials are leaving religion. And so, my first role at the church was as a young adult and college director.
I was coming in during the time where there was a lot of resistance there.
And I think it is really my generation demanding more of the church. They were seeing what was happening outside of the church in community. Some members of my generation are not willing to contribute any more of their time, treasure, or their talent to spaces that aren't aligned with what they care about.
What progress have you seen regarding women as faith leaders?
Tia Benjamin: I have the pleasure of working at a non-denominational church that supports and celebrates women in ministry and women in leadership.
But I also started working at the church three months before I started seminary. And so, I went to seminary at Candler School of Theology, which is at Emory University.
Emory is a Methodist school. But there's also a lot of different denominations present. And so being in church with women leaders and being in seminary, I realized how the context that I am in is kind of an anomaly. In that, a lot of my peers aren't often afforded the same opportunities as I am.
Many of them don't get an opportunity to really be more than evangelists. They may not have an opportunity to preach on a Sunday, or be in the pulpit, or have leadership roles outside of children's ministry, childcare, or babysitting.
I often carry that weight knowing that I almost have to work twice as hard to show that I deserve to be in the spaces that I'm in.
I serve in a field that is still male-dominated. It's still extremely controversial to be a woman in ministry who preaches and serves in the pulpit regularly. Even if not to preach, but to be a part of the service flow and to be able to lead in some of the capacities that I've been able to lead, especially at my age.
Sometimes I see older women who can be a little bit resentful of the fact that my generation has afforded opportunities that just were never available to them. And I always try to be sensitive to that. I use it as motivation to ensure that the women who come after me in ministry don't have to fight these same battles.
Which women faith leaders have had the greatest impact on you?
Rev. Elena: The name that immediately comes to mind is Rev. Dr. Gina Stewart, who leads the Lott Carrey Mission. She's the first woman to lead that organization, which is also a missions organization.

I think of one person that I just loved to hear preach and teach is Dr. Renita Weems. I think of Bishop Vashti McKenzie who is out of the AME Church. She's a dynamic speaker and is a leader in the AME denomination.

Who else should others know? Ambassador Suzan "Sujay" Johnson Cook, Dr. Prathia Hall, Carolyn Knight, Bishop Jackie McCullough, and Priscilla Shirer.
What kind of leader are you and how are you different from your male counterparts?
Rev. Elena: Women, generally, bring a nurturing component to their leadership. The delicate balance is not to be viewed merely as a nurturer. Or men may relegate you to a corner that says, as a woman, you should work in the children's ministry.
Sometimes my passion sounds like, "Do it like this." So, I have to be conscious of inviting others to lead and to serve the way that God wired them to do it. I'm an older sister. I grew up giving instructions and guidance to my younger sisters.
I've been a mentor for individuals for years. So, it's easy for me to direct and I had to learn to listen. And I think that women learn that more effectively. They model it more effectively than men. Men talk about it, but I think women do it.

Tia Benjamin: I really believe in collaborative leadership. We are better together. I believe that you don't go as far as your dream, you go as far as your team. I find value in having different voices at the table and voices from different demographics.
I'm inspired that I know what it's like to be the unlikely candidate to be invited to a table. And because of that I always want to have a seat for a person that would've otherwise not been given access. It's through that diversity you can create. And there should always be a spot for women. There should be something for people with disabilities.
One woman leader who particularly stands out for me is my mentor, Rev. Dr. Shareka Newton. She was the first woman I'd ever seen in the pulpit. This was in 2009.
It wasn't until the first time that I saw Dr. Newton and ss she was preaching, I felt like I could see myself up there. I was in ninth grade, so I was about 14 or 15 years old. She's the person that God used to show me what I was created to do.
And not shortly after that we began to build a relationship and she ended up becoming my mentor. And she's been my mentor to this day. I was just on the phone with her yesterday. She is the executive pastor, which is really the track that I'm on right now to becoming executive pastor right now.
And she has walked with me through every season. She 's helped to empower me. Being that no one in my family is in ministry, she's someone who inspires me a lot. I'm also inspired by Sarah Jakes Roberts, Bishop TD Jakes' daughter.
She inspires me because she's actually not even 35 yet. And so, she's also a millennial like me. She speaks to women like me who didn't have a traditional path. While her dad is a pastor, she got pregnant at 13 and God still used her.
She's so authentic in her expression of the word of God and who she's called to be. And it doesn't look like anything I've seen before. She's stylish, young, personable, and super funny. Yet she preaches with power, with conviction, and with integrity. She's opening the door for women like me.
We come in different styles, different varieties, different sizes, from diverse backgrounds, with different stories, and yet we're all necessary. We're all needed.
What do you think is the future of women in the church? How much further do we need to go to experience equity in the church? What are your hopes for the next generation?
Rev. Elena: God is calling and has called women in ministry to leadership. Yet many were ignored, discounted, or devalued. And not just a little bit. I would like to see those who are in leadership to invite more women to walk with them.
Women who are successful in leading, have something to model that women who are rising can benefit from. I really would like to see more of that.
Women are rising. I believe that very strongly. We need to see more collaboration from the men in leadership and not just for Women's Day or fifth Sunday. I think more co-leadership and more meaningful leadership roles are vital.

Tia: Benjamin: We have a long way to go. Seeing women in high leadership can no longer be an anomaly or a special situation.
Women need to be able to take up space in every area of the church. Injustice anywhere is a threat to justice everywhere. We can never consider it real progress until it's a fair slate across the board.
Women really should advocate for themselves hard or have someone on the inside who can coach them. We really need to make considerable progress on some of those disparities as they pertain to autonomy, compensation, agency, and more.
What would you hope for your children's children who are women of faith? What do you hope they remember about you?
Rev. Elena: First, that it's not unusual to have a female pastor. That it's not unheard of to have a female chaplain. That it's not unheard of that a woman is leading at the denominational level. That's what I want.
As an example, the current U.S. Vice President shouldn't be an anomaly. We should have another one, then another one. Woman should be able to choose to lead in a church, to lead in the government, to lead in a hospital, to lead wherever she can because she's capable.
I want the boys club that exists to cease to exist. Because its everywhere. We are talking about a world issue, not just a church one. Instead of reflecting the world, we should be an example to the world.
Tia Benjamin: I hope they remember that I took very seriously the mandate to advocate for the least of these. I want them to remember that I was willing to make sacrifices not just for myself, but so that my children and my children's children and their peers would have a  fighting chance.
I believe wholeheartedly that I'm standing on the shoulders of giants. There are women, who are still living, who made it possible for me to occupy the spaces that I'm in at my age.
And so, I would hope that they would remember to always pay it forward. I want them to not be scared to take up space and advocate for themselves and their sisters. I want them to be willing to do the hard things to make it easier for those coming after them.
Recommended for you: