The Power of Design Thinking: How Best Practices in Design and Innovation Help Tech Do More Good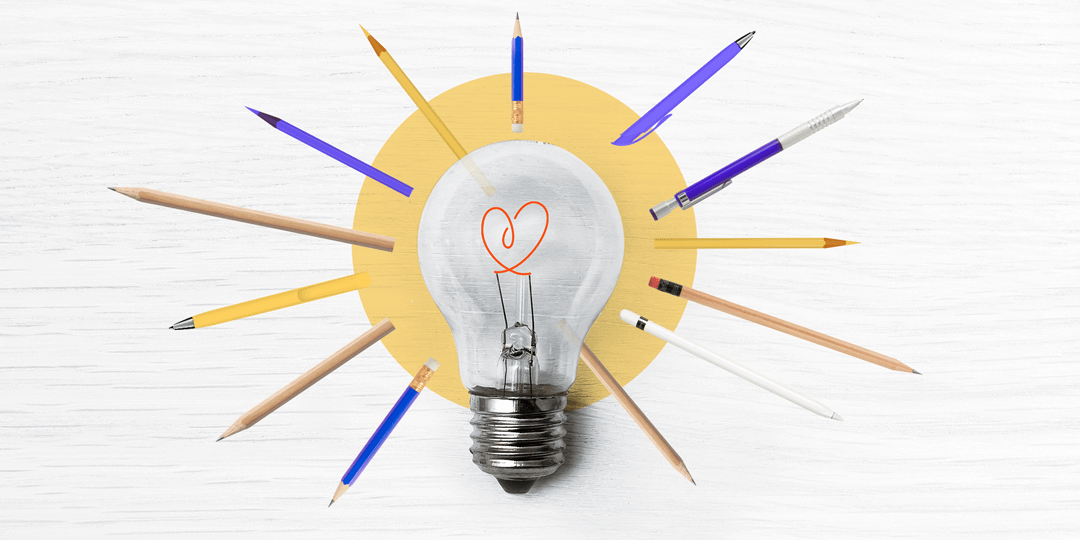 As VP of Design & Innovation at Givelify, I've noticed something interesting about design thinking. There's a significant overlap between what drives successful innovation and what drives our Givelify community. If I had to reduce the common thread down to one word, you can say both are human-centered.
Both put people first and share a relentless desire to make things easier for others. In fact, at the heart of Givelify's origin story lies one of the most important questions every innovative designer should ask themself. I'll explain more about that later.
My career began in engineering, but my gut – and my heart – have always been drawn to design. I'm fascinated with what people do, and how they approach and interact with the world around them.
Since meaningful innovation and great design go hand-in-hand, my passion for design thinking isn't all that surprising. But what I didn't know at the beginning of my engineering career was just how much design thinking would impact my success.
Because here's the truth…to be a great engineer, you also need to be a great designer.
Design thinking for brand competition
Back in the 1990s, at the dawn of the internet explosion, I was working for Travelocity. It was the first time online shopping became an option for anyone with a computer.
It would take more than a decade for smartphones and apps to be invented. But even then design thinking (human-centered design) greatly impacted the success of any company using the internet to connect with their audience.
The internet was still a new frontier, so at this point, the main focus was on speed. As more brands moved their sales and services online, the company whose page loaded the fastest always won the customer. So improving our speed was crucial to help beat out the competition.
Early on in the tech game, this was THE major key for best practices in design and innovation. Of course, now there are countless ways to use innovative design to set your brand above the rest.
Travelocity versus Yahoo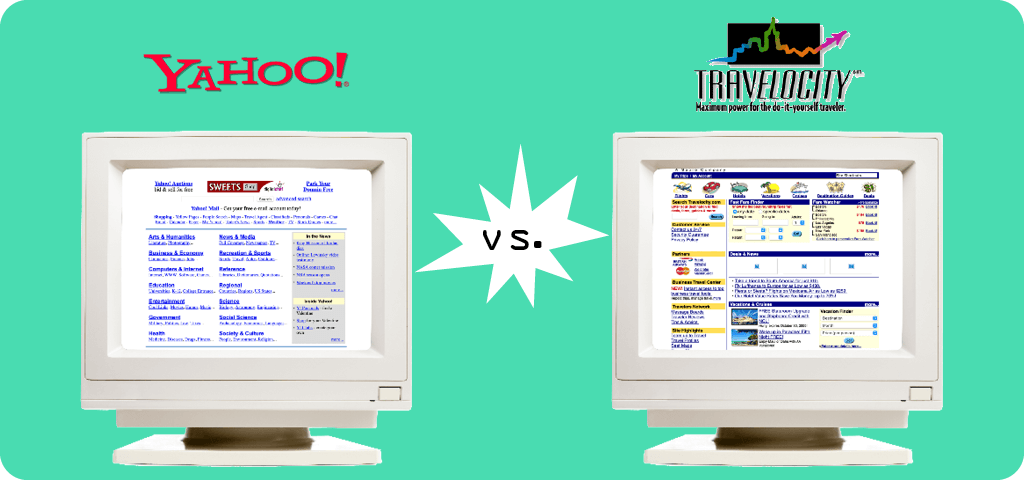 Hands down, our biggest competition at that time was Yahoo. They were the clear winner for the fastest page load time. They had cracked the code for speedy uploads, and it was my job to use my engineering brain to figure out just how they did it.
At the end of the day, load time came down to one thing: smart design.
Specifically, the speed of a page load depended on how many images were on that page. Yahoo had already figured this out, so they limited the number of images on their webpage to four. This allowed their page to load much faster than other brands – including ours.
We had pages full of pictures and other images! In hindsight, it's clear why this brought our load time down to a crawl. This is when I first realized that usability could make – or break – any tech brand.
Design thinking for innovation
What really drives the biggest tech breakthroughs? Fast forward about five years, and I stumbled across something that would alter the entire course of my career.
It was a workshop delivered by some of the innovators at IDEO, a company founded by David Kelley. They showed us the process behind how they created their shopping cart. Instantly, I became completely mesmerized by design thinking for innovation.
What was so fascinating to me was that the secret to their tech success didn't have to do with tech at all. It had to do with people.
Before the designers at IDEO built out their online shopping carts, they researched what features were important, and where a shopper might get stuck. They did this by talking to professional shoppers who used shopping carts regularly.
Then they coupled the problem-solving approach of design innovation with first-hand insight from actual users to build the best shopping cart possible. I was struck by how this major tech advancement wasn't a tech-led innovation at all. It was a people-led innovation.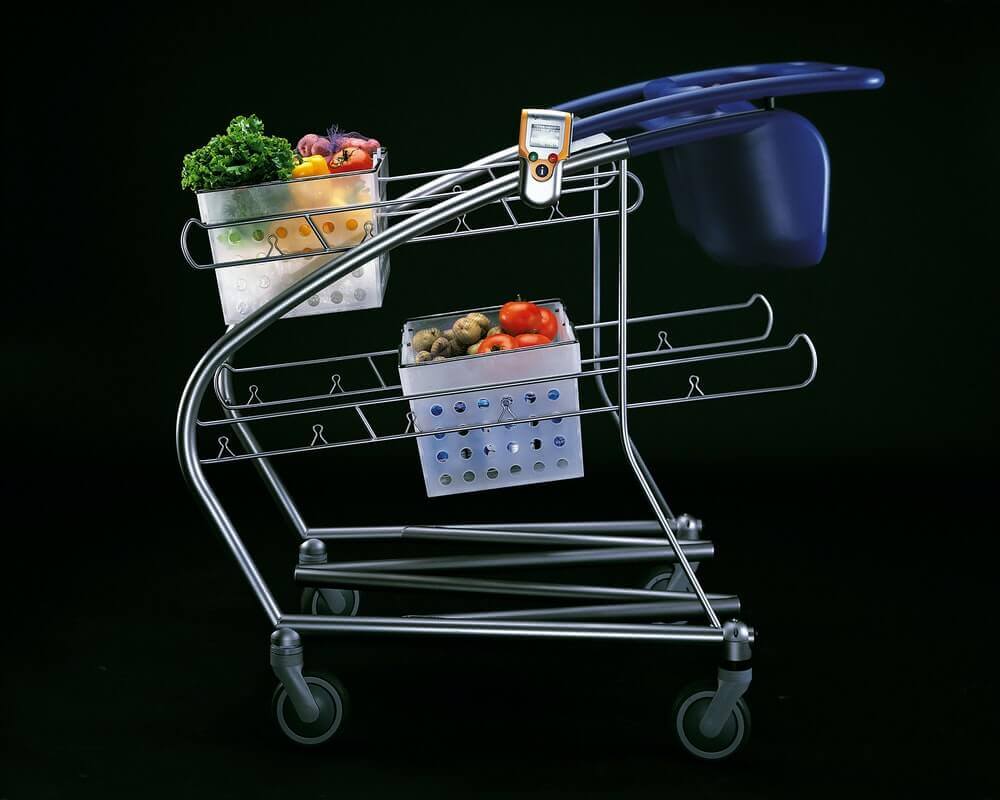 Photo Via Ideo
Plus, you could see that these designers and engineers were having so much fun creating this breakthrough! The process of rolling up their sleeves to problem-solve with other brilliant minds was clearly lightening them all up. You could tell they had found their dream jobs in tech.
Instead of applying the latest technology to a problem, they looked at the problem and adjusted the technology accordingly. This matters so much because, at the end of the day, it's always the human who is using the technology that really counts.
Any technology is only as good as the impact it creates in the world. Just imagine how much can be achieved when you marry this human-first (human-centered) approach with the best engineers, tech innovators, and design thinkers in the world.
This desire to create technology that truly helps people – technology that does more good – led me to follow David Kelley all the way back to school. Kelley is the founder of Stanford's d.school, and after seeing his team in action I wanted to learn as much as possible from him about Design Thinking and Innovation.
Despite the fact I was already mid-way through my career as a product manager, I knew right away there was a bigger vision I had to fulfill. I enrolled in the Product Design Program and got my Master's degree.
Design thinking for Givelify's mission
The human-first approach is what drew me to Givelify, a mission-driven company born from the desire to do more good, together. There's a big overlap between Givelify's philosophy and the type of mindset that fuels successful design thinking for innovation.
Givelify was founded by Wale Mafolasire after he struggled with an effective, consistent way to both give back to his church and support other philanthropic causes he believed in.
On more than one occasion, his impulse to give generously was thwarted by obstacles like not carrying cash, leaving his checkbook at home, or forgetting a text-to-give code.
He looked, but couldn't find an existing giving app or church tithing app. Wale understood how an inspired moment of generosity could easily slip away.
The question he found himself asking was "How can I give more?" And that's the exact essence of what every tech developer should bring to the design thinking process.
In tech design and innovation, we must constantly ask how we can give more to the user. How can we make things easier for them? How can we help solve their problems? Can we anticipate what they need – before they even do?
An essential practice in design innovation is uncovering your user's latent needs. In other words, how do we help someone solve a problem they don't even know they have? This is the only way to truly create an innovative breakthrough.
In fact, to me, the very definition of design innovation is the ability to create an "obvious" solution to a common problem. If someone says "Wow! Why didn't I think of that?" then I know I've created an innovative design solution.
The type of thinking that creates human-centered design solutions isn't just limited to what a user explicitly needs. Sometimes, it's enough to deliver something the user implicitly wants. Little touches that bring joy, make someone smile, or create a celebratory space can transform a user's experience. It can create a joyful moment, and that can create loyalty to your brand.
Design thinking for gratitude and generosity
How to use innovative design to thank your community and create loyal users
Givelify instantly connects people to causes that matter most to them. Our technology has helped our giving partners raise more than $3 billion dollars for countless causes, including life-changing missions like disaster relief, homelessness, and food insecurity.
It goes without saying that the impact of this sort of technology is huge. And while design innovation is responsible for many big and noble solutions, don't dismiss the power of design thinking for smaller wins and unique, heartfelt touches.

For example, we recently beautified Givelify with a fresh new look. To capture the essence of our mission, we reimagined our logo with a heart right at its center. Love, compassion, and caring are what drive both our dedicated giving partners and our generous givers. So we wanted to reflect that in our brand design.
To help improve the experience of giving through our app, we took the extra step of incorporating a heart into each processed donation. It's a short but meaningful touch for our community. Because we know the big impact of small details, our design team is constantly innovating little details like this.
Recently, I asked a regular user of our giving app what it was like for her to give to her church every Sunday. I wanted to better understand her experience so we could think of innovative ways to improve online tithing.
She explained that for her, giving on Sunday felt the same as when your favorite team wins the Superbowl. This revelation was huge for our design and innovation team.
With a new understanding of how celebratory an experience of mobile giving can be, we began working on ways to honor and mark such a personal and special occasion.
After all, winning the Superbowl comes with all sorts of keepsakes. From the player's rings to the attendee's framed tickets, it's an occasion worth commemorating.
Now that we understand better how giving feels for our community, we are developing a new feature that channels this same celebratory spirit into using the Givelify app. Human psychology always comes into play with good design innovation, and people feel more generous when they feel more gratitude.
We believe that if we take the time to show our gratitude for their generosity – coupled with design innovation that makes moments of giving bright, celebratory, and fun – they will be more inclined to give.
Even if you've already used innovative design thinking to create impactful technology, there are always ways to expand your reach and make your user experience more delightful. Getting creative about the "how" is what makes the design thinking process fun for anyone pursuing jobs in tech.
Thinking about design jobs in tech?
Here's what I learned from my work developing giving apps
When you are committed to the design thinking process, you become more than an innovator. You become an advocate for your users. To do this successfully takes a willingness to stand up for what you know will make the best user experience.
Sometimes, that conflicts with other people's agendas.
At Givelify, our company mission is to help people do more good. Our priority has always been, and will always be, our giving partners and our donors. That in itself takes some pressure off our design and innovation team. That can't be said for all tech companies.
In many industries, it's not uncommon to have to sacrifice what is good for the user to please shareholders. I once worked for a popular company that purposefully made it as hard as possible to cancel a subscription just so that they could collect the highest profit every month!
If you're driven by design thinking for innovation, this type of manipulation can be a hard pill to swallow. For purpose-driven design innovators, vetting your potential employers carefully is a must. Choosing to work for a company that aligns with your values is the first step towards saving yourself from this type of user "unfriendly" build-out.
Most of the time, the battles designers face aren't quite so nefarious. But even when everyone on your team has the best intentions at heart, it's common for different departments to have different priorities.
For example, as a designer, you may know that keeping one streamlined call to action will yield the best user experience. This, in turn, will increase the success of your app. However, your colleagues in the marketing department may see things differently. They may advocate for more than one call to action, thinking that being all things to all people will attract more users and widen an app's reach.
Or perhaps there's a popular design trend that someone in your company wants to implement, but your experience tells you this fad won't best represent your brand. Do you go along with what you know won't benefit your user? Or do you use your design expertise to guide them to a better solution?
Why testing and tweaking are essential in creating the perfect design solutions
While we always try to guide our team to a better solution, invariably we end up with a false dichotomy between the options others want and the option with the best design innovation. So we conduct tests to see our users' reactions. Unfortunately, this may not be enough to convince the team.
After all, design has an element of taste that cannot be easily quantified or measured.
In a stalemate like this, we believe it's the leader's job to push for more options. So we'll introduce an "option C.":  Sometimes this option turns out to be the best of both worlds. Sometimes it turns out to be the worst of both worlds. Hopefully, option C works beautifully and creates a creative resolution that meets the needs of our whole company.
One example where this happened was during the logo exploration for Givelify's recent rebrand. Ultimately the redesign came down to two concepts. Our design team's recommendation was different from other stakeholders, so we sat down together to figure out what it was about our version that didn't work for them.
We went through multiple rounds to no avail. We conducted tests to prove our point but the stakeholders remain unconvinced. Time was running out – we only had two days left before a decision had to be made. I asked our designer, Chris Whitefield, if he had the energy to make one more push.
Not only was he willing to go back to the drawing board, but he also came up with a brilliant new design that we believed worked well. After we presented the redesigns to our stakeholders, we waited with bated breath for their feedback. All of them chose option C! As much as testing may reveal an objective winner, the stakeholders and their gut have to be convinced. Design is subjective and ultimately based on a person's taste, and we believe good design won in this case.

On my team here at Givelify, we want to be proud of our work. Sometimes that means we have to put our foot down and say there's gotta be a better way.  Because at the end of the day, we're not just innovators – we're advocates for our users.
The secret to a design portfolio you're proud to share
How to get a final product to match your initial concept
Too many designers know the frustration that comes when their concept gets unrecognizably altered during production. It can leave you with work you're too embarrassed to even put in your portfolio.
This doesn't happen at Givelify, because we spend time on small details others may see as trivial – things that nobody but designers would even notice. We're basically a bunch of design geeks, so we care about every pixel. We're passionate about actualizing the concepts we design, and we're proud of the lengths we go to get it just right.
Take for example the rebranded "Give Online" button on our giving app. The descender on the G looked like a devil's tail. This is a detail that many people wouldn't notice, but our engineers took days to rework it. We made it into a game – a little healthy competition over who could crack the nut and fix it first.
It reminded me of the energy I saw in IDEO's team when they were reinventing the shopping cart, which hooked me on design innovation. The engineers and designers rolled up our sleeves and problem-solved alongside other craftsmen.

We may not be the fastest team, but we are deliberate. We take the time to really draw out what our giving partners and donors need to help them do more good. Our rebrand had its fair share of obstacles – and even some debates – but in the end, we're all really proud of the results.
From faster speed to full-service solutions
The evolution of best practices in design and innovation
We've come a long, long way since the load time of a desktop webpage was the mark of a positive user experience. The birth of smartphones and the explosion of apps have created countless trends and a limitless playground for the design thinking process.
In fact, the topic has become so dense that the Harvard Business Review has published On Design Thinking, an entire book of compiled essays on how to best use design thinking to transform your brand. If you're an engineer with a passion for design thinking for innovation, there are countless places you can hone your craft.
But if you're a design geek who dreams about making a real difference, then Givelify could be the place for you. Anyone with a craftsman mindset, who cares about every detail, is encouraged to apply for a space on our team. You can submit your application here. Any other questions about Givelify? Just click right here.
Join our purpose-driven team of best-in-class industry experts! We are better together!