Online Donations Helps Indy TenPoint Lower Gun Violence
It's 10 p.m. in Indianapolis –
This city is on pace to hit a record-setting 200 homicides for the second year in a row. Most of the city is closing their curtains, locking their doors, and turning off their lights. However, one group is just heading out into the streets of Indianapolis.
With the help of online donations, volunteers dressed in bright yellow safety vests are gathered in small groups of 3 or 4. Members of Indianapolis TenPoint Coalition (also known as Indy TenPoint) are ready to start their faith patrols in five of the roughest neighborhoods in the city.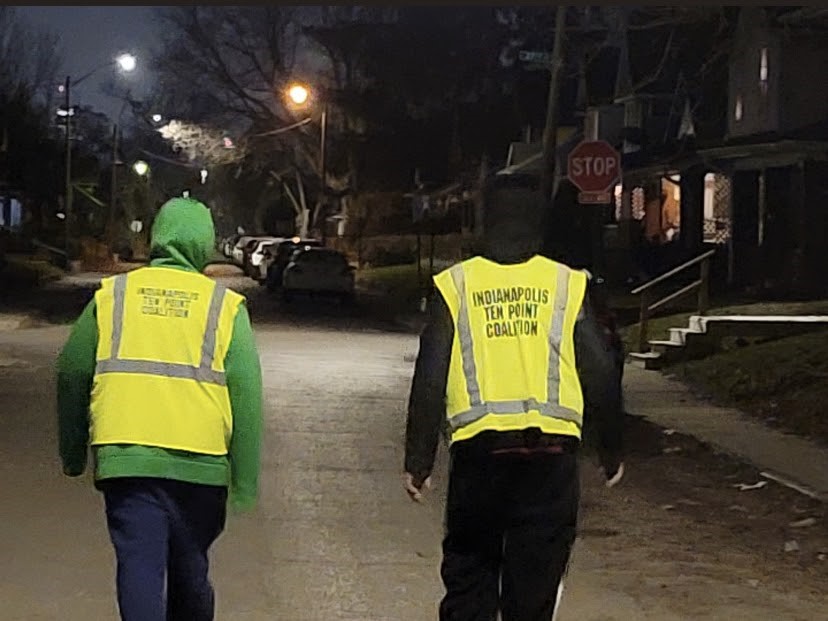 Indy TenPoint is a nonprofit that works to reduce gun violence and to address critical issues in greater Indianapolis. These late-night patrols are a vital part of the organization's "boots-on-the-ground" approach to reducing violence in target neighborhoods. 
It's Personal 
For Rev. Dr. Charles Harrison, President of Indy TenPoint's Board, the desire to interact and be an agent of change in these neighborhoods is personal:
Harrison's brother was murdered at the age of 21.  
"I saw the anguish my parents experienced the night he was killed," Reverend Harrison shared with us. At the funeral the boys that killed him came, pretending to be grieving friends. When Harrison heard that, he "was planning to seek revenge."
Additionally, other TenPoint volunteers have lost loved ones to violence and drug activity. Some volunteers are former gang members and convicts who are devoted to keeping others from going down the wrong road. 
Men in the community stepped in and stopped the plan he'd made with his friends. If it weren't for those men, Reverend Harrison says his life would have been ruined.  
Showing Up 
So, after receiving training in the classroom and on the streets, bold OGs and patrol members hit the streets. They go out four or more nights a week in the five neighborhoods, including Butler-Tarkington and Crown Hill. People often call the volunteers "violence disruptors."
Daily, risking their own safety to save lives, they walk and pray. The volunteers are cautious and alert. They engage at-risk individuals and try to stop any crimes in progress. Grateful community members stop to thank them or even join them on patrol.  They don't go anywhere without consent from the Indianapolis Metropolitan Police Department. 
In addition to the patrols, Indy TenPoint works in the community to not only stop violence, but also build community. They sponsor a weekly basketball league, connect people to educational and job opportunities, and offer other wrap-around services. 
It Works 
Thus, Indy TenPoint's constant dedication to these neighborhoods has had great success in stopping violence and homicides.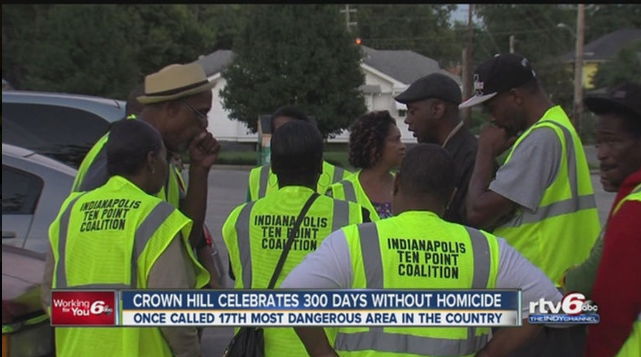 As a result, they report amazing statistics on Twitter like:
1000 days in the Crown Hill neighborhood without a homicide.
Two years without a homicide in Highland.
Three out of five years without a criminal homicide in the Butler-Tarkington neighborhood.
Since 2016, they've had 12 one-year stretches without any youth crimes (ages 10-24) in the areas they patrol.  
Reverend Harrison credits the success to prevention and helping victims and predators. It's no surprise that major cities and organizations have all reached out to Indy TenPoint for their expertise: 
Online Donations & Presence Vs. Grass Roots Campaigns
Clearly, Indy TenPoint is a grass-roots effort with its heart and soul poured into the community. But they have also embraced technology to connect with people worldwide, including Twitter and Givelify. Daily tweets, pictures, and videos keep followers up-to-date.
Also, they encourage people to give online donations, via Givelify. The gifts help support present projects and, hopefully, add faith patrols to new hot spots in the future.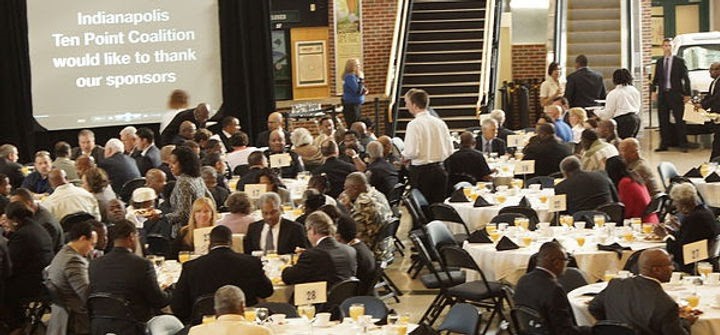 "Just one month after signing up with Givelify," said Reverend Harrison, "someone found us on the app and wrote us a check for $25,000!"
In fact, TenPoint spends between $30,000 and $40,000 to start a patrol in a neighborhood. TenPoint pays its volunteers who give 6-12 hours a week a stipend.
Even more, the violence rate in other neighborhoods demand triple the cost. 
Givelify is based in Indianapolis, and we are proud to be neighbors and partners in giving with Indy TenPoint's volunteers and staff! 
---
Show your support for the Indianapolis TenPoint Coalition here!