When Is GivingTuesday 2023 and Why Is It Important?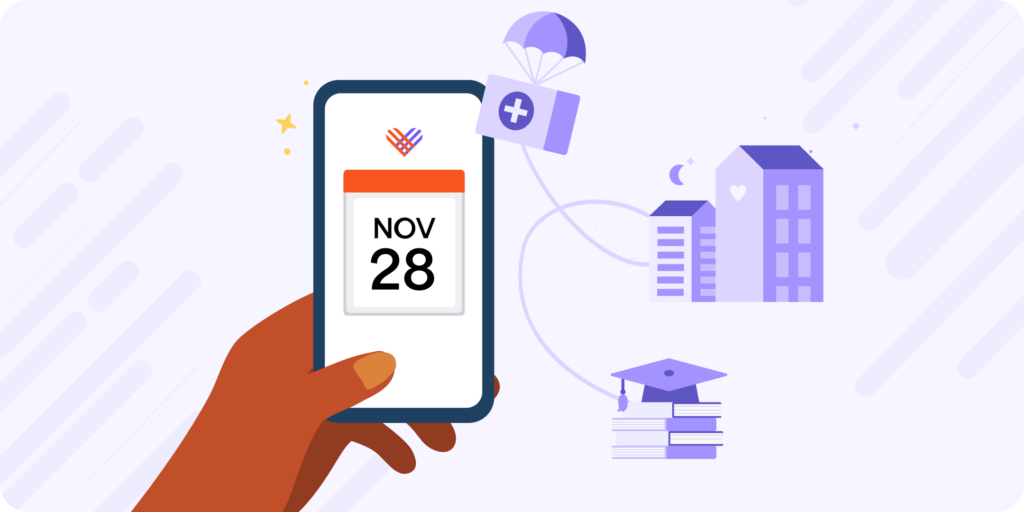 When is GivingTuesday 2023? Now that November is here, you may have recently heard buzz about GivingTuesday coming up soon. And if you've never participated, you might be wondering when it is and what it's all about.
Recognized as a global movement of radical generosity, GivingTuesday takes place on the Tuesday following Thanksgiving. This year, it falls on November 28.
GivingTuesday was established to encourage people to support their communities by contributing to causes that matter most to them. The day is a reminder that any act of kindness or generosity, big or small, can have a meaningful impact.
Why is GivingTuesday important?
GivingTuesday is when people around the world pause their holiday shopping to sow heartfelt seeds of generosity into their communities. It's a day that inspires people to do more good through charitable giving, community building, and simple acts of kindness.
If you're on the fence about participating this GivingTuesday, here are some benefits of joining the global generosity movement:
#1: You can exercise your power to inspire change.
Every heartfelt contribution you make to an organization or cause in need can be a catalyst for positive change in your community. Whether it's donating to a disaster relief fund or volunteering at a food pantry, doing your part makes a difference.
#2: You can support the causes you care about.
This not only benefits the causes themselves but also enhances your well-being, personal growth, and sense of purpose. In fact, a recent study found that donating to causes is one of the six strongest predictors of life satisfaction. Generosity is a win-win situation that can lead to a more fulfilled, enriching life.
#3. You'll be part of a global movement of generous hearts.
Imagine joining a worldwide club of good, kindhearted people who care about one another and their communities. That's what it's like to participate in GivingTuesday — joining hands with the rest of the world to change the world.

#4: You'll experience the joy of giving.
GivingTuesday reminds us that the act of giving is a gift, bringing joy and happiness to the giver and receiver. Supporting your favorite causes and organizations through Givelify brings the joy and ease of mobile giving right to your fingertips!

#5: You can inspire others to do more good.
Your heartfelt generosity can set an example for your family, friends, and colleagues, inspiring them to get involved. When others see you making a positive impact, they'll want to do the same.
Now that you know when GivingTuesday is and the benefits of participating, here are a few ways you can get involved:
#1: Donate to a meaningful cause close to your heart.
Whether it's through your place of worship, local nonprofit, or both, you can contribute to causes that matter to you. Givelify connects good people like you to more than 60,000 organizations and causes instantly, securely, and reliably.  




#2: Volunteer your time and talents.
You can donate your time by volunteering at a local charity or nonprofit organization on GivingTuesday. Your help can be invaluable.

#3: Educate, advocate, and spread the word.
Use the day to educate others about important issues and advocate for change. You can also spread the word about GivingTuesday and the causes you support.
Givelify instantly connects good people to causes they care about so they can change their world with kindness and generosity.