Generous Giving Prevails in the Time of Covid-19
Throughout history, kind and generous givers have always risen to the occasion and responded to difficult times we face as a nation. The current global pandemic has been no different. In fact, generous giving by corporations, foundations, and individuals, including faith-based and other sources, recently reached $7.8 billion worldwide, surpassing records set by natural disasters. Even you can start your own charity, we make it easy when you sign up for Givelify.
In our recent Giving in Faith report virtual discussion, Vashti Murphy McKenzie, Presiding Bishop of the 10th Episcopal District African Methodist Episcopal Church, David King, Karen Lake Buttrey Director at the Lake Institute on Faith & Giving and Givelify's Founder Wale Mafolasire, agreed that even in the midst of the pandemic, there is reason for optimism.
And it's true, despite or because of the pandemic, congregants are continuing to support their places of worship and the causes that matter most to them. Our Giving in Faith report confirmed that the generosity of donors prevailed. Key findings included:
55% of donors remained consistent or increased their online and mobile giving amounts
Giving amounts grew from $102 to $112.50, a nearly 10% increase, on average
20% of donors gave to multiple places of worship during the pandemic
But what is driving this generosity? Our nationwide study found that among 31% of donors, the pandemic strengthened their reason for giving. While mobile and online giving can be directly attributed to increased donations, understanding the drivers of why religious donors give beyond having the right platform could certainly help faith leaders better connect to their donors and build generous congregations during these uncertain times. Let's dive deeper!
Scripture teaching and traditions about generosity
The Giving in Faith report found that an overwhelming majority of donors (79%) give to be obedient to scripture. The great news is that giving hasn't stopped just because worshipers are not congregating in person. As one donor shared,
"I give based off scripture. However, being away from the church building has just made me think more about supporting ministry. I realized that just because you aren't there things still need to be taken care of."
As it has been proven lately, church goes beyond the four walls. The tradition of congregating in person dramatically changed overnight. And for many places of worship, it catapulted them into adopting technology. The digitization of how we worship and how we give has opened the opportunity for new practices. "Just like cash giving has been a long-time tradition, today's times have accelerated giving via mobile an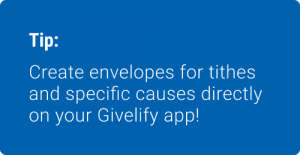 d online giving," shared David King. "Technology and digital giving can be an enculturated practice too."
While donors continue to give based on scripture teaching, a recent trend that Givelify has observed is that donors are becoming more cause-driven. Givelify's Head of Data Science, Abiodun Mafolasire, shared,
"Donors are not leaving tithing teachings and traditions behind. However, early findings suggest that donors are becoming more supportive of causes outside of regular tithes and offerings. Churches that are intentional about championing causes, especially during this time, are connecting better with their generous givers."
Feeling grateful and sharing their blessings through giving
It's true, in challenging times we tend to appreciate the little things and lean into our faith more. Not having a place to congregate didn't stop worshipers from attending service in other ways. In fact, 72% of worshipers attended their own place of worship virtually and 20% attended multiple online services. As Bishop Vashti McKenzie pointed out, "Churches are now in a position where their services are shared worldwide, people are being introduced to ministries they never even knew about."
Undoubtedly, more people are counting on their faith responders for comfort and spiritual guidance during the pandemic. For some, it's made them more grateful than ever and they are spreading this feeling by giving more. "I'm more grateful for my health and strength so I give more frequently," shared a donor. Another added, "The pandemic has only made me more grateful for my blessings."
Many are also dealing with the very real challenges brought on by the pandemic. According to Feeding America, food insecurity is on the rise. With unemployment climbing, more than 54 million people may face hunger because of the coronavirus.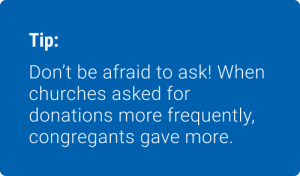 But the generosity of donors is boundless, especially during these difficult times. In addition to feeling grateful, they understand the power of sharing their blessings and spreading more good into the world. As one donor reflected on why they recently increased their donations, "I feel the need to give more as there are so many in need."
Citing the recent Giving USA report and how people of faith contributed the largest portion of the $450 billion in charitable giving last year, Wale Mafolasire emphasized, "By nature, people of faith are just inherently generous people who are genuinely concerned about doing more good. It goes back to the traditions…every faith teaches: be kind, be helpful to humanity. And it's ingrained in our DNA as people of faith."
The power of storytelling
As they have always done in times of crisis, faith responders are not only supporting the spiritual and emotional needs of their members but are also providing much needed essential support and services to their local communities. From coordinating drive-thru food pantries to collect and distribute food to providing financial assistance, and much more, places of worship are a bright light during this time.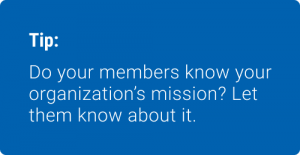 As donors become more cause-driven and are joyful to share their blessings with others, this is an opportunity for churches to champion causes that are important to their community. And if your place of worship is doing this already, communicating this good work with members is important. The Giving in Faith survey indicated that 11% of donors give to support the vision of their place of worship. Recent trends have also shown that among millennials, 90% of them are motivated to give by a compelling story.
As David King shared, "What we know from givers generally is that they are no longer just giving to what they're used to supporting, they want something that connects to their values and their passions….and tie it to something that makes a difference."
Places of worship are championing numerous causes and giving back to those most in need during this pandemic. As you are multiplying the good in the world, let your donors know the impact that their gifts are making. Engage your church members with different communication touchpoints like email or social media and even during your livestream service.
COVID-19 doesn't seem to be slowing down and we have yet to understand its full long-term effects. What we do know is that generous donors and faith leaders are continuing to uplift their communities.
Have a good story to share about all the good your place of worship is doing? We'd love to feature you in a future blog or our social media. Email us your story, along with pictures or video at connectwithgood@givelify.com.
Learn more about the generosity of donors during the pandemic in our new Giving in Faith report.