Church Food Pantry Distributes One Million Pounds of Food
One Year and 1,000,000+ Pounds of Food
When Reverend Kendra Smith thinks about it, it's hard to believe it's been one year since Kingdom Fellowship AME Church started to distribute food in its Baltimore, MD community. Under the church's Kingdom Cares ministry, the church created a "Grab and Go" food pantry program, initially to provide much needed assistance to students and their families. As the initiative's first anniversary approaches, the outreach — and the need for it — has grown.

"We didn't plan to do this every week since March," says Smith, President of the Kingdom Cares Global Community Development Corporation. "But the need was so great that we really could not stop. So, the need was why we responded, and the need continued, so we stayed."
Every week, the church mobilizes about 170 volunteers to distribute boxes to feed 450 people. Rain, shine, or snow, Kingdom Cares will be there to serve whoever shows up.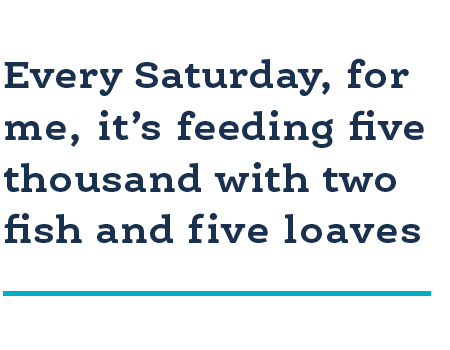 "Every Saturday, for me, it's feeding five thousand with two fish and five loaves," says Smith, about the operation that started in one location and now serves six, including schools, apartment complexes, and community centers.
We're here to serve everybody and we do, she says. We pay special attention to reaching populations that are underserved or hard to reach. We serve at serve at locations that are more central, so people can have access."
The Gratitude Is Overwhelming
One thing Smith has learned about food insecurity in the past year, it can impact anyone.

She recalls a University of Maryland student, who volunteered one Saturday at a food distribution site. It turns out, he and his family had received food through Kingdom Cares, and he wanted to give back to the ministry in a meaningful way.
"Here you have someone, who is from a family with a mother, a father and a son in college. But they still found themselves in a place where they needed support. Then, not only did he receive, he said, now I want to be a part of what you are doing," she says.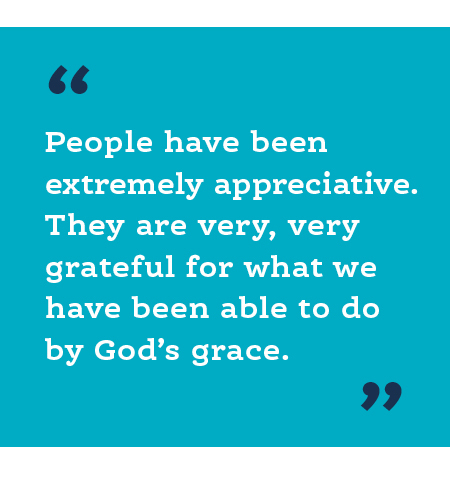 Even though, at times, people wait an hour to receive one box of food, the gratitude they show is overwhelming.
"There's an older woman who comes every week, and she eventually felt comfortable enough to tell us that she shares her food with her neighbors. When we learned this, we gave her a little extra food to take back to her neighborhood. She was so grateful, she was almost in tears," Smith shares. "People have been extremely appreciative. They are very, very grateful for what we have been able to do by God's grace."
Online Giving Grows Church Food Pantry
When the church launched this food pantry initiative, they called on the Kingdom Fellowship congregation to support it. And the congregation overwhelmingly responded.
"People began to give exponentially, and it didn't take away from tithes or offering," says Rev. Smith.
She points out there are five ways to give, though most of the donations come through online giving. Kingdom Fellowship uses Givelify as one of those online giving options and has set up the Givelify's envelope feature to collect funds for the church's food pantry initiative.

"With Givelify specifically, people are able to select Kingdom Cares Food outreach when they go to give. That has made it extremely easy for people to be able to give."
As the program grows, so do the opportunities for partnerships and grants. Meanwhile, online giving from individuals continues to play a major role to keep Kingdom Cares going.
"People want to see a tangible result from their giving. Here at Kingdom, you can see where your giving is going."

Join Kingdom Fellowship AME Church and more than 60,000 places of worship and nonprofits who use Givelify's online giving platform to do more good in their communities.