Church Celebrates Anniversary With Free Gas Giveaway
To celebrate its 140th anniversary, Emmanuel AME Church in Durham, NC, gave a gift to the community – free gas cards!
The idea came to Sr. Pastor, Rev. Akil Dickens, shortly after he moved to the area. He had been appointed to lead Emmanuel AME only two months earlier.
"One Friday night, I was going to the grocery store and saw a sister on the side of the road crying. She was in tears," Pastor Dickens recalled.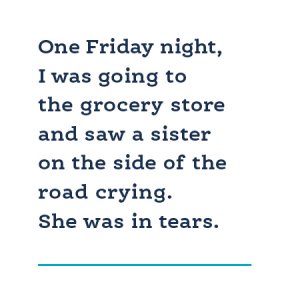 He wondered if her car was broken down or if she needed emergency assistance.
"Do you need Triple A? Do you need me to call 911?" he asked, once he pulled over to the side of the road to assist her. He quickly learned her problem could be solved with a quick trip to the gas station.
"She ran out of gas, and I said, 'That's all you need is just gas? Then, come on, let's go to the gas station and get you some gas," Pastor Dickens replied.
"She told me, 'I get paid tomorrow, and I just need a little bit of gas, so that I can get home. I just need some help to make it until the next day.""
Days after helping that young lady fill up her tank, the encounter stayed on Pastor Dickens mind. He wondered if other community members were struggling to fill their gas tanks. As a Faith Responder, he came up with the idea for his church to host a gas giveaway.
"God laid it on my heart for our church's 140th anniversary, that we would give away 140 $20 gas cards."

Free Gas Goes Fast
As you might imagine, word about free gas spreads fast in a community like Durham. Two hours before the church free gas giveaway began, 140 cars had already lined up on the roads leading to Emmanuel AME church for the event. Police had to start turning people away.
Pastor Dickens personally greeted each person who picked up a gas card and offered them an invitation to virtually visit the church.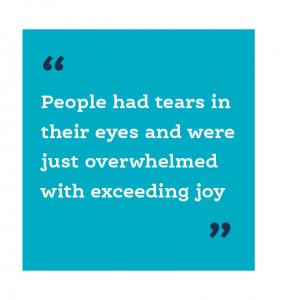 "I was able to touch each person who came to get a free gas card, pray with them, and welcome them to Emmanuel AME church."
"People had tears in their eyes and were just overwhelmed with exceeding joy, just to get gas. One lady said, my gas light is on right now. As soon as I leave here, I am going straight to the gas station."
Digital Fundraising Makes A Difference
While the gas card giveaway was Emmanuel AME's first community outreach event under Pastor Dickens' leadership, it would not be the last. Community engagement is a top priority for him, as is digital engagement. In fact, the two go hand in hand.
Since his arrival last year, Pastor Dickens emphasized the importance of expanding Emmanuel AME's digital fundraising and presence. Since his first Sunday, he's consistently broadcast his sermons on YouTube and Facebook, and online viewership increased by 15x.
Also, during his first week, he added Givelify as an online and mobile giving option for the church. Previously, online giving was limited to the church website.
"That first Sunday, I would dare say that 90% of our offering came from Givelify, and 90% of our offering came from outside the Raleigh-Durham region. God is a tremendous deliverer because Givelify saved us on that first Sunday."
The combination of mobile giving and virtual services has brought support from across the country and from viewers of all ages. College students from Alabama State and North Carolina A&T Universities sent in donations to support the church and its community outreach efforts.
Faith Responders Don't Stop
In 2021, Pastor Dickens says there are plans for the church to distribute Bibles to prisoners, as well as create a program to serve the homeless.

He's encouraged by the generosity he's seen among the Emmanuel AME community thus far. For Thanksgiving, the church provided 200 meals for families. For Christmas, the church participated in the Angel Tree program that provides gifts to children with incarcerated parents.
"Donations were coming in through Givelify from across the country. People have been watching service and giving $25, $50, and one nonprofit gave $1000," he said.
"We know there's a need and God has called us to be able to meet the need. We may not be able to do everything, but we can do something to be a blessing."

That's what being a Faith Responder is all about.
Join Emmanuel AME Church and 60,000 organizations using Givelify to grow their mission.