5 Tips For a Flawless Church Website
Operating a place of worship takes a lot of work, and your team juggles a myriad of jobs every week to ensure that things run smoothly. But you may have started neglecting an important aspect of your ministry: the website.
You may think that your church website is a low priority, but be careful not to underestimate its role in your organization's success. It's time to give your web presence a little more attention. According to The Network:
46% of churchgoers said the organization's website was an important factor in choosing a church to visit.

In 2012, 33% of church attendees first learned about their church on the internet.

64% say their place of worship's website helps drive church participation.
What can you do to make sure your church website helps take your place of worship to the next level? Learn how your online presence can help draw in new visitors and increase online giving.
Feature Your Physical Location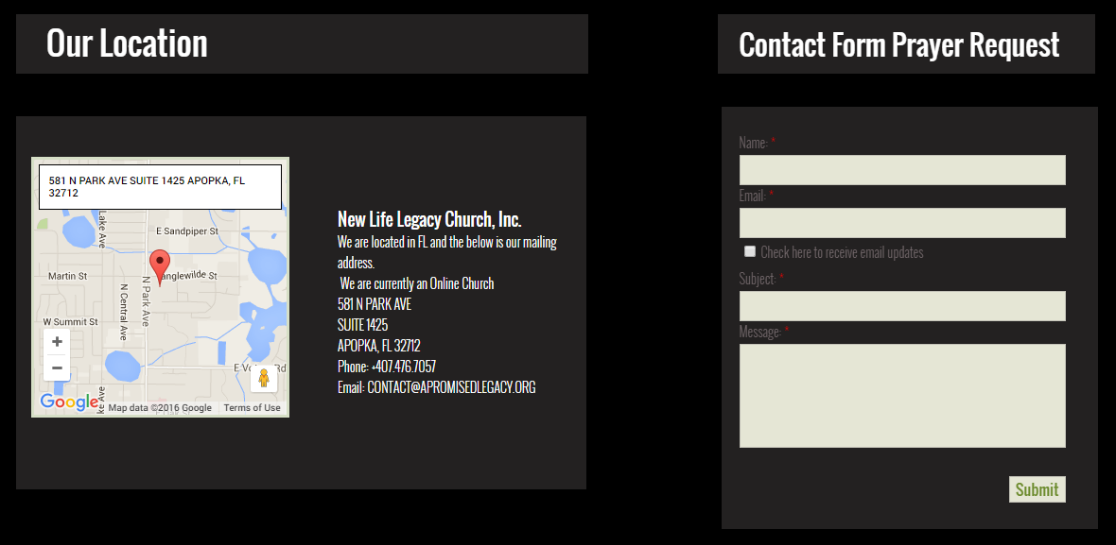 As mentioned above, people who are looking for a new church to visit often rely on the organization's website for information. To make sure your place of worship's website successfully brings visitors to your services, you need to provide clear information about your location. This can't be stressed enough: include your physical address on your website. If you want more people to visit your church, you have to tell them how to find it.
But don't only include the address — feature it prominently, so visitors do not have to hunt for the information at all. Including a map or driving directions is also helpful. The easier you make it for people to locate your building, the more likely they are to stop by for services.
Let Guests Know What To Expect

Your website is a great place to share information about your church. Consider what can you put on your site that will benefit both your current members and outsiders who are considering making a visit. Display photos of your pastors and other staff members. Include past sermons. Share photos from church events and services. Have your pastor write blog posts. Add a calendar of future events.
For those who are new to your church, explore any information that you think they would like to know before arriving. Let them know what to expect when they step into your church. Discuss how people typically dress. Explain the format of your services. Share video clips. When people know what to expect when they visit, they will feel more comfortable and be more likely to make return visits.
Add Online Giving for Easy Offerings

Your place of worship survives thanks to the generosity of your churchgoers. Without their offerings, it would be difficult to do all of the great things your organization does throughout the year. Did you know that you do not have to wait until Sunday service to receive these helpful donations? Modern technology such as mobile and online giving is available to help you accept offerings 24 hours a day, seven days a week.
By adding online giving to your church website, you create a trusted place for your members to go at any time to give what is on their heart. If they feel moved to give while perusing your website, they will have a convenient opportunity to do so. After you add an online giving button to your site, visitors will have the ability to give in just a few clicks.
Include Links To Social Media

Your church does not completely shut down after Sunday service. You likely have more events, meetings, and Bible studies scheduled throughout the week. And even if you don't, you still have a message to share with your members and visitors when they aren't present in the building.
That's where social media comes in. 46.1% of churches report that social media is their most effective method of outreach. You can use your Facebook, Twitter, Instagram, and other social networking accounts to stay in touch with your congregation and potential guests when they are away from church. By sharing insights, reminding your members of upcoming events, and interacting on social media, you can keep people engaged with your ministry throughout the week — not just on Sunday morning.
Worried that you don't have enough followers to make social media efforts worth your time? Your members likely don't know that your place of worship has a social media presence at all. To ensure that they know which accounts to follow, include links to each account on your website.
Make Sure Nothing Is Broken
One surefire way to drive visitors away is to have a poorly designed, broken website. To combat this, make sure all links still go to the correct places. If you have changed your Twitter handle, for example, make sure the link is updated as well. Your main desire is to create a smooth, seamless experience for everyone who visits your website.
Broken links, images that fail to load, and other issues can ruin the flow of your website and cause visitors to view your church in a less-than-favorable light. Since 94% of people mistrust or reject a website if it is poorly designed, keeping your site in good working order will go a long way toward attracting people to your church — and keeping them involved in the future.