There's no place like home (screen)
We've connected the parts of mobile giving you want to see into one simple home screen. Search, see your favorite causes, and review your most recent donations, all from the new beautiful home screen view.
Enhanced Search
Long gone are the days of searching by name of organization and location. We've enhanced our search experience so you can find causes that matter most to you and search by pastor. Givelify can now filter your results based on what's nearby so you can give faster than ever before.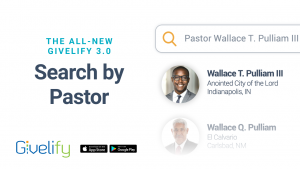 Favorite Causes
You're making an impact within places of worship and nonprofits near and far. Giving to each of them should be quick and easy. When a mission moves you, we want you to stay connected. With Givelify 3.0, you can favorite those organizations and they'll show up on your home screen.
My Place of Worship
Home is where the heart is, so your home organization is front and center on the home screen. A beautiful photo of your home organization, organization leader, and address appear with a "GIVE" button just below. In just three taps, you can make your gift. For even easier giving, set up recurring donations.
To set your place of worship so that it appears by default when opening the Givelify app, tap "My Place of Worship" or the heart icon. The heart icon will turn blue to indicate that you have marked your home place of worship.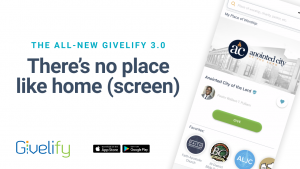 Recent Contributions
On your home screen, you can view the most recent contributions you've made to any organization through the Givelify app. Click on the recent contribution to uncover the more details about your gift – card you used to make the gift, envelope name, and date. You can also set a recurring donation based off of a recent contribution!
How have you been able to connect with causes that move you with Givelify 3.0? We'd love to hear what you have to say!
[contact-form][contact-field label="Name" type="name" required="true" /][contact-field label="Email" type="email" required="true" /][contact-field label="Website" type="url" /][contact-field label="Message" type="textarea" /][/contact-form]