Social Media for Churches: Six Best Practices for YouTube
Let's build on the best practices we've already learned by looking at one more major piece of the social media puzzle: YouTube for churches.
Wait…YouTube for churches?
Yes! If you think of YouTube as simply a video repository or a big database that's mostly funny cat videos, think again! (Though don't get me wrong, who doesn't enjoy those cat videos?)
YouTube is the second most popular search engine next to Google, and it's integrated directly with Google search. If you're creating searchable social videos for our church, having a presence on YouTube is crucial.
YouTube doesn't have as much of an obvious social networking vibe, but as a media site with social components, it's still very much social media. And it has a wide reach: YouTube videos are easily shared across nearly every other social network. Check out these simple steps to grow your video presence, combine these strategies with your Givelify signup to really power up your giving!
1. Polish Your Profile

YouTube allows you to set channel art and a channel icon, similar to Facebook's cover and profile photos. Pick exciting, properly-sized art or photos for these elements. Additionally, you can create a trailer for your channel; that's an introductory video that shows what your channel is about.
Here's a resource with in-depth information on how to polish your profile. We especially like #7 there, which shows you how to create a snazzy "subscribe" button just like the pros!
2. Create Playlists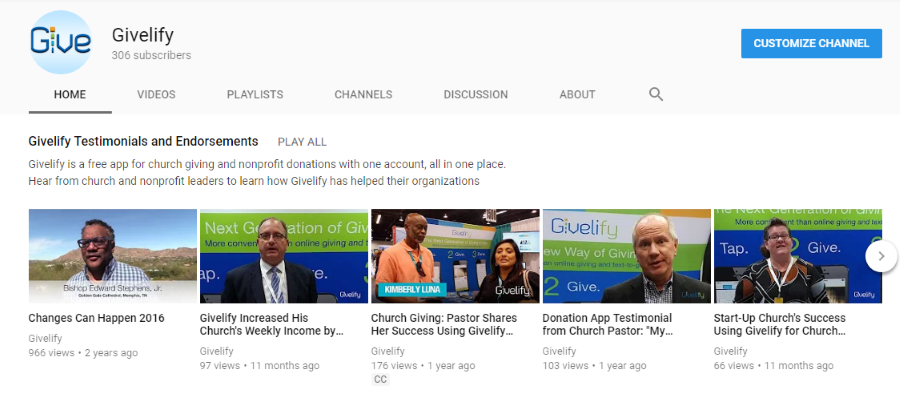 The more videos you add to your channel, the harder it can be for users to find specific ones. Use playlists, a set of videos that you've grouped together, to better organize your content and make it easier to discover.
Videos grouped this way will automatically play in the order you set. Use playlists to group a sermon series, for example, or pin a "New Here?" playlist near the top of your channel's page. Pro tip: you can even create playlists using other people's videos. Try creating a playlist with the songs for next week's worship.
3. Mix Up the Length of Your Videos
Creating a church YouTube  is an effective place to post your sermons, and it's definitely a good idea to do so. But make sure the length of your videos varies from post to post. Shorter videos not only get more views on YouTube, but they're more likely to get shared on other social networks, too.
Create a playlist of your full sermons, labeled by date so your members can easily locate any they may have missed. Then intersperse your feed with shorter highlights from the sermon, with a polished graphic intro/outro. You can even include a link to the full sermon in the video description.
Mix it up even more by posting content completely unrelated to weekly sermons. You could share video announcements, quick prayers, 3-5 minute scripture studies, and recaps of church events.
4. Create Searchable Titles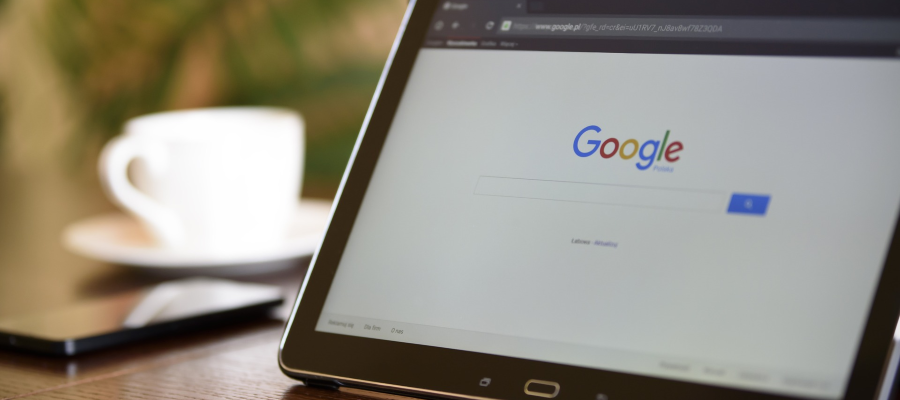 If you're uploading weekly sermons from your church to YouTube, don't name them "09182018SunAM" or some other confusing string of letters and numbers. That may be a logical way to organize files in your database. but YouTube users will never be able to find them.
Create easy-to-locate titles. Think of the words someone would use to search for your videos, and put those in the title and/or description. If you want to take a deep dive into title optimization, here's a great resource.
5. Use Video Descriptions to Your Advantage
The titles of your videos aren't the only important text on the page! You also have 5,000 characters of video description space — are you putting it to good use? Filling out the space is another way to add phrases that help your video show up in search.
You can also include a transcript of your video, which helps make it more accessible for people who use screen readers to consume YouTube content.
Some other fantastic ways to get the most out of the video description:
Use hashtags to help people find videos on a particular subject
Link to a relevant video or playlist
Include a link to your church's online giving page
Ask a question for people to answer in the comments
Remind people to subscribe to your channel. Speaking of…
6. Ask People to Subscribe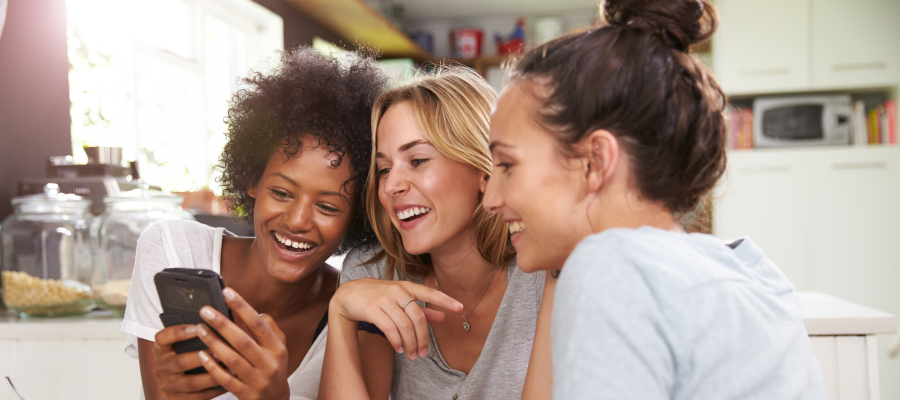 There's a reason so many YouTubers end every video with "and don't forget to subscribe!" When people subscribe to your YouTube channel, they get email updates and notifications when you post new content.
At the same time, make sure that your videos provide real value to subscribers. No one wants to feel spammed by notifications, and your subscribers won't — as long as your videos bring them value.
If the future of social is video, then it's time to take your video strategy to the next level. Whether you're just starting a YouTube channel for your ministry or you're a YouTube veteran, these best practices will jumpstart your video efforts and bolster your engagement.
This is part of our series on Social Media for Churches. If you haven't already, go back and check out the previous posts on best practices for Facebook, Twitter, and Instagram.