Givelify Offers Solutions to Churches for Online Charitable Giving
From digital services to virtual baptisms to live-streamed funerals, congregations across the country are finding innovative ways to adapt to the nationwide ban on public gatherings. But faith communities who have traditionally counted on the collection plate to raise funds are finding themselves scrambling to finance their continued existence. Givelify was built expressly for this moment—to help communities of faith take their charitable giving online. Here are a few things you should look for when searching for an online charitable giving solution of your own:
Make online charitable giving beautifully easy
Your congregation wants to give, not get bogged down in technology. Make sure the solution you choose is as simple and straightforward as possible, with no text-to-give numbers to remember or clunky online forms to fill out. Givelify is a beautiful Tap-Give-Done experience your members will love to use.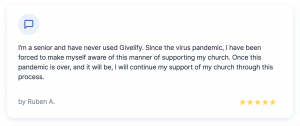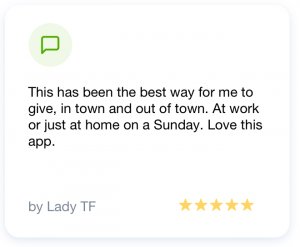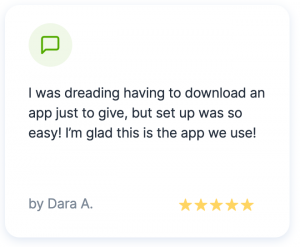 Don't reinvent the wheel
Be sure the solution you choose works with your existing financial or church management software and can plug right in to a custom app if you've already built one. And check to see if your provider has robust tech support, so you can concentrate on sermons, not software.
Read the fine print
You're trying to raise funds, not spend them. Take a close look at the fees your provider charges, and don't get locked into any contract—no matter how good that "three months free"-offer sounds. There are no signup or monthly fees to use Givelify, and there never will be.
[su_button url="https://www.givelify.com/signup" target="blank" style="flat" background="#1a4db2″ size="10″ center="yes" radius="5″ desc="No sign-up or monthly fees—ever." title="Sign Up Free"]Sign Up Free[/su_button]
Trust the data of online giving
Your members are going mobile— and using their smartphones as their wallets. 70% of Americans (over 221 million people) own smartphones, and spend almost $2 billion per year with them. Most Givelify member congregations report a 20-30% increase in giving within 60 days of rollout.
Givelify took a look at same-day giving habits from the first three months of 2019 compared to 2020 – here's what we found.
In-church giving percentage dropped from 48.6% to 1.7%
Number of donors increased by 9%
Total donations increased by 13%
Reach your members where they are
It's easy to add Givelify's next-generation fundraising functionality to the live-streaming and social media solutions you're already using. For a comprehensive list of must-have solutions to engage your members, read this.
How to sign up with Givelify
We're facing an unprecedented health crisis. But Givelify gives communities of faith the tools it takes to adapt to the next generation of charitable giving—and take fundraising efforts to a higher level.
[su_button url="https://www.givelify.com/signup" target="blank" style="flat" background="#1a4db2″ size="10″ center="yes" radius="5″ desc="No sign-up or monthly fees—ever." title="Sign Up Free"]Sign Up Free[/su_button]