Start your new Givelify giving experience
Making a donation is even faster, more visual, and easier than before with an improved Givelify giving experience.
Visualize Your Impact
In the same three-tap experience, you can start your gift with a preset amount or give a specific amount by selecting "Other." Before you give, we always allow you the opportunity to check your gift. To prevent mistakes before they happen, we've made it easier to see how much you're giving with large bold numbers.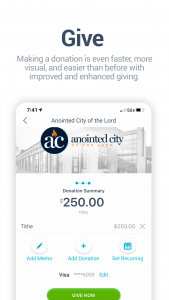 Donation Summary
Before you give, double-check your gift before it's contributed in the donation summary section. You can add a memo, edit your donation, set this gift as recurring, or swap out your payment method all on one screen.
Join over 16,000 places of worship and nonprofits who make giving happen every single day.