New Givelify Reports Features: QuickBooks Online and More
Do you work as an accountant or bookkeeper at your church? You're likely familiar with exporting donation and disbursement Givelify reports, formatting them, and importing them into your church management or accounting system. You're probably familiar with the hours required to complete this work, too.
Your job is important, and the Givelify team is always improving our products with you in mind. In our latest improvement, we've made reporting simpler than ever. Here's what you can expect to see when running your donations and disbursements Givelify reports.
Givelify Reports: Import-friendly format
The Import-friendly format was created to save time for every church accountant or bookkeeper who reconciles their Givelify donations with their church management system.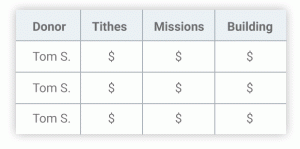 Save Time Reconciling
Cut down the hours spent reformatting spreadsheets and importing them into your church management system – we've done it for you! A standardized report format that breaks transactions into envelopes is now available with the click of a button.
Match Donors to their Donations
Automatically connect the right donation to the right donor in your church management system. You now have the option to assign donor or fund ID to a donor or envelope in your Givelify dashboard.
Givelify Reports: QuickBooks Online files
Givelify's QuickBooks Online format enables you to easily import donations into QuickBooks Online. You'll now save hours of time otherwise spent manually reconciling those reports. The QuickBooks Online files include two time-saving features:
QuickBooks as a church management system
Looking for a church management report format you can upload into QuickBooks? Look no further. This format provides data for each transaction made allowing you to easily import and reconcile Givelify donations in QuickBooks Online.
QuickBooks as an accounting system
What if you use QuickBooks Online for accounting only? We've made a report format just for you. This report format shows only what you want to see. It includes the disbursement date, envelope name, and total amount so you can reconcile donations with your bank account deposits.
Givelify Reports: Reporting Simplified
If you'd like to ease into these new reports, we understand! You can continue to use the legacy reports, like donations and disbursements, to manually reconcile donations with your church management system. When you use these reports, you'll notice they're much simpler than before. This new report format eliminates all columns without donations, making it easier and faster for you to print and read the report.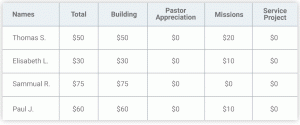 The new Import-friendly files, QuickBooks format, and simplified reports format will reduce the hours you spend and improve the accuracy of the work you do each week. Reconciling Givelify donations within the church management system or accounting system is important, but who says it can't be simple? That's the Givelify way.
Not signed up with Givelify yet? It's a simple three-step process. Get started today!