Creating a Diverse, Equitable, and Inclusive Workforce
Last year, George Floyd's murder did not start the trend of diversity, equity, and inclusion practices in the marketplace and beyond. But, his death did trigger a cultural movement of racial reckoning. In an attempt to correct the inequitable systems deeply embedded in the DNA of the United States, many organization leaders ramped up their efforts to put into place a Diversity, Equity, and Inclusion (DEI) plan to address the challenges that come with differences, acknowledge past and present injustices, and take steps to create lasting change.
For Wale Mafolasire, CEO of Givelify, the motivation to create a welcoming, fair, and innovative place to work had little to do with repairing broken systems and everything to do with the immeasurable value of diverse perspectives when innovating.
In 2014, Wale approached his close friend Hari Krishna, Givelify's VP of Technology, with an idea for an app that would solve a problem Wale faced every Sunday. When it came time to give the offering during church, Wale would never have cash in his wallet. Try as he could to remember to go by the bank before Sunday, week after week his intention to give never transformed into an actual tithe. 
Hari, although from a different faith tradition than Wale, found himself identifying with his struggle. In the moments he was inspired to donate to the charities he loved, he too did not have cash or checks to give. 
Instead of an app for only churchgoers to give their tithe and offerings, Hari suggested one that would enable all places of worship and nonprofit organizations to receive charitable contributions. And Givelify along with its diversity, equity, and inclusion strategy was born. 
Before they wrote a single line of code or created a pixel of a design, Wale could see how the diversity of Hari's faith and journey quickly shaped the idea of what Wale was trying to do.
What I quickly realized, at the very beginning, is that there's just a perspective people from different backgrounds and different experiences bring to the table when you're trying to innovate. And once you've experienced it, you're like, man, I want more of it."  —Wale Mafolasire, CEO of Givelify
How does Givelify measure up? 
Built In recently released 2021 State of DEI in Tech, an in-depth analysis of diversity, equity, and inclusion in the tech industry. It included data and insights into where the tech industry is heading and how it could improve. 
The study reports:
35 percent of all tech companies surveyed report that executive teams are at least 80 percent men.
87 percent of companies report having no Black leaders.
73 percent have no Hispanic/Latinx leaders.
97 percent have no Native or Indigenous leaders.
75 percent of tech companies surveyed reported that Black professionals make up less than 10 percent of the workforce.
Over half of tech employers report that women make up less than 40 percent of their workforce.
By contrast, 60 percent of Givelify's employees are from underrepresented communities, and 45 percent are women. The executive leadership team of eight is 100 percent BIPOC, and two out the eight are women.
 *BIPOC is an acronym for black, indigenous, and people of color.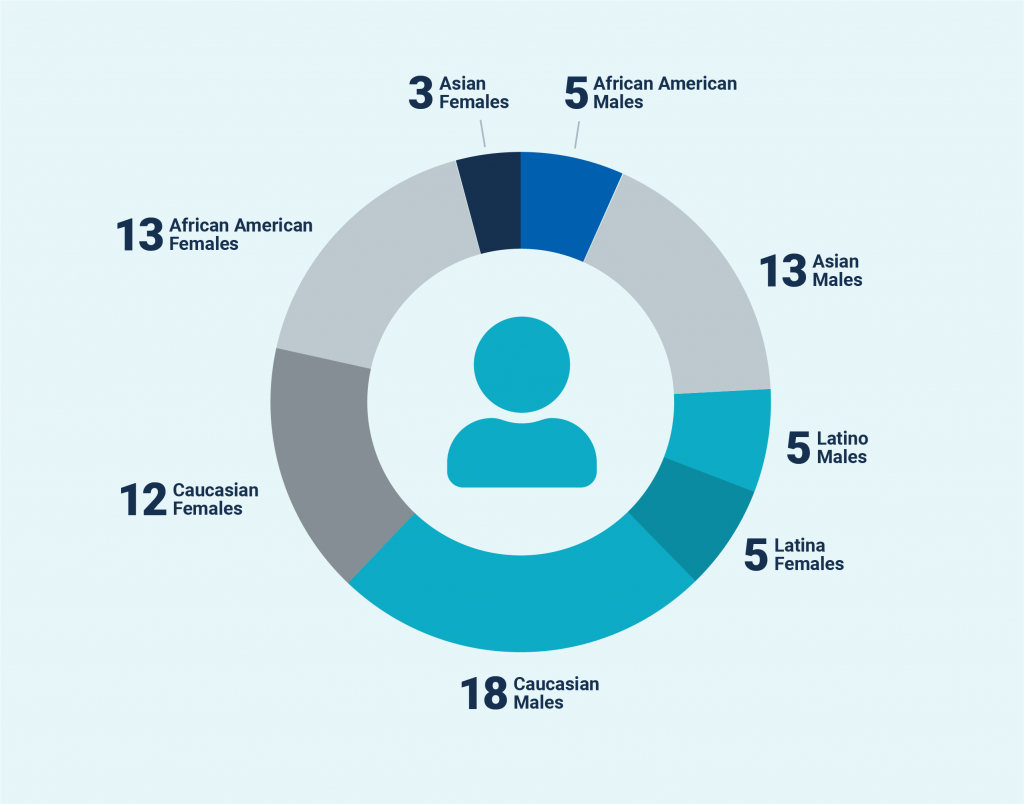 Wale attributes Givelify's diversity at the start as the big driver of what's made the company so successful and inclusive. "It is one thing to start off diverse," Wale shares, "Retaining it is it quite another." 
How do we grow and retain diversity, equity, and inclusion?
For Wale, DEI is about "creating a culture that allows people to be their best selves, where people can bring their whole selves to work." How does he do it? With help from a diversity of people. It's certainly easier to start a diverse organization. Diversity attracts more diversity. 
DEI is an acronym for Diversity, Equity, and Inclusion. In the workplace, DEI refers to how employers create fair, just, and inclusive environments for everyone, including potential hires.
[bctt tweet="DEI is about creating a culture that allows people to be their best selves, where people can bring their whole selves to work. – Wale Mafolasire"]
When asked how to build a diverse and welcoming workforce, Jackie Rodriguez, VP of People & Culture, says, "Intentionally. Purposely. And Courageously." 
Wale and Jackie, along with the rest of the leadership and the employees, have learned over the years that growing the best, most innovative team to serve those who want to do more good in the world demands an inherently inclusive workforce with extremely vast contrasts in backgrounds, ideologies, and faiths. And this takes practice. 
Givelify identifies these six practices for creating a company where people can bring their whole selves to work: 
1. Listen. 
You can learn so much by listening to your employees! Let them tell you about their culture and values. "Put human relationships first," says Wale, "Use your curiosity to connect and learn."  You may have great ideas, but with others, your ideas can turn into the one that changes an entire industry. That's the kind of innovation Givelify is all about. 
2. Be patient with hiring the right people. 
Once you've decided on building a diverse team, you may have to wait to find the ideal candidate. Sometimes building a long-term strategy is the only way to achieve the diversity you desire. For instance, offer career development to underrepresented groups, internships for high schoolers, and scholarships in your field of study. If you're trying to create a diverse board for your nonprofit, Wale says to commit to however long it takes. Leave those seats open. Offer additional services to attract those you want.
There is a Nigerian proverb that says, if you look hard enough, you can see your nose. It might be a challenge to find the right people to diversify your team, but you'll find them if you keep looking."  — Wale Mafolasire
3. Respect the experts in their field. 
Let people's unique perspectives and expertise influence outcomes. This makes a clear path to building a motivated and satisfied workforce. Attract the best people who add diverse perspectives to your team. It may cost more, but it will pay dividends in innovation. 
[bctt tweet="How do you build a diverse and welcoming workforce? Jackie Rodriguez, VP of Givelify People & Culture, says, "Intentionally. Purposely. And Courageously."]
4. Lead courageous conversations on race. 
Don't go in blind, but prepare to lead difficult conversations about race. Empathy is the best policy when it comes to addressing potentially tense issues. Listen and do not judge. Repeat what people are feeling. Acknowledge their perspectives. Don't challenge or address motivations. You cannot know what drives people to do or say anything. You may mess it up, but silence is not brave or helpful. 
"We most recently had a discussion about Asian-American violence and how it was affecting people in our own company, how it was impacting people we love and care about, and our customers. We talked about what was the background for some of that, and why was it happening, and the magic to me was really the openness and willingness to share. And not having everything scripted." — Jackie Rodriguez
5. Be open to awkward conversations. 
Be open to each other's experiences, and educate ourselves, as well as being open to having some may be awkward conversations. Curiosity in other cultures, beliefs, and perspectives helps start innovation. But don't add undue pressure to these conversations, and don't overcompensate.
You aren't going to get it right every time. Not every conversation Givelify's leadership has led has been successful. "That's okay. We've learned and we adjusted our approach for the next time. We're always improving. We're software developers," says Wale, "We are always testing, that's what we do. But most importantly, we welcome and embrace differences." 
6. Find what unites you. 
Although your workforce is diverse, you can share a common purpose. Whatever that purpose is, find it and center everything on that.
"The one thing that's always united the founders, as well as the employees that have since joined the mission of Givelify, is the desire to do good, the desire to put more good out into the world. That's the one thing that unites everyone. Now what that looks for me might be a little different from what that looks like for someone else, but at the end of the day, we're all drawn to this notion that we can all come together and put our purpose to work."— Jackie Rodriguez, VP of People & Culture
What do employees want in a DEI plan? 
It's not just leaders who value and benefit from a good DEI strategy. The Built In study reports that 78 percent of job seekers believe that diversity, equity, and inclusion are very valuable in choosing a place to work. And for BIPOC job seekers that number increases to 88 percent. 
"I've worked in the tech industry for a long time — over 20 years — and I've never experienced a company so committed to diversity and inclusiveness. Givelify goes way beyond the usual corporate lip service, fluff pieces in the company newsletter, and lame sensitivity workshops to truly walk the walk. I believe that wide array of cultural perspectives and backgrounds is a big part of why we're so good at serving our diverse customer base." — Matt Chandler, Sales Operations
Furthermore, 68 percent of employees say that clear anti-harassment and anti-discrimination policies are very important to them. Additionally, 79 percent believe having their perspective included in decisions that impact their team or role is very important, too.
"As someone who has been with the company for over six years, it has always impressed me how leadership has followed through on the goal of maintaining a diverse and inclusive team. At every step along the way, through dozens of rounds of hiring, that one mission has remained consistent and resulted in the incredibly diverse group of talented people we have today." — Allison Weaver, Operations Service Specialist
Key Takeaways
At the end of the day, diversity, equity, and inclusion are good for everything and everybody. 
Diverse perspectives lead to superior solutions to problems.
Equitable policies ensure that companies not only attempt to be fair but also hold them accountable to a shared standard. 
Inclusive strategies protect the workforce by creating a safe environment that where employees can flourish. 
Givelify helps people instantly find causes that inspire them to action so they can change the world—one simple, joyful gift at a time. And our diversity, equity, and inclusion are what make Givelify the fastest-growing philanthropic platform in the world.